Once you've created content in the form of Web Stories, you're probably wondering who your Web Stories are reaching and whether they're resonating with your audience. Google Analytics and Data Studio are easy-to-use tools that help you understand how your Web Stories are performing on your website — or anywhere else on the web.
Viewing Web Stories performance in Google Analytics
The first step to measuring your Web Stories performance with Google Analytics is to set up tracking. Most Web Story editors, including Web Stories for WordPress, MakeStories, Newsroom AI and others, provide a simple way to add tracking in Google Analytics for each story created. You'll need to provide the UA Tracking ID associated with the Google Analytics property you're using for Web Stories.
Once your Stories are being tracked, key performance metrics will become available via the Events report in Google Analytics. This report is accessible by navigating to Behavior > Events > Overview in the navigation bar. The metrics available include:
Story Starts: A measure of how many users started reading your Story. These are reported as pageviews in Google Analytics.
Time Spent: A measure of how long users spend reading your Story, on average. This metric is helpful when determining how engaging your story is. This is reported as Avg. Time on Page in Google Analytics.
Story Pages Viewed: A measure of how many users read each page in your Story. This can be a helpful indicator to determine how far users get into your Story and where they might lose interest. These are reported as story_pages_viewed events in Google Analytics, and can be found in the Events Report.
Story Completions: A measure of how many users completed your Story by reaching the last page. These are reported as story_completion events in Google Analytics.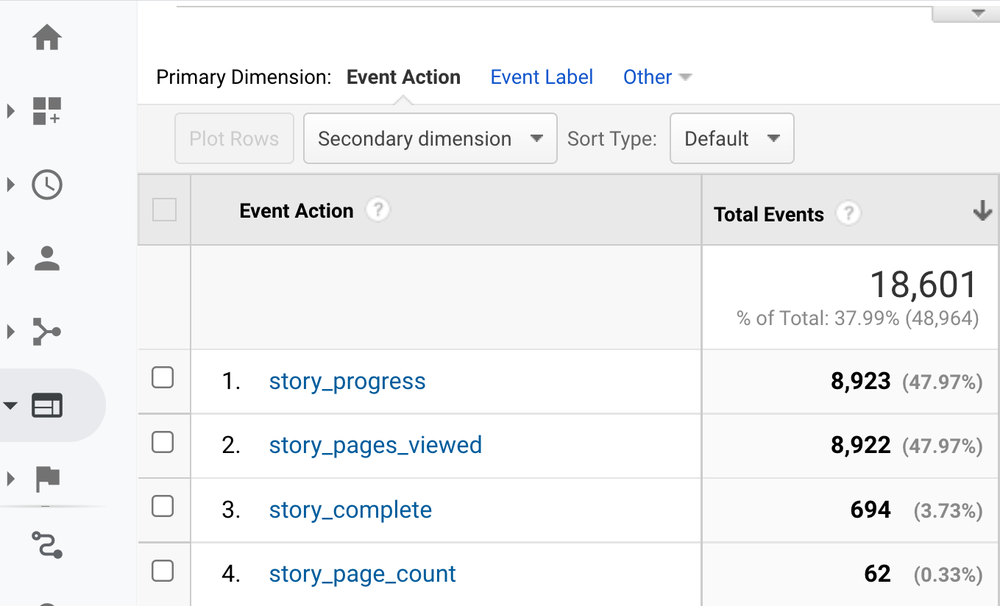 The Events Overview report in Google Analytics will report the story title under Event Category. You can click into each of your Stories listed to view data for each of the metrics above by selecting Event Action as the primary dimension.
Even simpler access to Web Story performance insights with Data Studio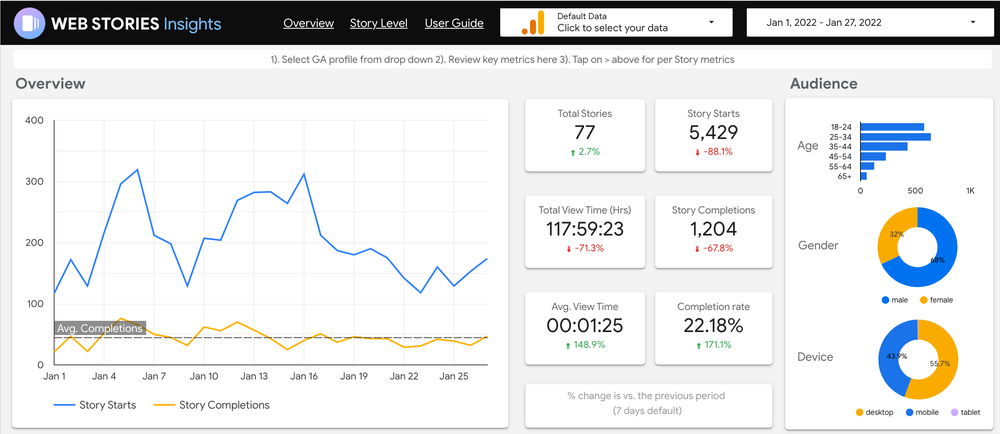 The Web Stories Insights dashboard template in Data Studio provides an overview of your Web Stories' performance by pulling data from Google Analytics into a simple and visually engaging report. The dashboard displays several essential metrics to consider when evaluating performance, including:
Key Metrics: Story Starts, Page Views, Time Spent and Completion Rate
Audience Metrics: Age, Gender and Device breakdown across all stories published
Top Stories: Your top 10 stories during the selected time period, sorted by Story Starts
Traffic Channels: An overview of where users are finding and reading your Web Stories
Story Level Performance: Key metrics and a breakdown of pageviews for a specific story are available on the 'Story Level' page.
Anyone can access the dashboard by visiting goo.gle/web-stories-insights and selecting your Google Analytics account via the Click to Select your Data dropdown. Note you'll only have access to analytics that your Google account is linked to, so be sure to verify which account you're using. You can also create a copy of the template and adjust it according to your specific analytics needs.
We hope that Google Analytics and Data Studio will help you improve your Web Stories for your audience.