While many people will celebrate the holidays at home this year, 40 percent of Americans are still planning to travel. Here are a few ways Google can help you make informed travel decisions or revisit trips from holidays past.
Stay up to date on the latest travel information

When you search on Google for information about hotels, flights or things to do, check to see if there's a COVID-19 travel advisory or restriction for your destination. If there are no restrictions, you can see indicators for travel reopening, like the percentage of flights operating or hotels with availability, directly in your Search results. On google.com/travel you can also see trends for flight and hotel availability over the past six months, as well as links to local resources, like the number of COVID-19 cases in the area.

Book accommodation confidently

Earlier this year we added a hotel "Free cancellation" filter on Search and google.com/travel to help you easily find properties with a refundable rate. In addition to refundable rates, many hotels and vacation rentals are taking additional measures to ensure the safety of guests in response to COVID-19. Now when you search for a place to stay on google.com/travel and view a specific property, you may see a tip when additional health and safety precautions, like enhanced cleaning, are being taken. Tap on the "About" tab to see the full list.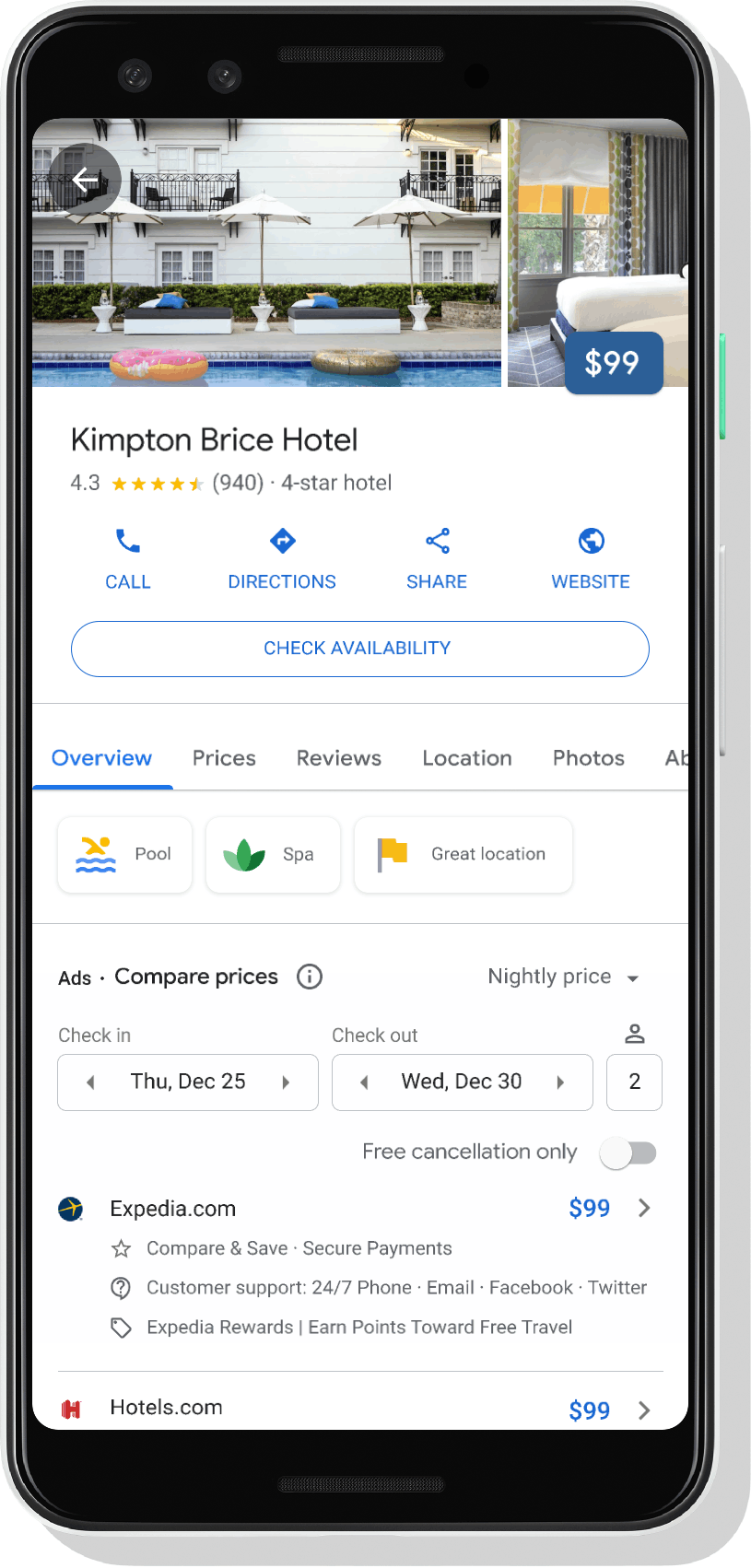 We're working with hotels and vacation rental providers, as well as industry associations, to add more health and safety information to the results you see. If you're a hotel owner, verify your business using Google My Business, and let guests know what measures you're taking to keep them safe by adding health and safety attributes to your Business Profile. 
See local COVID-19 information 
If you're planning to visit a new city, you can use the COVID layer in Google Maps to quickly get information about COVID-19 cases in the area—so you can make more informed decisions about where to go and what to do. 
Stay informed on the road
Once you're headed out on your trip, you can use Google Maps to see helpful safety alerts along the way. If you're driving, we'll notify you about COVID-19 checkpoints and restrictions along your route, like when crossing national borders. If you plan to take public transportation, we'll show you alerts from local transit agencies, so you can quickly know if government mandates impact transit services or require you to wear a mask while riding the bus, subway, or train.
Get nostalgic & relive past trips
For those not traveling this holiday season, you can use new features in Google Maps or Google Photos to take a walk down memory lane. If you're using Maps on Android, you can soon access the new "Trips" tab in Timeline to see a summary of your past vacations, along with information about the places you visited, the total kilometers traveled, and the modes of transportation you used. If you choose to turn on your Location History setting, you can use Trips in Timeline as a handy tool if you're feeling nostalgic or want to share vacation recommendations with friends or family.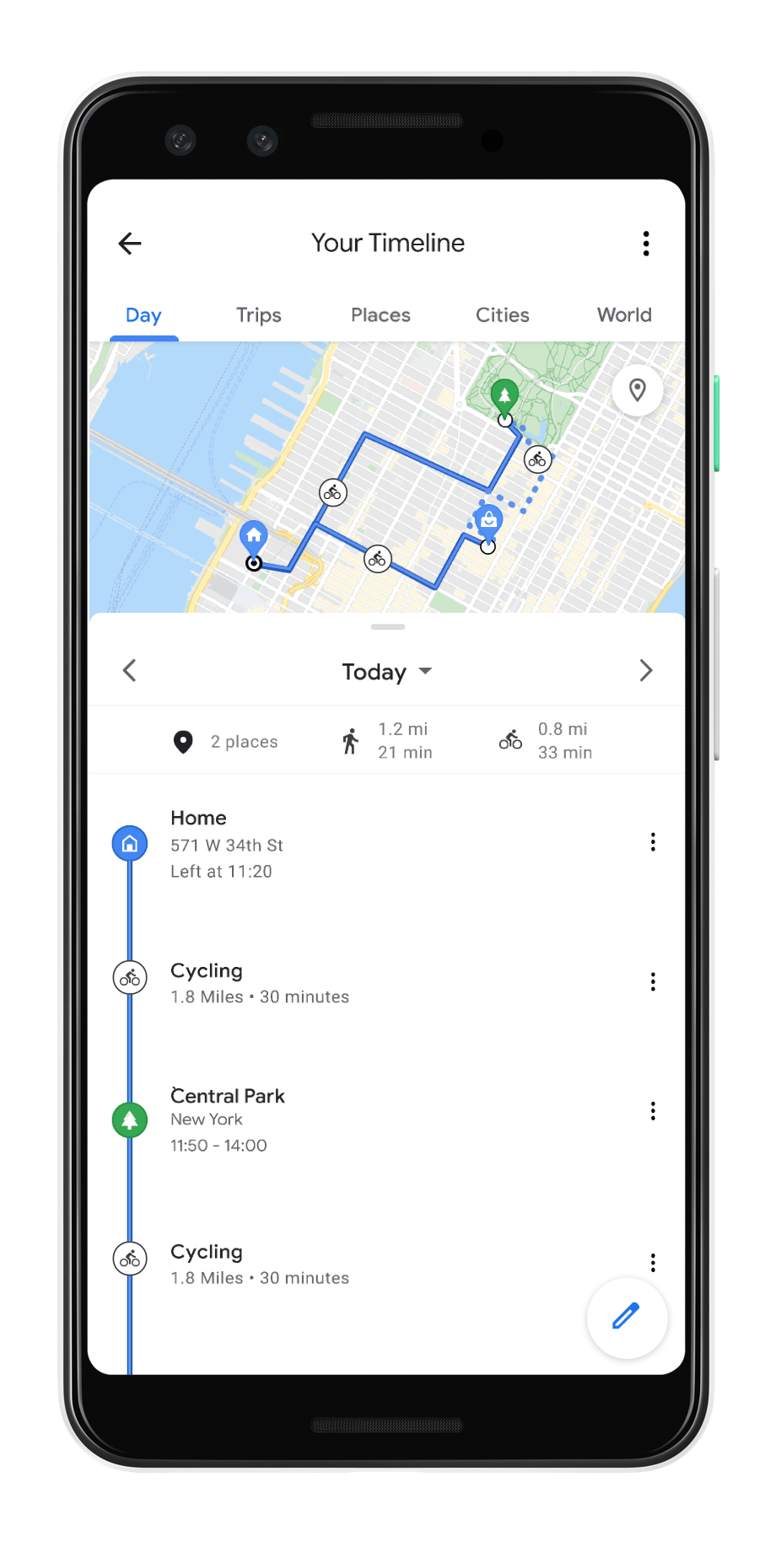 You can also see and share your past trip itineraries including hotels, restaurants and other places you've received reservation confirmations for in your Gmail by going togoogle.com/travel and tapping on the "Trips" tab. 
In Google Photos, you can already see photos grouped by location with theinteractive map view. In the coming weeks, we're bringing Timeline to the Photos map view, so you can easily see the paths you took on a certain day alongside your photos—whether you captured that epic shot while hiking through Yellowstone, or while driving down the scenic Pacific Coast Highway. You can choose to show or hide your Timeline from your map view's settings in Photos at any time.
If you will be traveling over the holidays, here's a handy checklist to help you make informed decisions as you plan.