With G Suite, we're focused on building tools that help you bring great ideas to life. We know meetings are the main entry point for teams to share and shape ideas into action. That's why we recently introduced Hangouts Meet, an evolution of Google Hangouts designed specifically for the workplace, and Jamboard, a way to bring creative brainstorming directly into meetings. Combined with Calendar and Drive, these tools extend collaboration beyond four walls and transform how we work—so every team member has a voice, no matter location.
But the transformative power of video meetings is wasted if it's not affordable and accessible to all organizations. So today, we're introducing Hangouts Meet hardware—a new way to bring high-quality video meetings to businesses of any size. We're also announcing new software updates designed to make your meetings even more productive.
Introducing Hangouts Meet hardware
Hangouts Meet hardware is a cost-effective way to bring high-quality video meetings to your business. The hardware kit consists of four components: a touchscreen controller, speakermic, 4K sensor camera and ASUS Chromebox.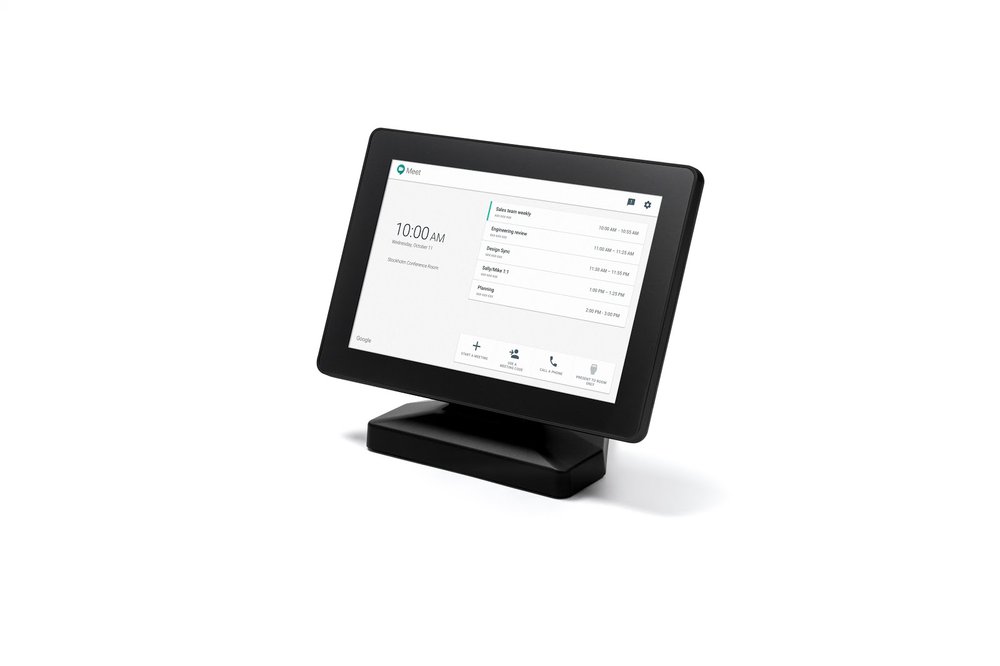 The new controller provides a modern, intuitive touchscreen interface that allows people to easily join scheduled events from Calendar or view meeting details with a single tap. You can pin and mute team members, as well as control the camera, making managing meetings easy. You can also add participants with the dial-a-phone feature and present from a laptop via HDMI. If you're a G Suite Enterprise edition customer, you can record the meeting to Drive.
Designed by Google, the Hangouts Meet speakermic actively eliminates echo and background noise to provide crisp, clear audio. Up to five speakermics can be daisy-chained together with a single wire, providing coverage for larger rooms without tabletop clutter.
The 4K sensor camera with 120° field of view easily captures everyone at the table, even in small spaces that some cameras find challenging. Each camera component is fine-tuned to make meetings more personal and distraction-free. Built with machine learning, the camera can intelligently detect participants and automatically crop and zoom to frame them.
Powered by Chrome OS, the ASUS Chromebox makes deploying and managing Hangouts Meet hardware easier than ever. The Chromebox can automatically push updates to other components in the hardware kit, making it easier for large organizations to ensure security and reliability. Remote device monitoring and management make it easy for IT administrators to stay in control, too.
New Hangouts Meet enhancements greatly improve user experience and simplify our meeting rooms. It also creates new ways for our team to collaborate.
Says Bradley Rhodes, IT Analyst End User Computing at Woolworths Ltd Australia, "We are very excited about the new Hangouts Meet hardware, particularly the easy-to-use touchscreen. The enhancements greatly improve the user experience and simplify our meeting rooms. We have also seen it create new ways for our team to collaborate, like via the touch-to-record functionality which allows absent participants to catch up more effectively."
More features, better meetings
We're also announcing updates to Meet based on valuable feedback. If you're a G Suite Enterprise edition customer, you can: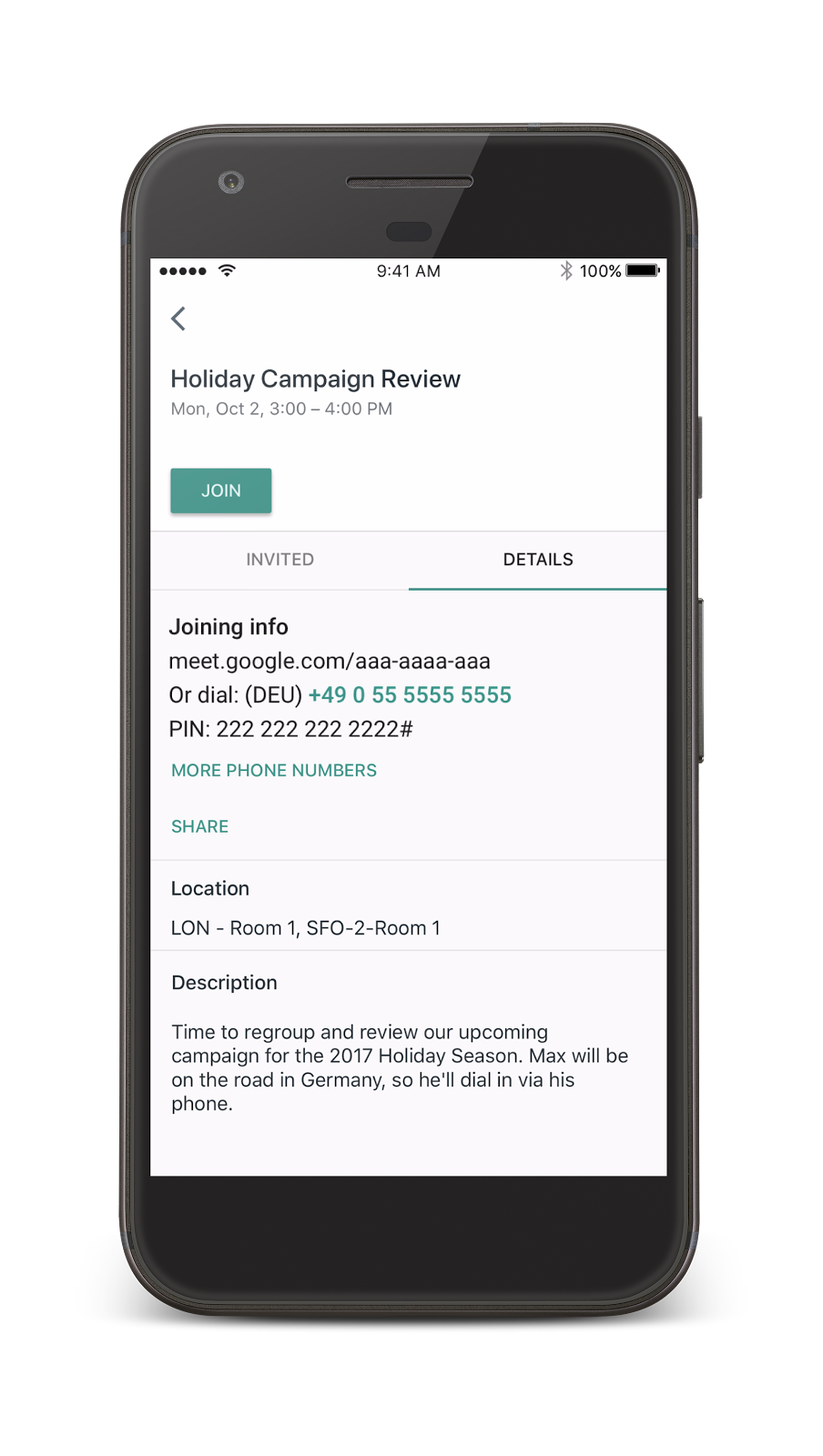 Record meetings and save them to Drive. Can't make the meeting? No problem. Record your meeting directly to Drive. Even without a Hangouts Meet hardware kit, Meet on web can save your team's ideas with a couple of clicks.

Host meetings with up to 50 participants. Meet supports up to 50 participants in a meeting, especially useful for bringing global teams together from both inside and outside of your organization.

Dial in from around the globe. The dial-in feature in Meet is now available in more than a dozen markets. If you board a flight in one country and land in another, Meet will automatically update your meeting's dial-in listing to a local phone number.
These new features are rolling out gradually. The hardware kit is priced at $1999 and is available in select markets around the globe beginning today.
Whether you're collaborating in Jamboard, recording meetings and referencing discussions in Drive or scheduling your next team huddle in Calendar, Hangouts Meet hardware makes it even easier to bring the power of your favorite G Suite tools into team meetings. For more information, visit the G Suite website.