Today, we're kicking off our annual I/O developer conference, which brings together more than 7,000 developers for a three-day event. I/O gives us a great chance to share some of Google's latest innovations and show how they're helping us solve problems for our users. We're at an important inflection point in computing, and it's exciting to be driving technology forward. It's clear that technology can be a positive force and improve the quality of life for billions of people around the world. But it's equally clear that we can't just be wide-eyed about what we create. There are very real and important questions being raised about the impact of technology and the role it will play in our lives. We know the path ahead needs to be navigated carefully and deliberately—and we feel a deep sense of responsibility to get this right. It's in that spirit that we're approaching our core mission.
The need for useful and accessible information is as urgent today as it was when Google was founded nearly two decades ago. What's changed is our ability to organize information and solve complex, real-world problems thanks to advances in AI.
Pushing the boundaries of AI to solve real-world problems
There's a huge opportunity for AI to transform many fields. Already we're seeing some encouraging applications in healthcare. Two years ago, Google developed a neural net that could detect signs of diabetic retinopathy using medical images of the eye. This year, the AI team showed our deep learning model could use those same images to predict a patient's risk of a heart attack or stroke with a surprisingly high degree of accuracy. We published a paper on this research in February and look forward to working closely with the medical community to understand its potential. We've also found that our AI models are able to predict medical events, such as hospital readmissions and length of stays, by analyzing the pieces of information embedded in de-identified health records. These are powerful tools in a doctor's hands and could have a profound impact on health outcomes for patients. We're going to be publishing a paper on this research today and are working with hospitals and medical institutions to see how to use these insights in practice.
Another area where AI can solve important problems is accessibility. Take the example of captions. When you turn on the TV it's not uncommon to see people talking over one another. This makes a conversation hard to follow, especially if you're hearing-impaired. But using audio and visual cues together, our researchers were able to isolate voices and caption each speaker separately. We call this technology Looking to Listen and are excited about its potential to improve captions for everyone.
Saving time across Gmail, Photos, and the Google Assistant
AI is working hard across Google products to save you time. One of the best examples of this is the new Smart Compose feature in Gmail. By understanding the context of an email, we can suggest phrases to help you write quickly and efficiently. In Photos, we make it easy to share a photo instantly via smart, inline suggestions. We're also rolling out new features that let you quickly brighten a photo, give it a color pop, or even colorize old black and white pictures.
One of the biggest time-savers of all is the Google Assistant, which we announced two years ago at I/O. Today we shared our plans to make the Google Assistant more visual, more naturally conversational, and more helpful.
Thanks to our progress in language understanding, you'll soon be able to have a natural back-and-forth conversation with the Google Assistant without repeating "Hey Google" for each follow-up request. We're also adding a half a dozen new voices to personalize your Google Assistant, plus one very recognizable one—John Legend (!). So, next time you ask Google to tell you the forecast or play "All of Me," don't be surprised if John Legend himself is around to help.
We're also making the Assistant more visually assistive with new experiences for Smart Displays and phones. On mobile, we'll give you a quick snapshot of your day with suggestions based on location, time of day, and recent interactions. And we're bringing the Google Assistant to navigation in Google Maps, so you can get information while keeping your hands on the wheel and your eyes on the road.
Someday soon, your Google Assistant might be able to help with tasks that still require a phone call, like booking a haircut or verifying a store's holiday hours. We call this new technology Google Duplex. It's still early, and we need to get the experience right, but done correctly we believe this will save time for people and generate value for small businesses.
Overview - Smart Compose.gif

Smart Compose can understand the context of an email and suggest phrases to help you write quickly and efficiently.

With Google Photos, we're working on the ability for you to change black-and-white shots into color in just a tap.  

Overview - Smart Display.jpg

With Smart Displays, the Google Assistant is becoming more visual.

Understanding the world so we can help you navigate yours
AI's progress in understanding the physical world has dramatically improved
Google Maps
and created new applications like
Google Lens
. Maps can now tell you if the business you're looking for is open, how busy it is, and whether parking is easy to find
before
you arrive. Lens lets you just point your camera and get answers about everything from that building in front of you ... to the concert poster you passed ... to that lamp you liked in the store window.
Bringing you the top news from top sources
We know people turn to Google to provide dependable, high-quality information, especially in breaking news situations—and this is another area where AI can make a big difference. Using the latest technology, we set out to create a product that surfaces the news you care about from trusted sources while still giving you a full range of perspectives on events. Today, we're launching the
new Google News
. It uses artificial intelligence to bring forward the best of human intelligence—great reporting done by journalists around the globe—and will help you stay on top of what's important to you.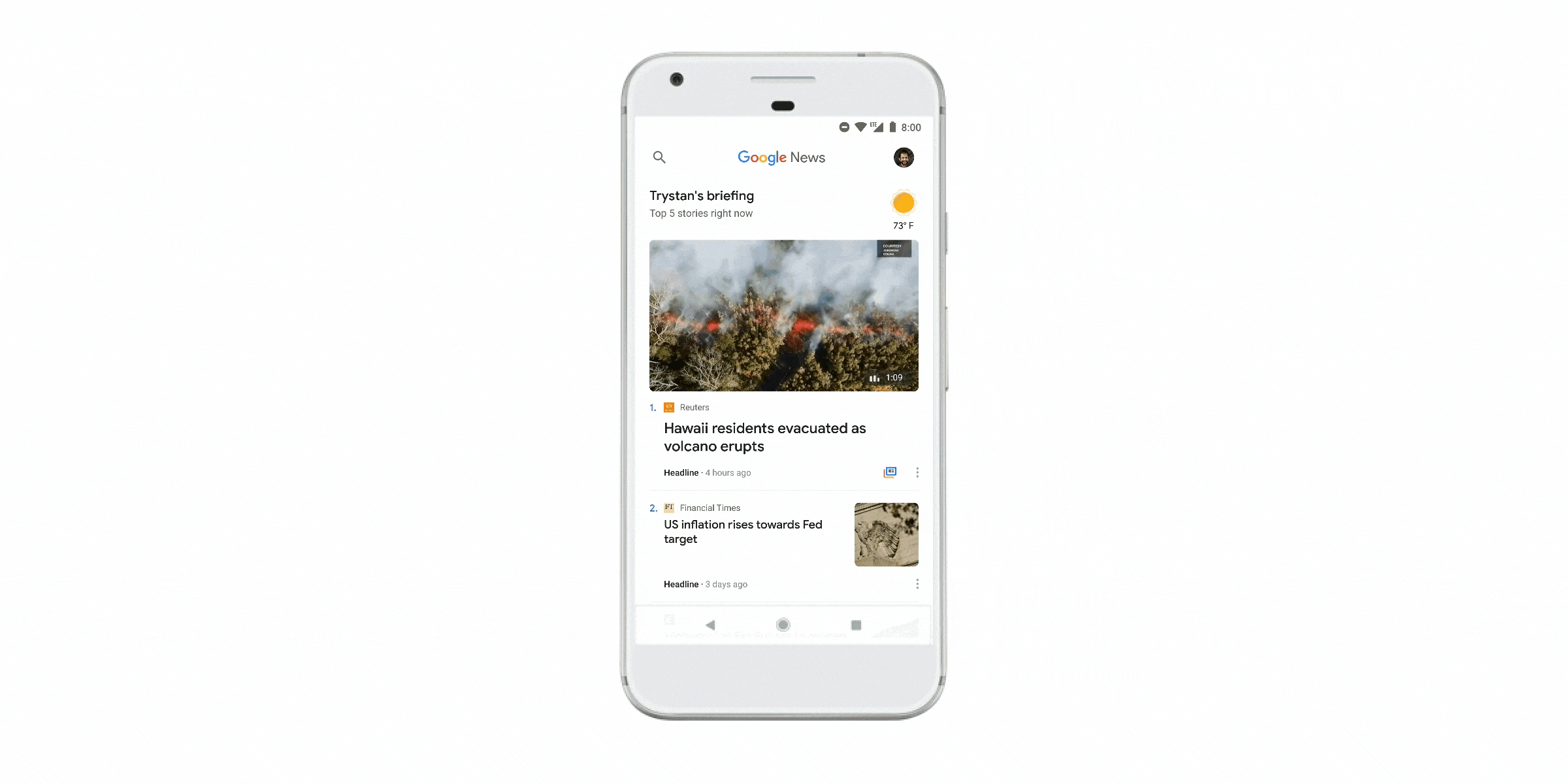 Helping you focus on what matters
Advances in computing are helping us solve complex problems and deliver valuable time back to our users—which has been a big goal of ours from the beginning. But we also know technology creates its own challenges. For example, many of us feel tethered to our phones and worry about what we'll miss if we're not connected. We want to help people find the right balance and gain a sense of digital wellbeing. To that end, we're going to release a series of features to help people understand their usage habits and use simple cues to disconnect when they want to, such as turning a phone over on a table to put it in "shush" mode, or "taking a break" from watching YouTube when a reminder pops up. We're also kicking off a longer-term effort to support digital wellbeing, including a user education site which is launching today.
These are just a few of the many, many announcements at Google I/O—for Android, the Google Assistant, Google News, Photos, Lens, Maps and more, please see our latest stories.