People have come to expect a lot from their email. But whether you're an inbox zero master or a never-archiver, you want your email experience to be easy and secure. Since 2004, many have grown to love Gmail for its time-saving and security features. From assistive writing capabilities to high priority notifications to blocking more than 99.9 percent of spam, phishing and malware from reaching your inbox, we built Gmail to make communication less of a chore.
In the same way, people have come to expect easier control of their data—and here too, we've been on a mission to take the work out of managing your privacy. That's why our engineers at the Google Safety Engineering Center in Europe developed Privacy Checkup as an easy way to review key settings and see (and delete) the data that Google collects to provide you with helpful experiences. And it's why we introduced auto-delete as the default this year to make control over your data even more automatic. 
In the coming weeks, we're launching yet another way to put you in control of your data and the Google experience, with a new setting for smart features and personalization in Gmail.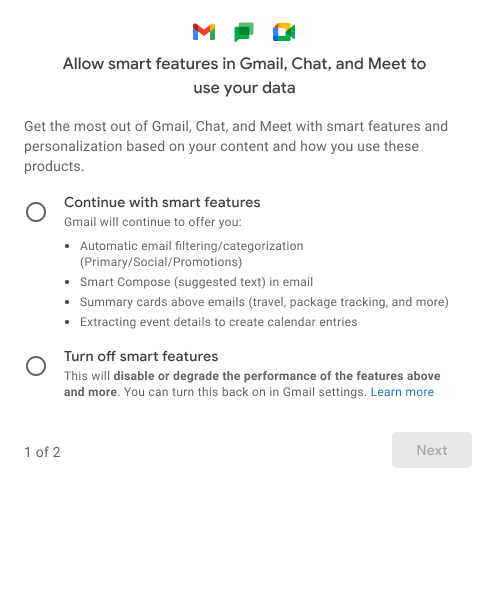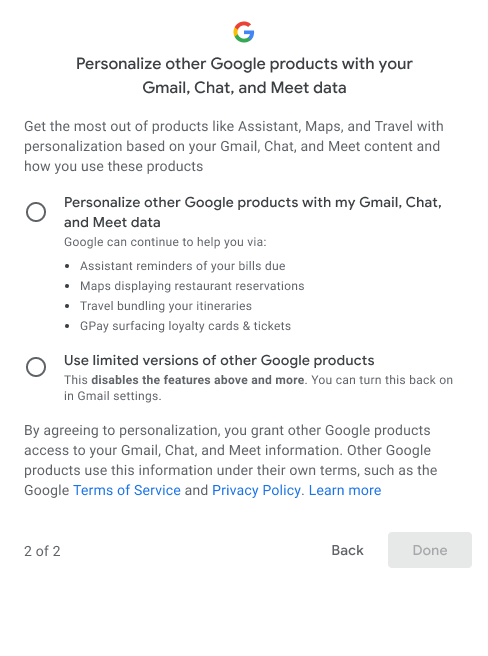 New setting for Smart features
Soon, you'll see a new setting for controlling whether your data in Gmail, Meet and Chat can be used to offer "smart" features in these and other Google products. Think: tabbed inbox, Smart Compose and Smart Reply in Gmail; reminders when your bills are due in the Google Assistant; and restaurant reservations in Google Maps.
The ability to turn on (or not) some of these individual smart features is not new. What's new is a clearer choice over the data processing that makes them possible. This new setting is designed to reduce the work of understanding and managing that process, in view of what we've learned from user experience research and regulators' emphasis on comprehensible, actionable user choices over data.
We'll continue evolving controls in our products to align with these trends. Because smart features rely on your data to save you time and provide a more helpful experience, we want you to use them because you find value in using them, not because they're simply there.
Continuing to protect your privacy
As with all Google products, Gmail, Meet and Chat are secure-by-design to help protect your data and safeguard your privacy. As before, these smart features are provided by using automated algorithms, not manual review. And, Google ads are not based on your personal data in Gmail, no matter which choice you make. You remain in control of your data, whether you're an individual Gmail user or a Google Workspace administrator.
If you decide not to use smart features and personalization, you will still be able to use Gmail and our other products. And if you decide later on that these features are helpful and you'd like to turn them on, you can do so in your Gmail settings. At home or at work, the choice should be yours. And we're always working to keep it simple.