With the help of 10 Googlers, New York State launched a web-based tool that helps connect residents to critical social services. As a result of the pandemic, millions of New Yorkers are seeking out help for daily necessities such as food, housing and COVID-related services—and many are doing so for the first time. To make it easier to find relevant services, residents simply have to answer a few questions from their phone or computer. The app is also open-sourced, so other states and civic organizations can implement it for residents.
This tool was the main project that Googlers worked on during a six-month pro bono Google.org Fellowship, making it the fifth civic entity to receive support from Google.org Fellows to date and the first working directly with a state administration. In April—during the height of New York's COVID-19 outbreak—Google.org Fellows were tasked with helping Governor Andrew Cuomo's COVID-19 Tech SWAT Team respond to the pandemic. Using their skills in engineering, product management and user experience research and design, they helped build the recently launched social services application in collaboration with the New York State Office of Information Technology Services (ITS) and Office of Temporary and Disability Assistance (OTDA).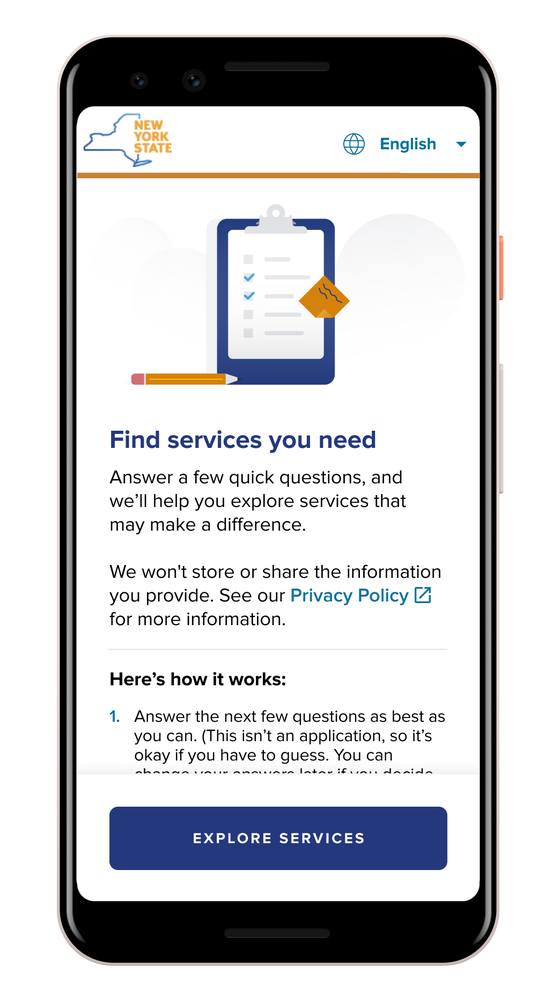 We sat down with Malika Chatlapalli, one of the Google.org Fellows, to hear more about her experience working with New York State. 
What drew you to this Google.org Fellowship? 
I've been an interaction designer out of the Google NYC office for two years, and I grew up in East Fishkill, NY. One of things I love about Google is the responsibility we feel to do the right thing, and I thought this fellowship was an opportunity to do that. With COVID-19, I wanted to do more to help—whether it was New Yorkers or people in general.

What was unique about this project for you?
When designing products, you start with the user. In this case, that meant designing for a wide range of age groups, reading levels, languages and familiarity with technology. 
That's why working closely with the state's UX team was so invaluable. I learned so much working with them—they are experts on who New Yorkers are and what they need. For example, we learned that when exploring social services New Yorkers want to follow instructions carefully and do things right the first time around, so we experimented with a variety of different ways to phrase questions throughout the tool so they were clear and direct, while also showing empathy. Asking for help can be very personal and we wanted to respect that.  
Having the opportunity to work with the UX team and test the design with actual New Yorkers was an incredibly enlightening and humbling experience.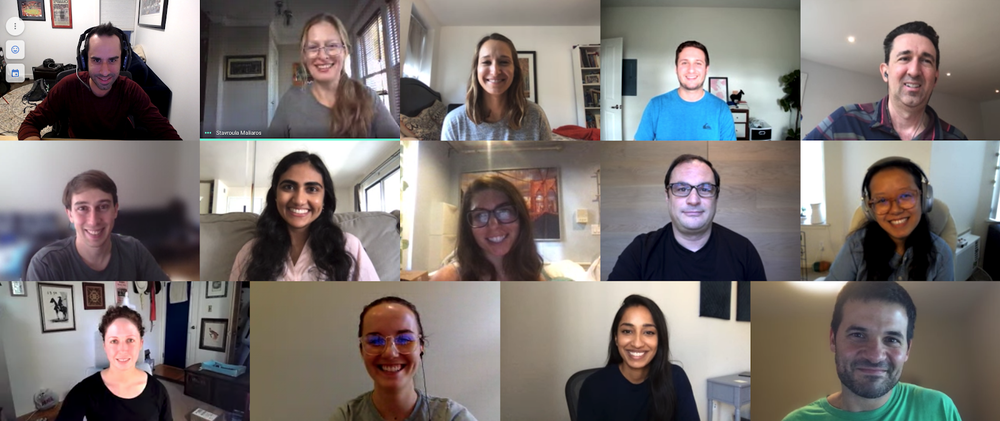 What was it like working on these projects at the beginning of the pandemic?
It was a time of unknowns. The unemployment claims were at an all time high, more and more people were looking for social services. We wanted to jump in and solve problems that the state was facing in that moment—anything that could make people's lives a little bit easier—but we also knew that in order for us to be successful, we needed to act as a cohesive team first. We invested time in getting to know each other and found moments to pause and reflect on the work we were doing. Despite being 100% virtual, we were able to build trust and camaraderie as a team. 
What were you most proud of? 
Together with the state, we built and launched a web app in three months—that rarely happens! It's also configurable, meaning the state can easily update and customize the tool to quickly adapt to the changing needs of residents, in real time, no coding necessary. While developing the web app, we also worked with the state on a design sprint and hackathon project which helped us get a deeper understanding of the challenges New Yorkers were facing. 
How did the Google.org Fellows and New York State make that happen?
The NY State team advocated for this fellowship and partnered with us—it felt like we were one team!  The state truly welcomed us with open arms, allowing us to build with them and not for them. The UX team even included us in their daily standup meetings and chat rooms. We were all so proud of the work that we accomplished together, and without that close collaboration it wouldn't have been possible.