As a Dublin native who started a company to help small retailers get online, I've seen local retailers adapt to many situations. It's safe to say that the pandemic has brought challenges unlike any other, and we've seen it directly affect many of our favorite local shops.
Due to lockdown restrictions, it's become critical for brick-and-mortar retailers to be visible online. I also know firsthand how helpful it is to be able to search online and see what a store has in stock prior to heading out of the house. 
But sharing in-store inventory online can be challenging for smaller businesses, as they may not have the resources to build and maintain an e-commerce platform. Pointy from Google meets that need by creating an online presence for these retailers to help them showcase their product offering and potentially reach new customers. 
Starting today for a limited time, Pointy from Google will offer free Pointy devices to qualifying small and medium retailers in Ireland, enabling them to display their in-store products online. Irish retailers who connect with Pointy within the next six months will also get €100 ad credit to trial Pointy's Product Ads feature.  
Pointy works by creating a connection between physical stores and Google so that their products can appear in local Google search results, which can help attract shoppers in the surrounding area to the store. Retailers don't have to do any extra work: As they scan items to be sold, the products are added to their Business Profile on Google Search and Maps so that potential customers can easily see them.

Shoppers are actively supporting local retailers: 66% of people who shop local say they are doing so in a conscious effort to support local businesses. Displaying products on their stores' Business Profiles will help Irish retailers tap into that sentiment as consumers can see that the products they are searching for online can be bought locally.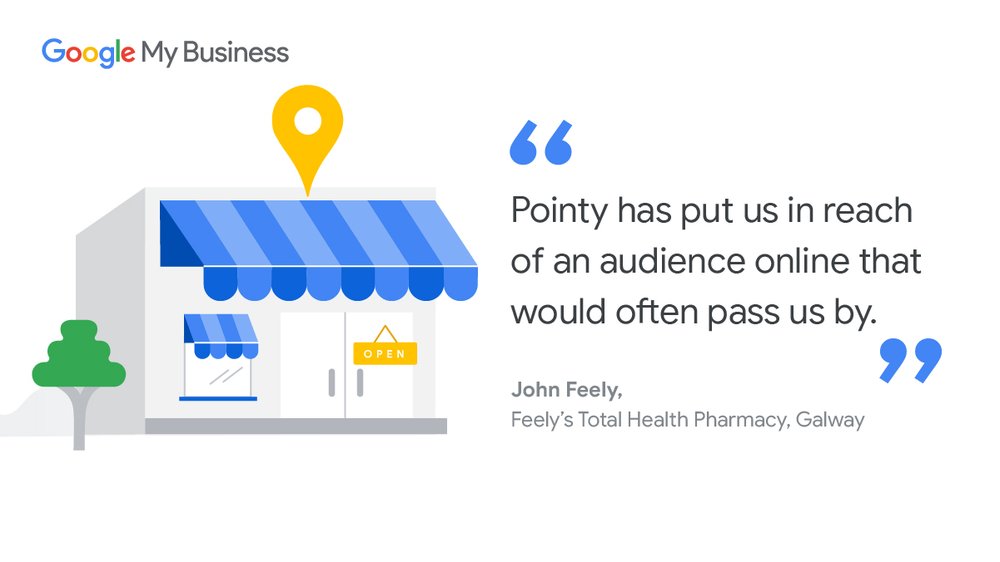 COVID-19 continues to challenge retailers, and the economic impact on small and medium businesses has been severe. Google is committed to helping these businesses recover. With a 100% increase in  searches for "available near me" since last year, this new tool will help Irish retailers reach more customers and drive footfall to local stores and shops. 
Pointy can be used via a device that is plugged into a business's point-of-sale (POS) system, or through the Pointy app, depending on the system. Pointy will be offering free devices to qualifying Irish businesses up until September 31, 2021. To find out more and sign up, retailers should visit: pointy.com/ireland.