G Suite is designed to help you do your best work, whether that's through real-time collaboration that brings your teams together or machine intelligence that speeds up everyday tasks. But we understand your company has unique needs and workflows that G Suite alone wasn't built to address. We also know your teams rely on many third-party apps for things like CRM, support, and project management to get their job done. So today, we're announcing two new ways to customize and extend your experience on the G Suite platform: App Maker, a new low-code developer tool for building custom enterprise applications, and the addition of seven new partners to our "Recommended for G Suite" third-party partner program.

Introducing App Maker, a new way to build powerful apps for your business.
App Maker is a low-code, application development tool that lets you quickly build and deploy custom apps tailored to your organization's needs. Whether you're looking for better ways to onboard new team members, staff projects, or approve employee travel requests, App Maker helps you build an app for that in days instead of months.

Go from idea to app, fast: App Maker makes it easy for IT or even citizen developers (including analysts and system administrators) to quickly iterate from a prototype all the way to deployed app. It offers a powerful cloud-based IDE that features built-in templates, a drag-and-drop UI, and point-and-click data modeling to accelerate your app development efforts. App Maker also embraces open, and popular standards like HTML, CSS, Javascript and Google's material design visual framework, so developers can build apps quickly, in a development environment that leverages their existing skills and knowledge.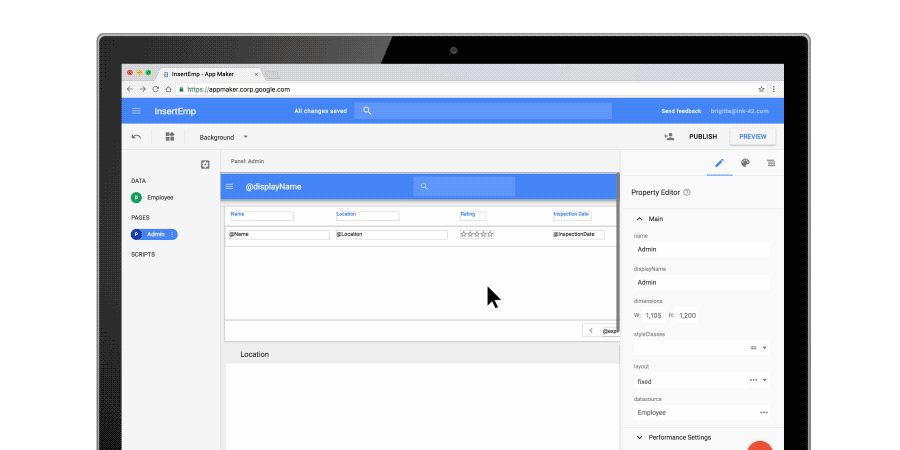 Build integrated, tailor-made solutions for every need: App Maker lets you build a range of applications customized to meet the needs of your organization and connects to a wide range of data sources and APIs. This unique flexibility starts with built-in support for G Suite products as well as popular services such as Maps, Contacts, Groups and more. You can also leverage other Google Cloud services such as the Directory API and Prediction API, or third-party APIs, to create richer, more intelligent application experiences.

Focus on delivery, not infrastructure: App Maker is built on the same secure and trusted infrastructure as G Suite apps like Gmail, Drive and Docs. Developers can safely deploy custom apps in the cloud without worrying about servers, capacity planning, infrastructure security and monitoring that would otherwise require internal support from IT.

Over the past few months, we've previewed App Maker with a handful of large G Suite customers and many have already built and deployed applications to their organizations. We're also working with the following consulting partners to help deliver solutions to our joint customers: Appsbroker, gPartner, G-Workplace, Ignite Synergy, Maven Wave, PwC, SADA Systems, and Tempus Nova.
Here are a few ways that enterprise customers and partners have used App Maker to make everyday business processes simpler and more efficient--whether it's to track suspicious login activities, take analog claims processes and make them digital, or track office inventory orders.
If you're interested in trying out App Maker, it's available today through our Early Adopter Program for G Suite Business customers. Apply for the EAP here.
Announcing new apps for the 'Recommended for G Suite' program
While G Suite helps your teams communicate and collaborate more easily, we get that you also rely on third-party apps to manage other aspects of your business including sales, marketing, and operations. We want to make it easy for you to integrate these solutions with G Suite, and that's why we introduced the Recommended for G Suite program last year. The program selects market leading applications, built by independent software vendors (ISVs), in a range of  categories like project management, customer support, finance and accounting.
Today, we're adding seven new apps to the program that can help you be more productive. These apps solve critical business problems and offer deep integration and direct support with G Suite. Each app also goes through rigorous security testing and quality measures to qualify for the Recommended for G Suite program.
Our new recommended partners include:

Since we launched this program with our first eight apps last year, we've seen many examples of how our customers have incorporated them with G Suite to drive more value for their business. We've created a webinar series to show first-hand examples of this, and you can sign up here if you're interested in attending. In addition, if you're an ISV that's interested in becoming a Recommended for G Suite partner, please submit your application here.
Try these new solutions today
We're committed to helping you get the most out of your G Suite experience by fostering the best ecosystem of cloud applications and partners. App Maker enables you to build powerful apps tailored to your organizational needs, while the Recommended for G Suite program helps your teams select leading apps to grow your business. Both solutions are available today, and we encourage you to try them out.