Google Drive has always made it easy for individuals to safely store, sync and share files. But as larger companies move to the cloud, there's more to think about — like the risk of data breaches, bumpy migrations, and compatibility with legacy tools. Our team has been working hard to solve these complexities for the enterprise. That's why we're introducing powerful additions to Drive that can help your organization:
Create, share and work confidently as a team with Team Drives

Stay in control of sensitive company data with Google Vault for Drive

Migrate easily to the cloud with our latest acquisition, AppBridge

Work seamlessly with the tools you're already using with Drive File Stream

Access relevant files immediately with Quick Access, powered by Google machine intelligence

Team Drives: work confidently together in the cloud
Most file storage solutions weren't built to handle the explosion of files that are now created and shared in the cloud — because they were initially designed for individuals, not teams. With this amount of shared data, admins need more controls to keep their data safe and teams need to feel confident working together. Team Drives deliver the security, structure and ease-of-use enterprises need by making it easy to:

Add new team members. You can manage team members individually or with Google Groups and give them instant access to relevant Team Drives.

Keep track of your files if a team member leaves. Team Drives are jointly owned by the team, which means that anything added to Team Drives stays there no matter who comes or goes. Whirlpool Corporation, for example, uses Team Drives to manage file access. Says Troy McKim, Collaboration Principle at Whirlpool Corporation, "If you place files for a project in Team Drives, you don't have to worry about losing them or moving them when files are re-owned."

Understand and manage sharing permissions. Team members automatically see the same files regardless of who adds or reorganizes them. You can also manage share permissions by defining the restrictions for editing, commenting, reorganizing or deleting files.

Manage and view Team Drives as an admin. Admins can see Team Drives for a user and add new members if necessary: "Team Drives also ease the speed at which a team member can onboard and become effective in their new role," says McKim.

Team Drives are generally available to all of our G Suite Business, Education, and Enterprise customers starting today. Set up Team Drives for your organization.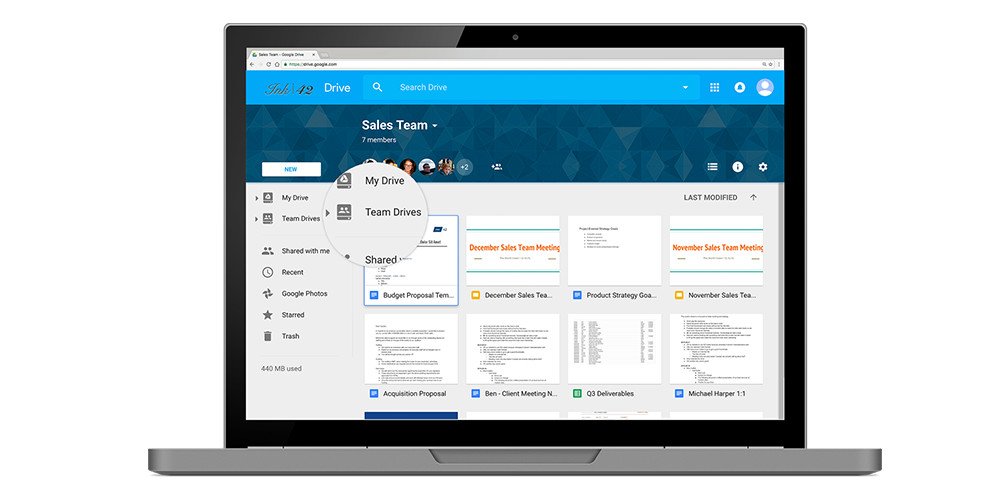 Google Vault for Drive: new, advanced admin controls for data compliance 
Managing the data lifecycle of your files (like which files you keep or delete) is complicated and timeconsuming. But ensuring compliance with your company's data policies is essential and mistakes can lead to expensive legal costs. That's why today we're adding on to Google Vault for Drive, which already offers search and export capabilities.
The new Google Vault for Drive capabilities give admins the governance controls they need to manage and secure all their files, both in employee Drives as well as in Team Drives. These new features let admins set retention policies that automatically keep what they need and get rid of what they don't. For example, you might need to place a legal hold on files that are critical to a certain legal case.
With powerful data protection tools, Google Vault for Drive ensures your admins have full control of your company data in the cloud. Google Vault for Drive is generally available to all of our G Suite Business, Education, and Enterprise customers today.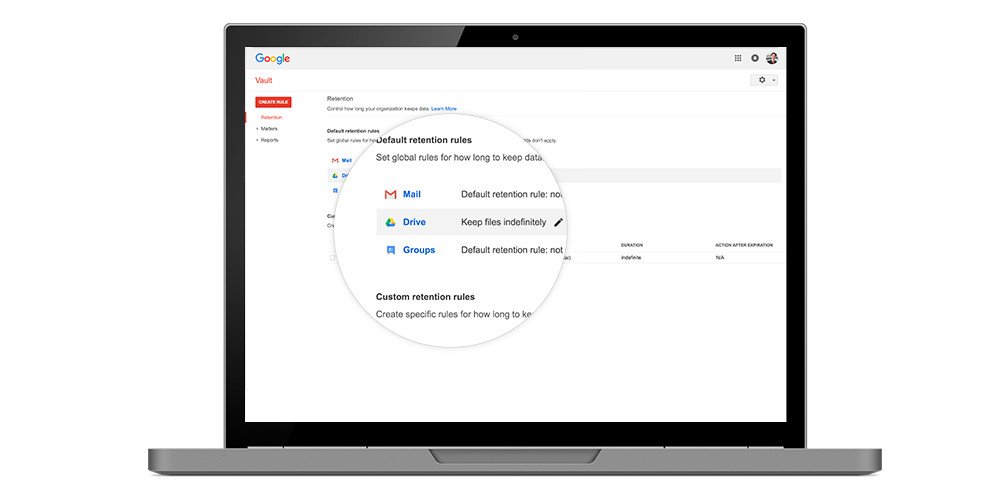 AppBridge: moving to the cloud made easy
Migrating to the cloud can be complex. It's not just your files that need to be moved; permissions also need to map correctly; content likely needs to be reorganized, and some data probably needs to be archived. To address that challenge, today we are announcing the acquisition of AppBridge, an enterprise-grade, G Suite migration tool that helps organizations seamlessly migrate from their on-prem, cloud-based and hybrid solutions to Google Drive.
With AppBridge, your organization can migrate files effortlessly to G Suite from your existing file servers or content management systems like SharePoint, or from many other cloud platforms you might be using. File permissions are also brought over when you migrate, which means your team's file access remains unchanged and your data stays safe. We're working together with AppBridge to bring them into the G Suite team. Stay tuned for more information in the near future.


Drive File Stream: work without breaking your business processes

After you migrate to the cloud, you should be able to easily access all your content using your existing tools and processes. While other cloud-based solutions use traditional, time- consuming (and hard drive-consuming) syncs, Drive File Stream, now available in the Early Adopter Program (EAP) allows teams to quickly stream files directly from the cloud to their computer. This means that all of your company data can be accessed directly from your laptop, even if you don't have much space left on your hard drive.
Drive File Stream lets you:
Access, search and manage files on-demand from your computer in seconds.

Get just the files you need and make certain files available for offline use later.

Access your work even quicker, as your most-used files become available in the background intelligently.

Avoid the risk of users downloading all of your company data to their hard drives.

Say goodbye to time-consuming file syncing and any concerns about disk space. With Drive File Stream, all your files are always ready for you and your colleagues. Sign up for the EAP of Drive File Stream today.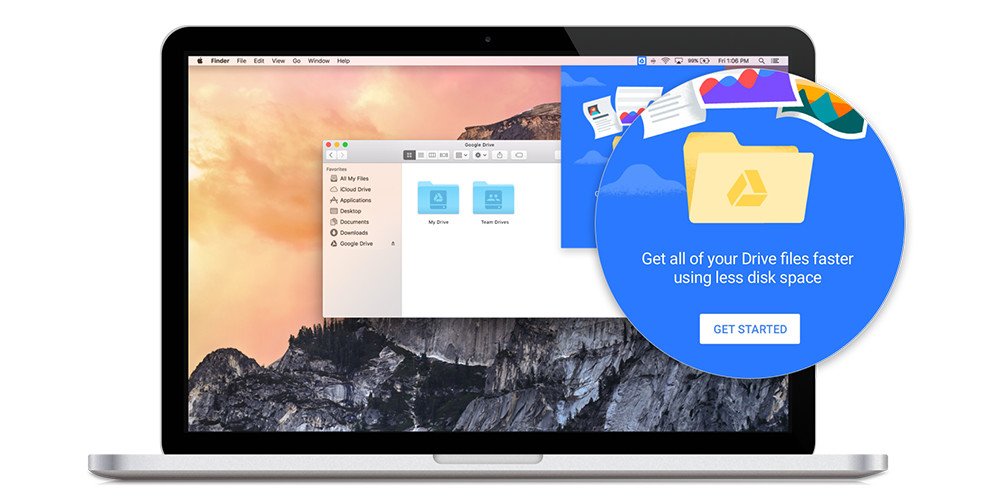 Quick Access for teams: make the most of your content with machine intelligence
You've migrated all of your data to the cloud. Now, it's time to make the power of the cloud work for you. Quick Access in Drive now works with Team Drives on iOS and Android devices, and is coming soon to the web. Quick Access is powered by Google's machine intelligence, the same technology used in Gmail's Smart Reply and Google Sheets Explore, which means that teams can save time and make smarter decisions because the right knowledge will surface to the right employees at the right time. Quick Access intelligently predicts and surfaces files based on:
Who specific files are frequently shared with

When relevant meetings occur

What files are used at specific times during the day

And many others