Like anyone who has searched for a job at some point in their lives, I know from experience how hard it can be to find the right role. You can spend days scouring job postings that are scattered across the web, flicking through newspapers or dropping into local employers, yet still struggle to find a job that suits you. Employers may be feeling the impact of this too: three quarters of U.K. employers face talent shortages and have issues filling open positions with the right candidate.
Today, more people are turning to Google to find information about their next role. We have a long history of using our technology to connect people with information, so we're excited to bring a new job search experience to Google to connect people in the U.K. to job opportunities. This new feature in Search lets you more easily explore jobs from across the web and find job postings that suit your needs and skills.

Starting today, when you search for "jobs near me," "teaching jobs," or similar queries in English in the U.K., you'll have the option to click through to a feature that lets you explore jobs from across the web that meet your unique needs. You can access salary information, reviews and ratings of the employer and different options to apply for a job, or use a location filter to see jobs in the areas that are convenient for you. Thanks to Google Maps, if you're signed in, you'll even be able to see how long it would take to commute to a job from your home.

Searching for a job can take time, and keeping up with new jobs that are posted throughout the day can be impossible. Now in Google Search you can save individual jobs with a single tap so that they are accessible across any of your devices. And if you step away from your job search, you can stay in the loop on opportunities that interest you by turning on alerts to receive an email notification whenever new jobs arrive.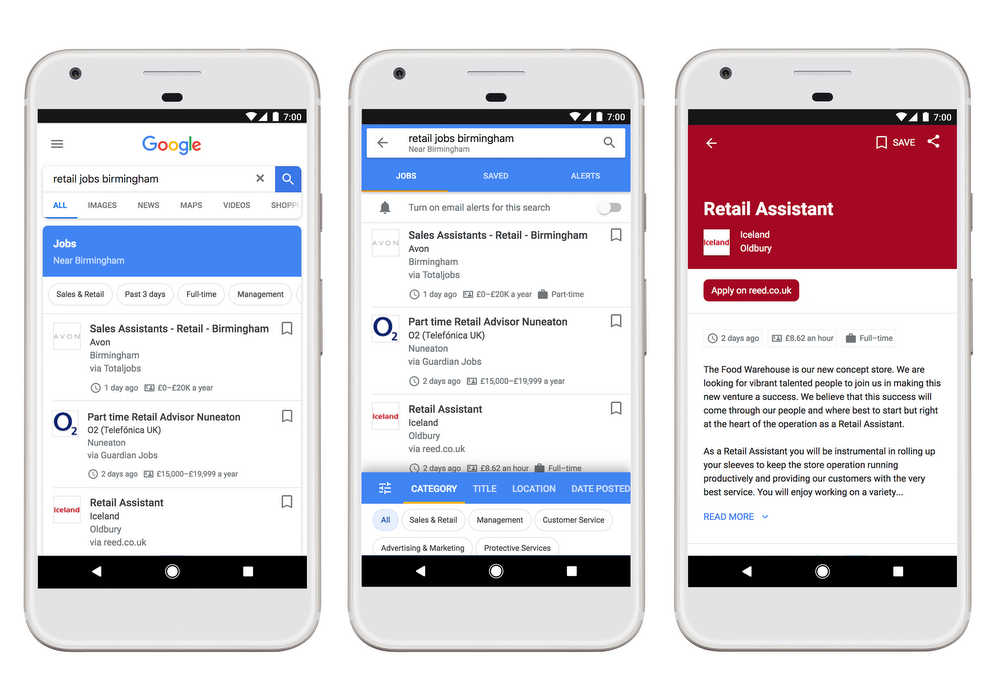 The new jobs experience in Search is the result of deep collaboration with the job-matching industry, and benefits both employers and job seekers. We first introduced this experience in the U.S. last year, and it's now live in several countries. Since launching it, we've seen 130 percent more companies showing jobs in Search and connected tens of millions of people around the world to new job opportunities.
In the U.K., we're working with organizations from across the job-matching industry to bring you the most comprehensive listing of jobs, like The Guardian Jobs, Reed.co.uk, Haymarket, Gumtree, The Telegraph, Reach plc's totallylegal, CV-Library and totaljobs.com. This means anyone searching for jobs on Google will see postings from these sites and many others from across the web as soon as they're posted. To ensure even more jobs are listed over time, we're publishing open documentation for all jobs providers detailing how to make their job openings discoverable in this new feature.
This launch also builds on the commitment we made last year to help 100,000 people in the U.K.find a job or grow in their career by 2020. We're doing that through our Google Digital Garage program, which gives anyone free training in digital skills and products to help grow their career, business or confidence. So far we've helped tens of thousands of people find their next job through free training at four city-center hubs and with partners across the U.K.

Whether you're a recent graduate looking for your first job, a parent supporting a growing family, or simply hunting for your dream role, we hope this new experience on Google will help make the job search simpler and connect you with your next job.