With trust in journalism under attack, data journalism has never been more vital. And this year, for the sixth consecutive year, we're proud to support the 2017 Data Journalism Awards.
But you need to get your skates on: The deadline is fast approaching for the only global awards recognizing work that brings together data, visualization and storytelling to produce some of the most innovative journalism out in the world today.
It's a part of our commitment to
supporting innovative journalism
both in Europe and around the world.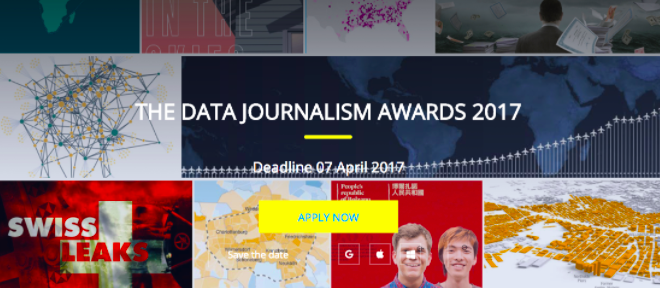 Past winners of the $1,801 prizes include the New York Times, Buzzfeed, FiveThirtyEight, Quartz and IndiaSpend. 2017 hopefuls don't have long: the deadline for this year's awards is April 7, 2017 at midnight GMT.
And if you're wondering why the prize is $1,801? That's because in 1801 William Playfair invented the pie chart.
Aimed at newsrooms and journalists in organizations of all sizes—big and small—the #DJA2016 awards will recognize the best work in key categories, including:
Data visualisation of the year

Investigation of the year

News data app of the year

Data journalism website of the year

The Chartbeat award for the best use of data in a breaking news story, within first 36 hours

Open data award

Small newsrooms (one or more winners)

Student and young data journalist of the year

Best individual portfolio
The competition is organized by the Global Editors Network: a cross-platform community of editors-in-chief and media innovators committed to high-quality journalism, with the support of Google and the Knight Foundation. For Google, the Data Journalism Awards offer another way for foster innovation through partnership with the news industry, in addition to our efforts through the Digital News Initiative and the work of the Google News Lab teams around the world.
Data journalists, editors and publishers are encouraged to submit their work for consideration by joining the GEN community via this form by April 7 at midnight GMT. A jury of peers from the publishing community, including new jury members Esra Doğramacı from Deutsche Welle and Data Journalism China's Yolanda Ma will choose the winners, which will be announced during a gala dinner at the Global Editors Network Summit in Vienna on June 22.
Good luck!
Simon Rogers is Data Editor at Google's News Lab and Director of the Data Journalism Awards