It's time for another round of our Savepoint series, where we recap the new games, features and updates available on Stadia.
Several new titles launched on the Stadia store in July for players to explore and stream across their favorite devices. Fans of '80s action movies and cyberpunk warfare jumped into Far Cry 3: Blood Dragon, an open-world adventure set in the distant future. Meanwhile, canine lovers flew to the rescue in DC League of Super-Pets: The Adventures of Krypto & Ace, a new action-adventure game featuring superhero dogs within the DC Universe. Valiant Hearts: The Great War also launched in July, drawing players into a story of friendship, love, sacrifice and tragedy during the First World War.
Active Stadia Pro subscribers could claim seven new games in July from a growing library of more than 50 titles. That included the worldwide launch of Time on Frog Island, a sandbox adventure on a vast island. Subscribers also claimed Five Nights at Freddy's: Security Breach, Centipede: Recharged, Those Who Remain, Worms W.M.D., Roguebook and Fast and Furious: Spy Racers Rise of SH1FT3R. It's easy to try out new games like these in the Pro library, especially since creating a new Stadia account includes an offer for a one-month trial of Stadia Pro.
Last month, Stadia also launched an update to make it easier to navigate your TV using the Stadia Controller. Now, you can scroll through content on your Chromecast with Google TV or other compatible Android TV OS devices using your Stadia Controller, even outside the Stadia app.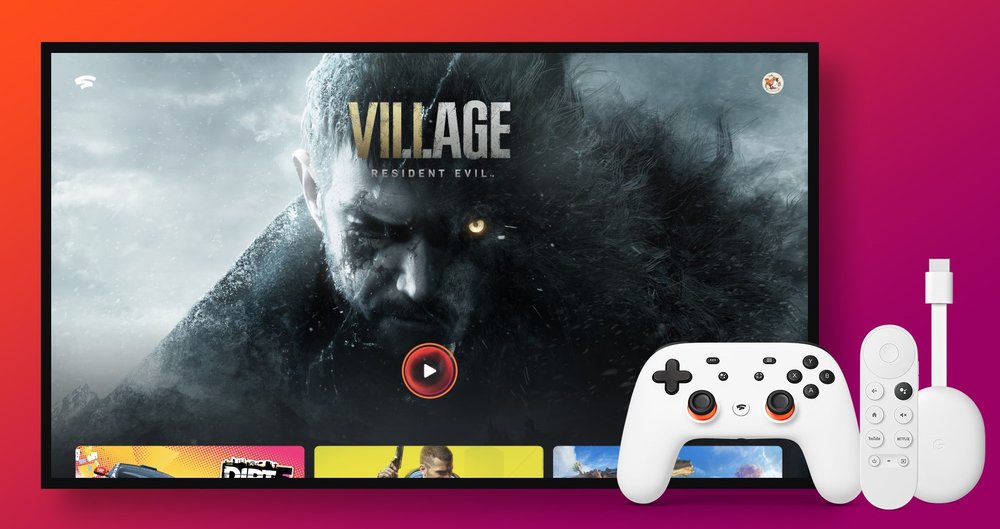 Stadia Pro updates
Seven new games were added to the Stadia Pro library in July.
Today, there are 52 games to explore in Stadia Pro: HITMAN, Darksiders Genesis, Journey to the Savage Planet, PixelJunk Raiders, Terraria, Darkwood, ARK: Survival Evolved, Wave Break, Legend of Keepers: Career of a Dungeon Manager, Cake Bash, Control Ultimate Edition, Saints Row IV: Re-Elected, Hundred Days - Winemaking Simulator, Wavetale, Destroy All Humans!, Wreckfest, Bloodstained: Ritual of the Night, Merek's Market, PHOGS!, Dawn of the Monsters, Adam Wolfe, Race with Ryan Road Trip Deluxe Edition, World War Z: Aftermath, City Legends: The Curse of the Crimson Shadow Collector's Edition, Ys IX: Monstrum Nox, Chicken Police - Paint it RED!, OUTRIDERS, Lumote: The Mastermote Chronicles, PAW Patrol The Movie: Adventure City Calls, Kaze and the Wild Masks, Cities: Skylines, Deliver Us the Moon, Lake, DEATHRUN TV, Through The Darkest of Times, Golf With Your Friends, TOHU, Ben 10: Power Trip, Five Nights at Freddy's: Security Breach, Centipede: Recharged, Those Who Remain, Worms W.M.D., Roguebook, Fast and Furious: Spy Racers Rise of SH1FT3R, Time on Frog Island, Saints Row®: The Third™ - Remastered, Monster Jam Steel Titans 2, Calico, Shantae: Half-Genie Hero Ultimate Edition, Murder by Numbers, Welcome to Elk.
July content launches on Stadia:
Stadia announcements in July:
As always, we'll be back next month to share another recap. In the meantime, keep an eye on the Stadia Community Blog, Facebook, YouTube and Twitter for the latest on new games, features and updates.