It's time for another round of our Savepoint series, where we recap the new games, features and updates available on Stadia.
In June, players learned about the culture and traditions of the Vikings in Discovery Tour: Viking Age and restored justice as a famed hero in Zorro: The Chronicles. They also set out on a chaotic quest in Rabbids: Party of Legends, a family party game for up to four players. Plus, Play Days events gave everyone on Stadia the chance to play Dead by Daylight, Assassin's Creed Origins and Rainbow Six Siege.
Active Stadia Pro subscribers claimed seven new games in June. That included four games that launched directly within Stadia Pro's library of more than 50 titles: Deliver Us The Moon, Lake, DEATHRUN TV and Through the Darkest of Times. Pro subscribers also claimed Ben 10: Power Trip, TOHU and Golf With Your Friends. It's easy to try out new games like these in the Pro library, especially since creating a new Stadia account includes an offer for a one-month trial of Stadia Pro.
Last month, Stadia also continued to experiment with Click to Play Trials, adding 60 new trials that you can start playing in seconds. With more than 100 trials now available, you can try full games like Terraria, Far Cry 6 or OUTRIDERS WORLDSLAYER at no additional cost and without creating a Stadia account.
In June, Stadia added 60 new trials for full games available on the Stadia store. Just click to play and try over 100 games without creating a Stadia account.
In June, Stadia launched on the new Samsung Gaming Hub, available on Samsung 2022 Smart TVs. Just connect a controller and start playing Stadia games at home with friends or family. For more information, check out our Help Center article.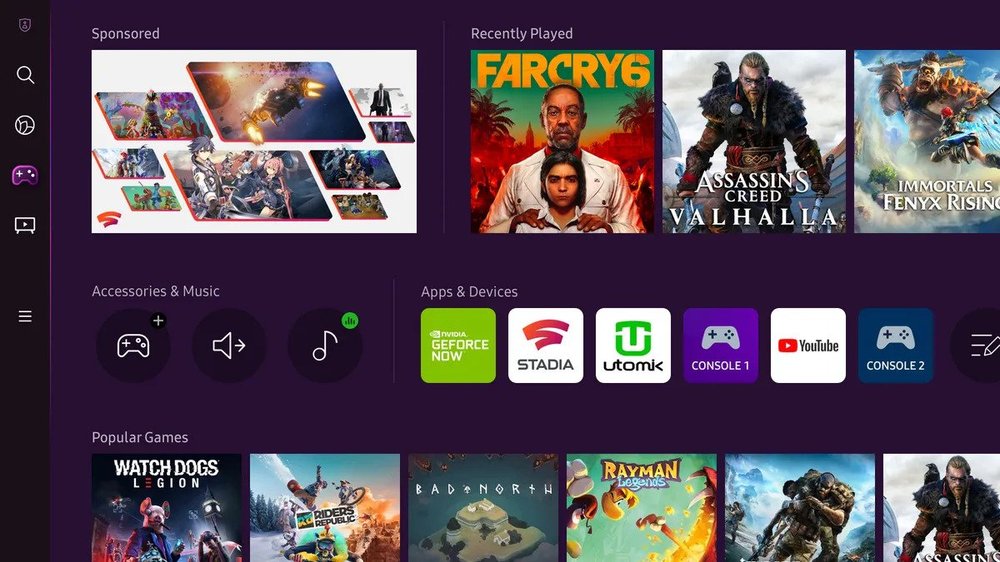 One of Stadia's biggest goals is to provide easier access to cloud gaming across more devices. And in June, we announced that Stadia will be launching in Mexico later this year! We look forward to welcoming players in Mexico, which will be the 23rd country with access to Stadia.
Stadia Pro updates
Seven new games were added to the Stadia Pro library in June.
Today, there are 52 games to explore in Stadia Pro: HITMAN, Darksiders Genesis, République, Journey to the Savage Planet, PixelJunk Raiders, Terraria, Darkwood, It Came From Space And Ate Our Brains, Epistory - Typing Chronicles, Killer Queen Black, GRIME, ARK: Survival Evolved, Wave Break, Legend of Keepers: Career of a Dungeon Manager, Cake Bash, Control Ultimate Edition, Saints Row IV: Re-Elected, Hundred Days - Winemaking Simulator, Wavetale, Destroy All Humans!, Wreckfest, Bloodstained: Ritual of the Night, Nanotale - Typing Chronicles, Merek's Market, One Hand Clapping, PHOGS!, Dawn of the Monsters, Adam Wolfe, Race with Ryan Road Trip Deluxe Edition, World War Z: Aftermath, City Legends: The Curse of the Crimson Shadow Collector's Edition, Ys IX: Monstrum Nox, Chicken Police - Paint it RED!, OUTRIDERS, Lumote: The Mastermote Chronicles, PAW Patrol The Movie: Adventure City Calls, Kaze and the Wild Masks, Cities: Skylines, Deliver Us the Moon, Lake, DEATHRUN TV, Through The Darkest of Times, Golf with Your Friends, TOHU, Ben 10: Power Trip, Five Nights at Freddy's: Security Breach, Centipede: Recharged, Those Who Remain, Worms W.M.D., Roguebook, Fast and Furious: Spy Racers Rise of SH1FT3R, Time On Frog Island.
June content launches on Stadia:
Stadia announcements in June:
Asteroids: Recharged
Black Widow: Recharged
Breakout: Recharged
Centipede: Recharged
Kombinera