One of the sweet things about being a Pixel user is that your phone continues to get a boost of helpfulness with Feature Drops. Whether you want to quickly tap to access Snapchat from your Pixel lock screen or control the bass levels on your Pixel Buds A-Series, we've got an update you'll love.
This latest Feature Drop will roll out to users over the next few weeks, starting today with relevant updates coming to Pixel 3a through Pixel 5a (5G) devices - see g.co/pixel/updates for details. Pixel 6 and Pixel 6 Pro devices will begin receiving their updates next week.


Snapchat, digital car key and ultra-wideband help Pixel do more
You can already customize the actions your Pixel takes when you use Quick Tap, from taking a screenshot to playing music. With Quick Tap to Snap, you can access Snapchat directly from your lock screen, making Pixel the fastest phone to make a Snap. Quick Tap to Snap is available to all Pixel 4a with 5G or newer Pixel phones. Plus, starting this month, you'll be able to add a new Pixel-exclusive Lens – Pixel Face – to your Snaps. Look out for more Pixel-exclusive Lenses in future Feature Drops.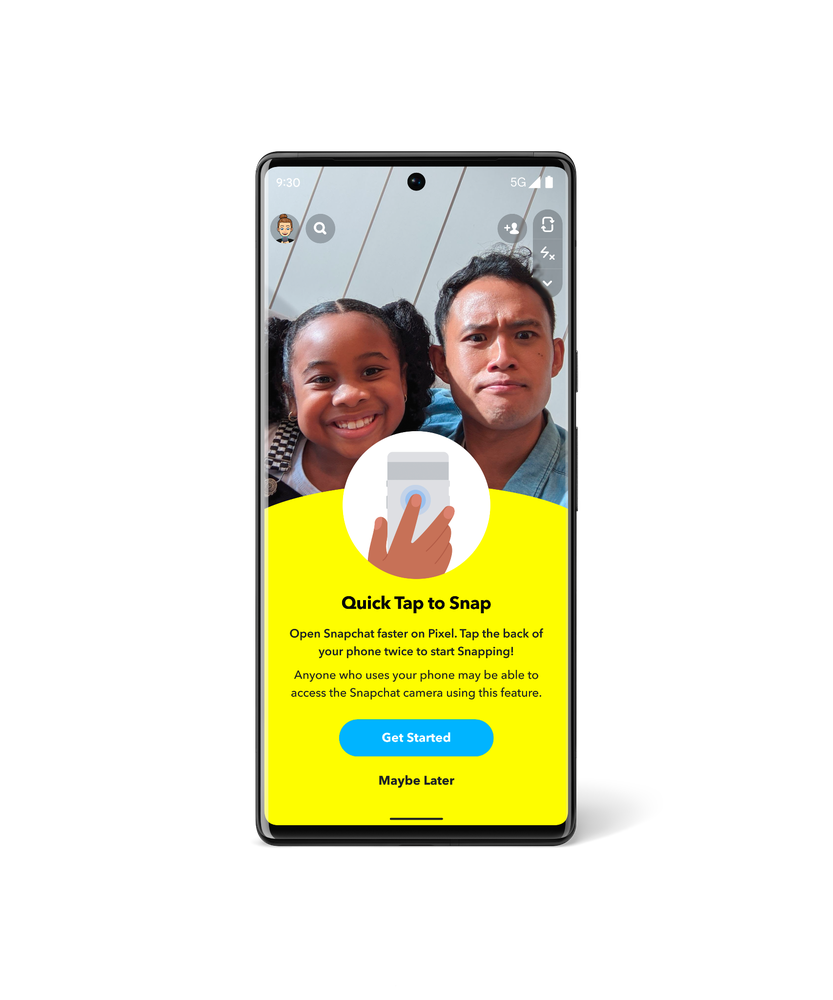 As you saw from our friends at Android, we've partnered with BMW to enable digital car key for Pixel 6 and Pixel 6 Pro. On select 2020-2022 BMW models in certain countries, you can now unlock and lock your car by tapping your phone on the door handle, and you can start your car by placing your Pixel on the interior key reader and pressing the engine start button.
And ultra-wideband is now enabled on Pixel 6 Pro. This technology improves Nearby Share so you can quickly and securely send files, videos, map locations and more to other ultra-wideband devices nearby.
Personalize your devices
Conversation mode, an early-stage accessibility feature in the Sound Amplifier app, is now available in beta first on Pixel. This feature uses on-device machine learning to help anyone better hear conversations in loud environments by tuning into their conversation partner and tuning out competing noise. While Google Research continues to work on conversation mode you can get a sneak peek as an early tester and help make it better for everyone.

Have you ever heard a catchy new track, but have no idea what it is? We've updated the Now Playing experience on Pixel to help you find your next favorite song. As always, Now Playing's automatic recognition is done entirely on-device. If Now Playing hasn't automatically identified a song playing nearby, turn on the new search button and tap to let Pixel find it for you (available on Pixel 4 or newer Pixel phones). And if you're really digging it, smash that music note icon next to the track's recognition on your lock screen to save it as a favorite.
On-screen experience is simulated for illustrative purposes. Now Playing may not recognize every song.
Speaking of music: We're also introducing improved bass-level control for the Pixel Buds A-Series. With any Android 6.0+ device, you can now open the Pixel Buds app and use a slider to adjust bass from -1 to +4, giving you twice the bass range you currently have.
We've also added to our wallpapers. In celebration of International Day of Persons with Disabilities, we collaborated with Dana Kearly, a disabled multidisciplinary artist from Vancouver B.C., to create three beautiful new wallpapers for the Curated Culture collection.
Wallpaper by Dana Kearly.
Car crash detection and Recorder
Car crash detection is now supported in Taiwan, Italy and France, in addition to Spain, Ireland, Japan, the U.K., Australia, Singapore and the U.S. When car crash detection is turned on in the Personal Safety app, your Pixel 3, Pixel 4 or newer Pixel phone can help detect if you've been in a severe car accident. If a crash is detected, your phone will check in with you to see if you're OK. If there's no response, Pixel can share your location and other relevant details with emergency responders. (This feature is dependent upon network connectivity and other factors and may not be reliable for emergency communications or available in all areas.)
And while car crash detection is expanding to new countries, we're also enabling new languages for transcription in the Recorder app. These include Japanese, French and German on Pixel 3 and newer Pixel phones.
If you want to learn more about these updates visit our Pixel forum. Otherwise, that's all for now — until our next Feature Drop!