The world is dynamic, and it can be hard to keep up with changes in your city and neighborhood. Is my favorite restaurant doing outdoor dining? What are people saying about the new bubble tea place? Has that hiking trail reopened?
If there's anyone that can keep you in-the-know, it's the Google Maps community. Every day, people submit more than 20 million contributions—including recommendations for their favorite spots, updates to business services, fresh reviews and ratings, photos, answers to other people's questions, updated addresses and more.
Now, we're making it easier to find updates and recommendations from trusted local sources with a new community feed in the Explore tab of Google Maps. The feed shows you the latest reviews, photos and posts added to Google Maps by local experts and people you follow as well as food and drink merchants, and articles from publishers like The Infatuation.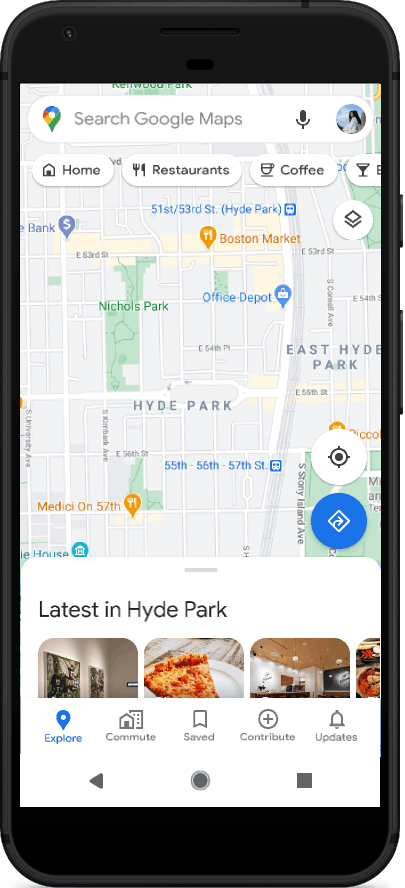 Find the things you want to do
Every day, you can come to your feed to see what's happening in your area. Wondering if your favorite Mexican restaurant has added a new dish to the menu? If you follow them on Maps, you'll get their updates in your feed. Looking for a new nearby hike or a popular day trip near your city? Browse the feed for top recommendations of things to do from Google Maps users in that area. By panning and zooming the map, you can find helpful information for almost any location in the world, thanks to contributions from in-the-know locals. 
The community feed brings together helpful local information and tailors it to your selected interests. For example, if you've marked an interest in healthy food or Greek cuisine in your Google Maps food and drink preferences, you'll see more recommendations, photos and business posts for that type of dining. 
A business post in the community feed

Find updates and posts from nearby businesses in Google Maps

A user post about a park in Google Maps community feed

See things to do and recommendations from other people who have posted updates on Google Maps

An article from a published in Google Maps community feed

Get information and recommendations from publishers on Google Maps
A helpful voice for local businesses
The community feed also helps connect businesses with customers. Over the past year, we've seen businesses use their Business Profile on Google to let the world know about their current offerings and operations, like takeout and delivery options, new online services and the safety precautions they're taking. In early testing of the community feed we saw that posts from merchants are seen two times more than before the feed existed. So now more people can see if a local business is offering a new service, has a limited time specialty or opened outdoor seating.
What makes Google Maps such a great tool to navigate and explore is the community of people, from our passionate Local Guides to nearby business owners. Those community recommendations are front and center with the community feed, now rolling out globally for everyone on Android and iOS. Get ready to rediscover your neighborhood, city and world with Google Maps.