Many small and medium-sized businesses believe that because they're smaller, their security risk is relatively small as well. But that isn't always the case. Some small and medium-sized businesses also worry that mobile security requires a large, complex investment, perhaps beyond their budget or expertise.
Smaller organizations, however, are increasingly the target of malicious attackers and may be required by local laws to protect company data. And with more business and customer data residing on mobile devices, one lost or stolen phone can create a major incident that can have a large and lasting impact on your business. 
Investing in mobile security doesn't have to be a big, complicated endeavor. It's about using the right tool for the job to help ensure that critical protections are in place.

For businesses with simpler needs, smaller budgets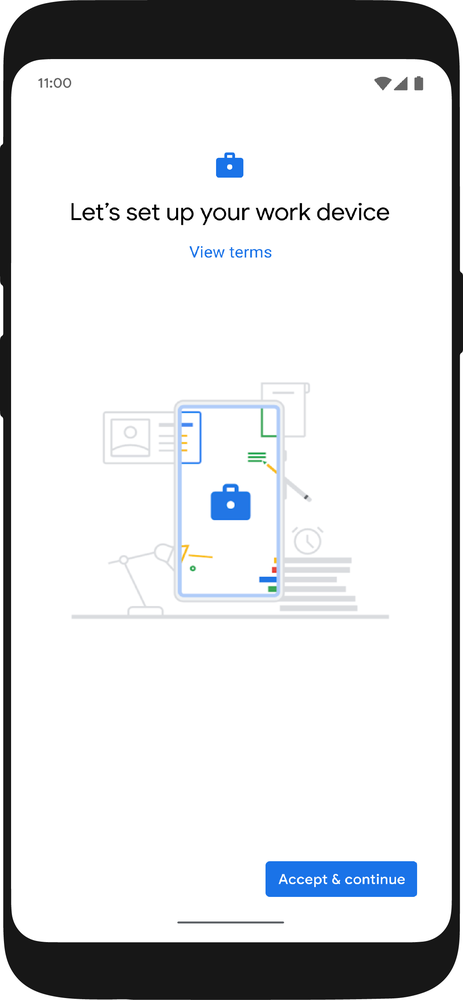 That's why we're announcing Android Enterprise Essentials, a secure mobile management service built by the Android team to make it easy to protect your business devices and data. We've leveraged our experience building Android Enterprise device management and security tools for the world's largest organizations, and distilled this functionality down to a critical set of default features designed for businesses with simpler needs and smaller budgets. 
Some of the key features include:
Requiring a lock screen and encryption on devices to prevent unauthorized access to company data.

Enforcing mandatory malware protection by ensuring Google Play Protect is always on and employees can't download apps outside of the Google Play Store.

Providing the ability to wipe all company data from a device in case it's lost or stolen. 
Learn more about the full feature set by visiting the Essentials website.
These core features are applied automatically, so there's nothing for users to configure and no extensive management or training is required. Just purchase devices and ship or hand them off to employees with persistent policies already in place. 
Small investment, big reward
"Businesses are increasingly telling us their top considerations for investment are security and increased user productivity," said Mark Bowker, Senior Analyst with the Enterprise Strategy Group. "During ESG's validation of Android Enterprise Essentials, it became quickly evident that the simple management capabilities and seamless employee experience provide confidence in security for businesses and a safer work environment for employees."
Essentials is ideal for small and medium-sized businesses, but also works for larger organizations that want to extend core protections to devices which may not need advanced device management. Essentials can also serve as a starting point for customers who want to try out simple management at first, and potentially upgrade to more sophisticated management in the future. 
We are working in the initial roll-out with distributors Synnex in the US and Tech Data in the UK. We plan to make Essentials available through additional resellers as we prepare to take this service global starting early next year. To learn more about Essentials and how it makes mobile security easy and affordable for businesses, please register for our webinar or check out our Essentials website. And if you're interested in becoming an Essentials partner, please visit the Android Enterprise Partner Portal to register for our partner community.