On August 21—for the first time in 100 years—a total solar eclipse will cross the the United States.
Last week we shared an interview with Vivian White, who is coordinating a mighty team of volunteers capturing photos of the eclipse. In collaboration with UC Berkeley, the Eclipse Megamovie project will take these photos and algorithmically align and stitch them together to create a continuous view of the eclipse: the Eclipse Megamovie.
Today we'll hear from a volunteer whose contributions will make Megamovie possible. By day, Steven Madow works as a product analyst for Shop Disney Parks (the app and website that let you buy as much Disney swag as your heart desires), and for the last 12 years, videography and photography have been his passion projects. Now he's bringing his passion to Megamovie.
Keyword: How did you hear about this project, and how did you get involved?
Steven: I listen to NPR a lot, and they talked about Megamovie on two of my favorite shows—Planetary Radio and Science Friday—which got me interested. According to my fiancée, I've been talking about this eclipse since 2015, so I guess I've been excited for it for a while!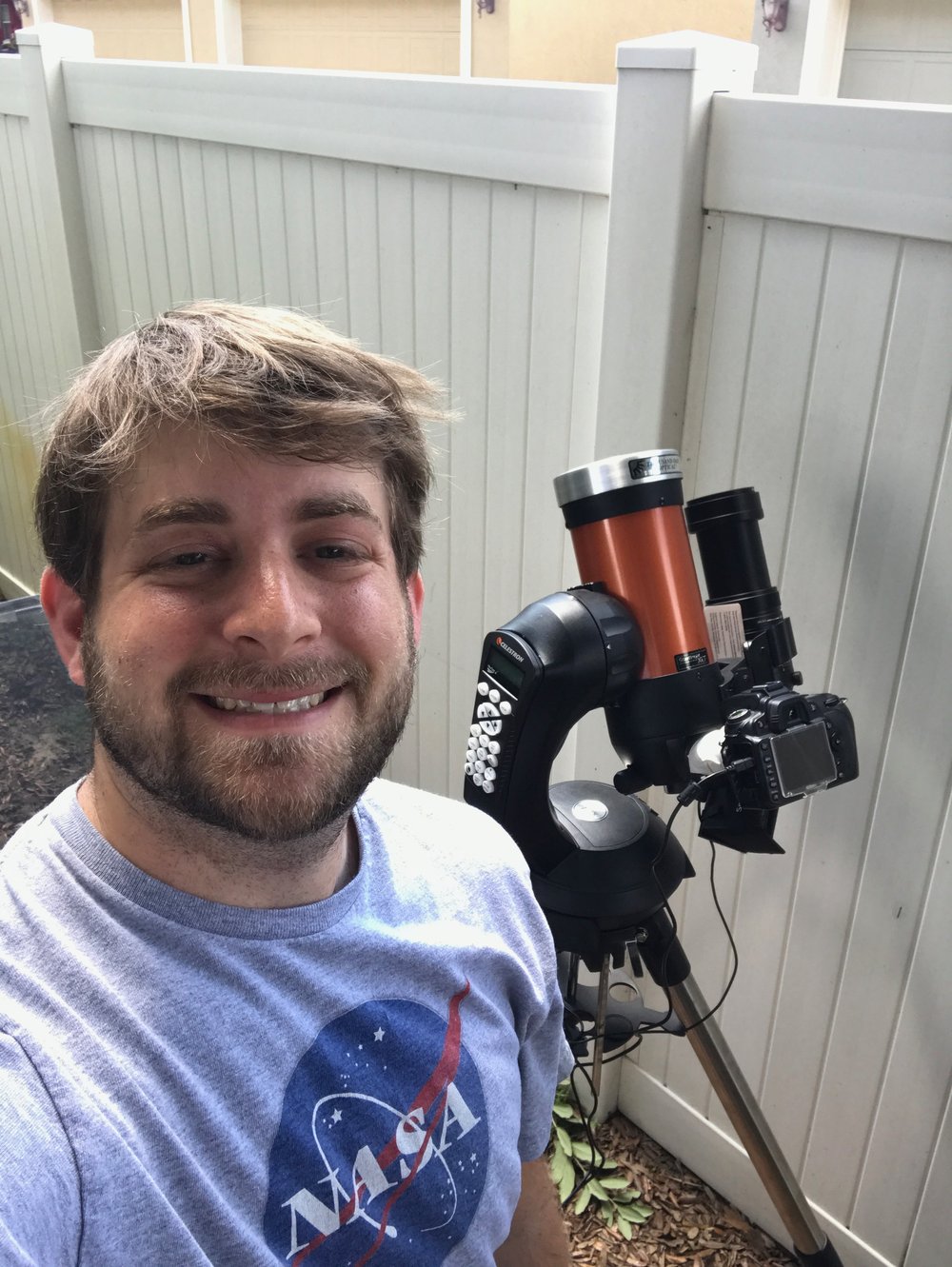 Where are you going to watch? And what will you do when you get there?
I'm heading to Madras, OR, where there's the lowest probability of cloud cover on the path of totality. It seemed like a good excuse for a trip! I'm bringing two cameras—a Panasonic and a Nikon—to capture photos for Megamovie, as well as a couple other cameras I'm planning to use just for my own photos. I can connect these cameras to a telescope (which tracks the sun), and it's all automated. I've heard that watching the eclipse is like being in 360 degrees of a sunset, so the automation will allow me to actually watch and enjoy the eclipse.
How long have you been interested in astronomy?
I like outdoorsy things and have always been interested in natural events. I'm from Baltimore but went to college in Florida, and when I first saw a rocket launch from a balcony 60 miles away, I thought, "Wow, that's so cool. I have to learn more about this." Since then I've seen dozens of rocket launches up close, as well as amazing shots of night launches, which inspired me to make the jump to more serious camera gear. I got into drones before they were called drones—they were called "quadcopters" then—and I started making videos as a side project. People saw my work and started hiring me to make more videos.
What kind of prep work do Megamovie volunteers have to do?
Volunteers attend webinars and need a certain level of photography gear. We've been doing practice tests—shooting the moon and sun—and testing out a special uploader that was created for this project. It was created for different camera types and allows for uploading with very low bandwidth, which is key since most of us will be using heavily overloaded cell networks.
Have you been able to connect and create a community with other citizen scientists through this project?
There are volunteer forums where you can ask questions about all aspects of planning—traveling with equipment, traffic predictions, image uploading and everything else imaginable.
Through a forum I met Xavier Jubier, the creator of Solar Eclipse Maestro, an eclipse photography automation program, and worked with him to add support for Panasonic cameras (which I'm using during the eclipse). There were a lot of tests and back-and-forth on email, but now a few of the Panasonic cameras are supported and I've been able to teach other volunteers how to use the software.
So people share expertise but they also get to know each other. I started a thread called "Introductions," asking people to reply with a few simple things about themselves including why they are interested in the project. It has 114 replies (114 new people I've gotten to know!), and most of them—like me—are psyched to contribute to a larger scientific cause.