With the long Labor Day weekend beckoning, we'll spare you the introduction and dive right into the past week of search trends.

Party at the VMAs
It's been nearly a week since it all went down, but given the number of trending topics related to the Sunday evening spectacle known as the 2015 MTV Video Music Awards, we feel almost obligated to recap how it played out on Search. So, here are the highlights: bizarre but wonderful host Miley Cyrus pulled in a cool 5 million searches, while her onstage confrontation with Nicki Minaj (which may or may not have been planned) got another 500,000+. Kanye West accepted the show's highest honor—the Michael Jackson Vanguard Award—in a rambling 13-minute speech (during which he may or may not have committed to running for president in 2020), racking up more than 200,000 searches.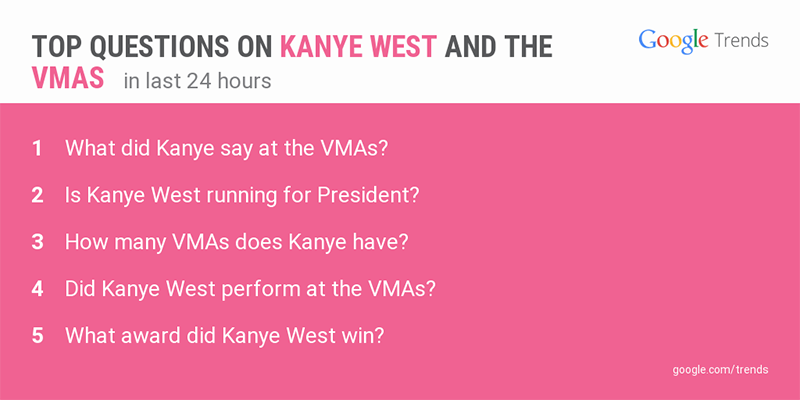 Justin Bieber cried while performing his new single, "What Do You Mean," inspiring 500,000+ searches for the performance and another 500,000+ for the song; and finally, Taylor Swift—no stranger to VMA drama featuring Kanye West and acceptance speeches, as well as public spats with Nicki Minaj—premiered her video for "Wildest Dreams," (100,000+ searchers wanted to know more). For more trends from the show (and to find out which of these artists claimed the "Most Searched" title), check out the trends page.


Kentucky courthouse drama
A Kentucky county clerk found new notoriety this week, appearing in Hot Trends not just once but three times. Kim Davis has repeatedly refused to issue marriage licenses to same-sex couples, claiming it would infringe on her religious beliefs. Multiple couples sued her, and Judge David L. Bunning ordered her to issue the licenses. Finally, after her request for a stay from the Supreme Court was denied, yesterday Davis was held in contempt of court. With Davis in jail, her deputies began issuing licenses to couples today. As the saga played out in Rowan County, people turned to the web with inquiries ranging from "What religion is Kim Davis?" and "What law did Kim Davis break?" to more broad questions like "Why do we need marriage licenses?" and "How long have there been marriage licenses in the U.S.?"
Fall fun
The days are getting shorter (in the Northern Hemisphere, at least) and the long Labor Day weekend marks the unofficial end of summer. In the U.S., people have turned to the web to learn more about the origins of Labor Day and to ask an important fashion question: "Why can't you wear white after Labor Day?" Our advice: don't let anyone tell you you can't.)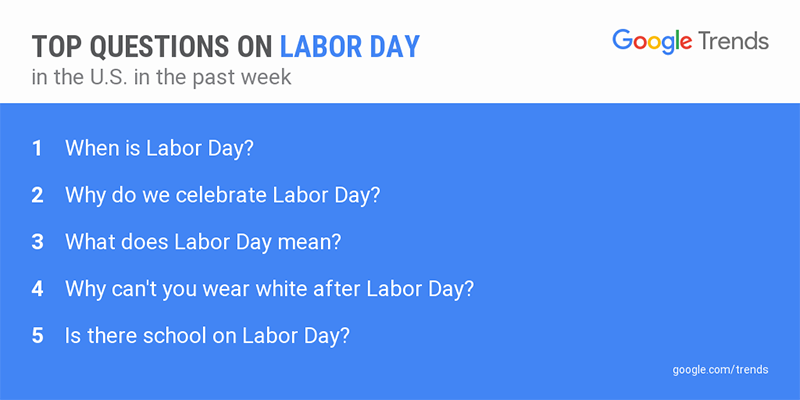 Autumn may make some melancholy, but for football fans it's a time to rejoice. Tomorrow marks the first college football Saturday of the season, and searchers are gearing up in anticipation. Yesterday's Michigan game against Utah drew 500,000+ searches as people looked to find more about the game. As the debut game for new Michigan coach Jim Harbaugh, expectations were high, but deflated (see below) when Utah won 24-17. But it's Michigan rival—and defending national champs—Ohio State that lit up the scoreboard as the most searched team over the past month: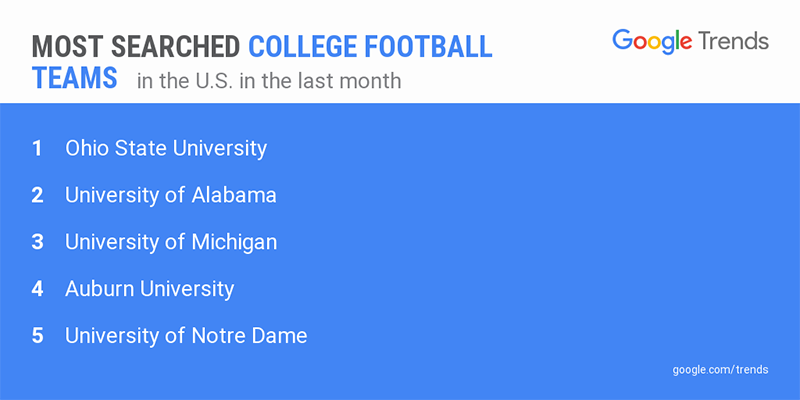 Finally, though the NFL season doesn't officially start until next Thursday, the league is in the news after Patriots QB Tom Brady's four-game suspension for "Deflategate" was overturned. Brady was the top trend Thursday, with 1 million searches, as people asked questions like "Is Tom Brady suspended?" and "What does 'nullified' mean?"