Learning about the candidates and their campaigns is an important part of preparing for the upcoming elections. We've already
added some Search features
that let you dive into important issues and track the primaries. Starting today, we're making it easier for you to find two additional types of information about candidates: how their campaigns are funded, and how they're trending compared to one another.
Campaign finance information just a search away
Finding information on campaign funding can be difficult, if not seemingly impossible. Today, working with one of the most respected data sources in the industry,
the Center for Responsive Politics
, we're making presidential campaign finance information easy to access and understand, right from Google Search. So when you search for
donald trump
 or
 clinton campaign finance
, you'll see a snapshot of their campaigns' finance breakdown and be able to dig into interesting insights, like the percentage of funds coming from SuperPACs versus individual donations, or which industries have donated the most to a given candidate.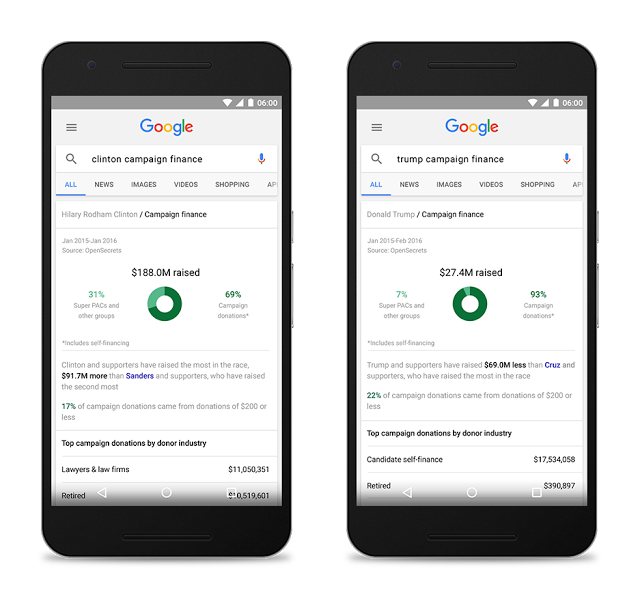 Who's trending?
We're also taking candidate
search trends
information and making it available directly in search. So when you search for a given candidate you can see how others have searched for them and their opponents over time.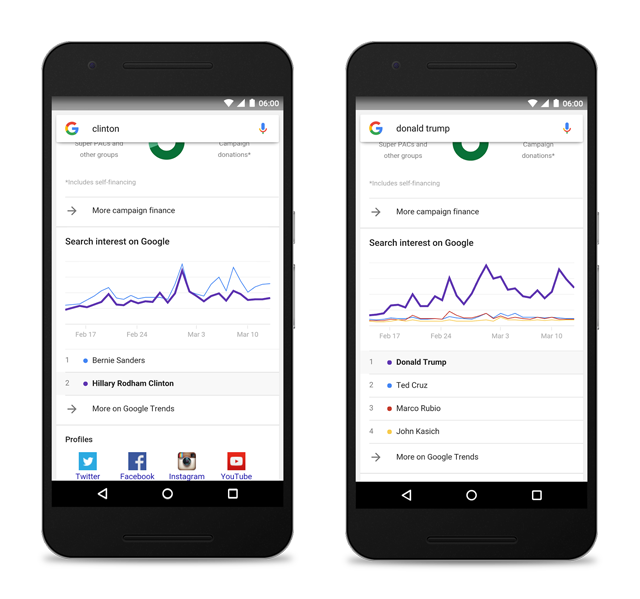 Finding unbiased, objective election information isn't an easy task. Today's update is the latest in our efforts to help users get the information they need to become informed about the elections and our candidates.