When we first launched the Google News Initiative (GNI), the vastness and diversity of Asia Pacific and its media landscape felt daunting. In countries like India and Japan, newspapers remain extremely popular. In Korea, news aggregators are the go-to way to get the news. Digital-first media have blossomed in Hong Kong, the Philippines and Malaysia—and been very successful in challenging incumbents.
It quickly became clear that we couldn't simply adapt GNI programs to Asia Pacific. We had to build programs for the region from scratch, tailored to local news businesses' needs. 
As our
first GNI Impact report
shows, we've invested $33 million in Asia since March 2018, working with more than 1,000 news partners in 32 countries. That includes financial help provided through the
Journalism Emergency Relief Fund
, which we launched earlier this year to support publishers through the COVID-19 pandemic.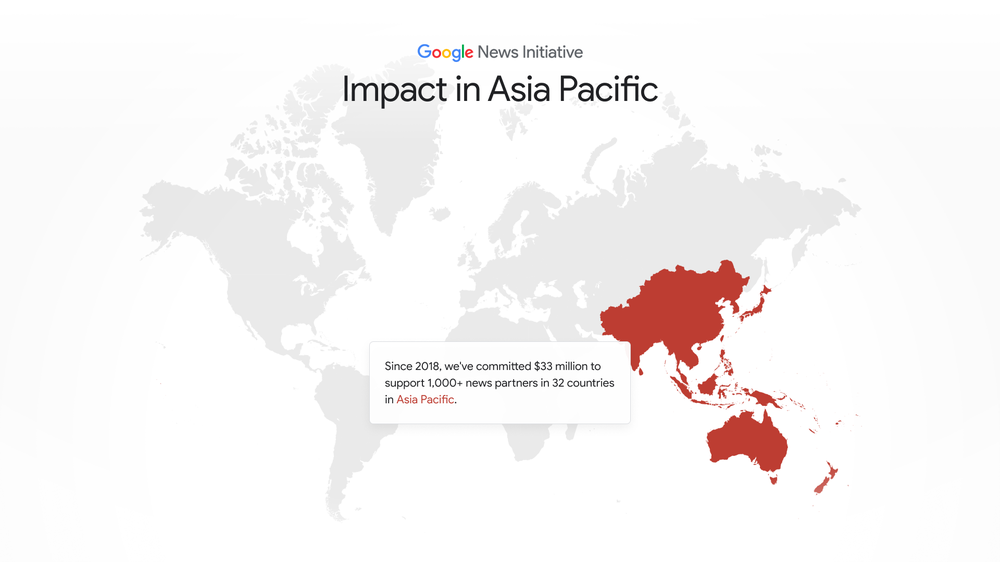 To date, our partnerships in the region have focused on three key areas.
Elevating quality journalism and fighting misinformation
Misinformation in Asian countries isn't always that sophisticated. Usually it comes in the form of images or videos with a misleading headline, but it can easily and quickly spread in Asia's mobile-first, highly-connected communities. 
We set out to help tackle this by setting up training initiatives for journalists, equipping them with fact-checking skills and creating networks to foster cooperation between news organizations. Media in Asia are very open to collaboration—they recognize that a stronger news industry comes from working together, through initiatives like Cekfakta, an Indonesian fact-checking coalition uniting 24 media organizations. Across the region, we've trained more than 79,000 journalists in person and more than 418,000 online (through the GNI Training Center) since 2015. 
Quality journalism also relies on diverse viewpoints, and we've developed programs to promote greater inclusion in newsrooms, including providing career development opportunities for journalists-turned-parents in Korea, and publishing research into diversity in media in Australia.  
At the same time, we know from our discussions with reporters and publishers that efforts to strengthen journalism have to go hand in hand with initiatives to broaden media literacy. Without the support and understanding of the general public, good reporting falls on deaf ears. We've provided funding to partners in Hong Kong, India, Southeast Asia and Australia, helping them create locally-relevant media literacy curriculums and organize training for those who need it most.
Helping news businesses grow sustainably
The opportunities for Asia Pacific publishers to access the Internet and experiment with online content vary widely, even within the same country. Internet penetration is almost ubiquitous in places like Singapore, Hong Kong, Taiwan and Korea, and deeply unequal in places like India, Indonesia or Malaysia, where big cities are generally well-connected but remote areas lag behind. Even media organizations that are able to take advantage of the internet often don't have the skills to make the most of advertising, subscription and data immediately, while some resign themselves to skipping online publishing altogether. 
Our work has to reflect these realities, which is why we've launched local News Foundry programs in Japan and Indonesia, helping media get online or improve their digital presence, and set up the GNI APAC Data Labs to help Asian news organizations make better use of data analysis. For bigger publishers like India's Dainik Jagran and Japan's ABC TV and The Asahi Shimbun, we're focused on ensuring they can get the most of digital tools such as Realtime Content Insights and Dynamic Ad Insertion technology. For small- and medium-sized news organizations looking to grow their digital businesses, we've opened up the GNI Digital Growth Program, which is available in several Asian languages. 
Supporting new ideas and business models
News organizations in Asia are open to new opportunities. The region's growth means fresh ideas and unexpected approaches are emerging all the time. 
To harness that spirit, last year, we launched our first GNI Innovation Challenge in Asia Pacific, giving journalists and news organizations the initial support they needed to get their ideas off the ground. We've experimented with new formats and tools that are "Asia-first," like Pinpoint, which was tested by the Philippines' Rappler. And we're using technology to help solve the daily challenges Asian newsrooms face. Journalists here are typically always on the go, working from their phones while commuting, instead of sitting at a desk. Tools like Source by Storyful, an image verification mobile app that uses our Cloud technology, are built for their daily realities.
We've tested different models for supporting media, and our biggest lesson is that being nimble is vital. We have to be as willing to change and adapt as the media we work with every day. 
What's next?
Today, some countries in our region are on the path to recovery from COVID-19, while others are still struggling with it. From here, our programs will focus on where we can have the most impact in helping newsrooms work through the pandemic or build beyond it, depending on their individual circumstances. We're ready to continue playing our part in securing the strong, diverse and creative news industry that Asia Pacific needs and deserves.