Over the past year, we've been working to upgrade SMS text messaging to RCS, the next generation carrier messaging standard, partnering with carriers and device manufacturers around the world. So far we've launched RCS messaging with carriers in the U.S., Canada, Europe and Asia, and starting today we're partnering with Telia Company to bring RCS messaging to their millions of subscribers across Nordics, Baltics and Eurasia. RCS messaging will launch first to Telia consumer subscribers in Sweden starting this week, and will expand to more countries over time.
With RCS messaging, Telia subscribers will automatically have access to advanced features on their Android device. Texting over WiFi, typing indicators, high-res photo and video sharing, read receipts, and more will now be included in the carrier messaging experience through Android Messages. The service will be powered by the Jibe RCS Cloud from Google, and will be fully interoperable between networks through the Jibe RCS Hub, including Telenor, Orange, Deutsche Telekom and Vodafone. This RCS messaging implementation supports the GSMA universal profile—a standard supported by more than 60 carriers and manufacturers.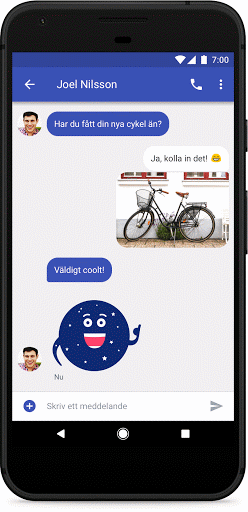 In markets where RCS is available, Telia subscribers who already have the Android Messages app on their phone will automatically get access to RCS services through an app update. Subscribers who don't have the app can install the Android Messages app from the Google Play store. All new Android devices from Telia will come with Android Messages preloaded as the default SMS and RCS messaging app.
We're excited to bring more enhanced messaging features to Android users in Sweden, and even more countries soon, with RCS.