Google has always been a proponent of  clean energy, and solar power has been a central part of our vision. Over the past year, Project Sunroof has been helping homeowners explore whether they should go solar - offering solar estimates for over 43 million houses across 42 states. Solar installations today are growing rapidly, but there remains tremendous untapped potential as only a half a percent of US electricity comes from solar power.
Today we're excited to be taking Project Sunroof a step further by launching a new
data explorer
tool to enable solar estimates for entire communities, in addition to individual homes, by leveraging 3D rooftop geometry from Google Earth to estimate the solar potential for millions of rooftops in America.  The tool helps communities, cities and municipalities easily visualize how many rooftops are suitable to install solar, how much power they could collectively generate, as well as how much carbon could be displaced by deploying rooftop solar at scale. Sunroof's solar potential reports can also be easily shared amongst community members, researchers and policymakers directly from the the tool itself. Anyone can use this tool for free, by simply entering in a state, county, city, or zip code to receive a custom analysis.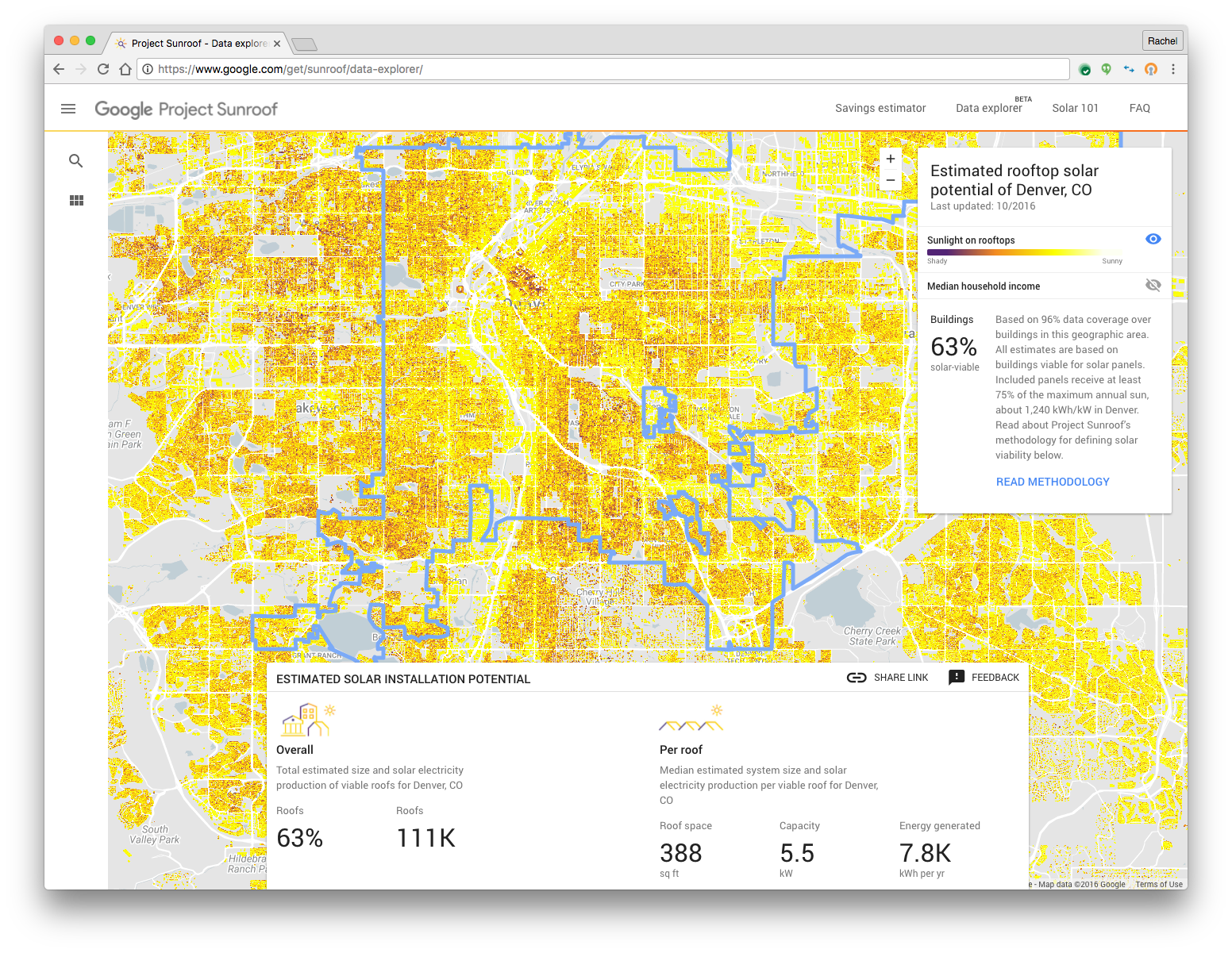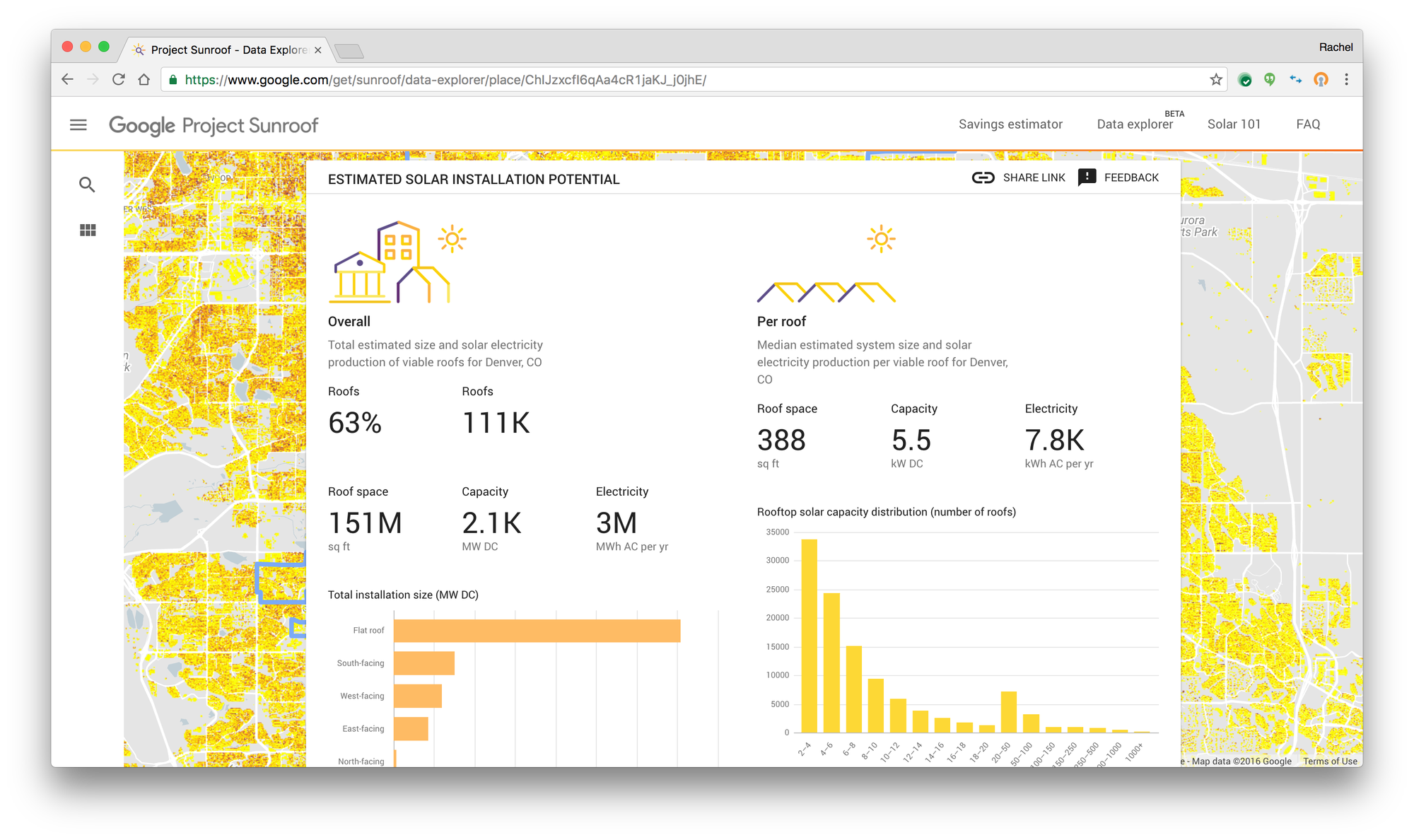 Rooftop solar is a viable option for many cities today. Sunroof's data explorer found that in more than 90% of communities that the tool covers within 42 states nationwide, well over half the rooftops are viable for solar. Today, cities like Denver and organizations like League of Cities see great value in using the data explorer tool to evaluate whether solar can drive economic savings and growth, as well as help transition energy consumption to lower carbon sources for their communities. Here's what they have to say;
Cooper Martin, Program Director of the Sustainable Cities Institute,  League of Cities
"Our Sustainable Cities Institute program aims to provide guidance and information for governments that want to pursue sustainability and ensuring that solar is easy, fast and cheap to install. Sunroof's Data Explorer tool can help inform city stakeholders about the opportunity of solar energy, and the work that is needed to support solar-friendly policies. "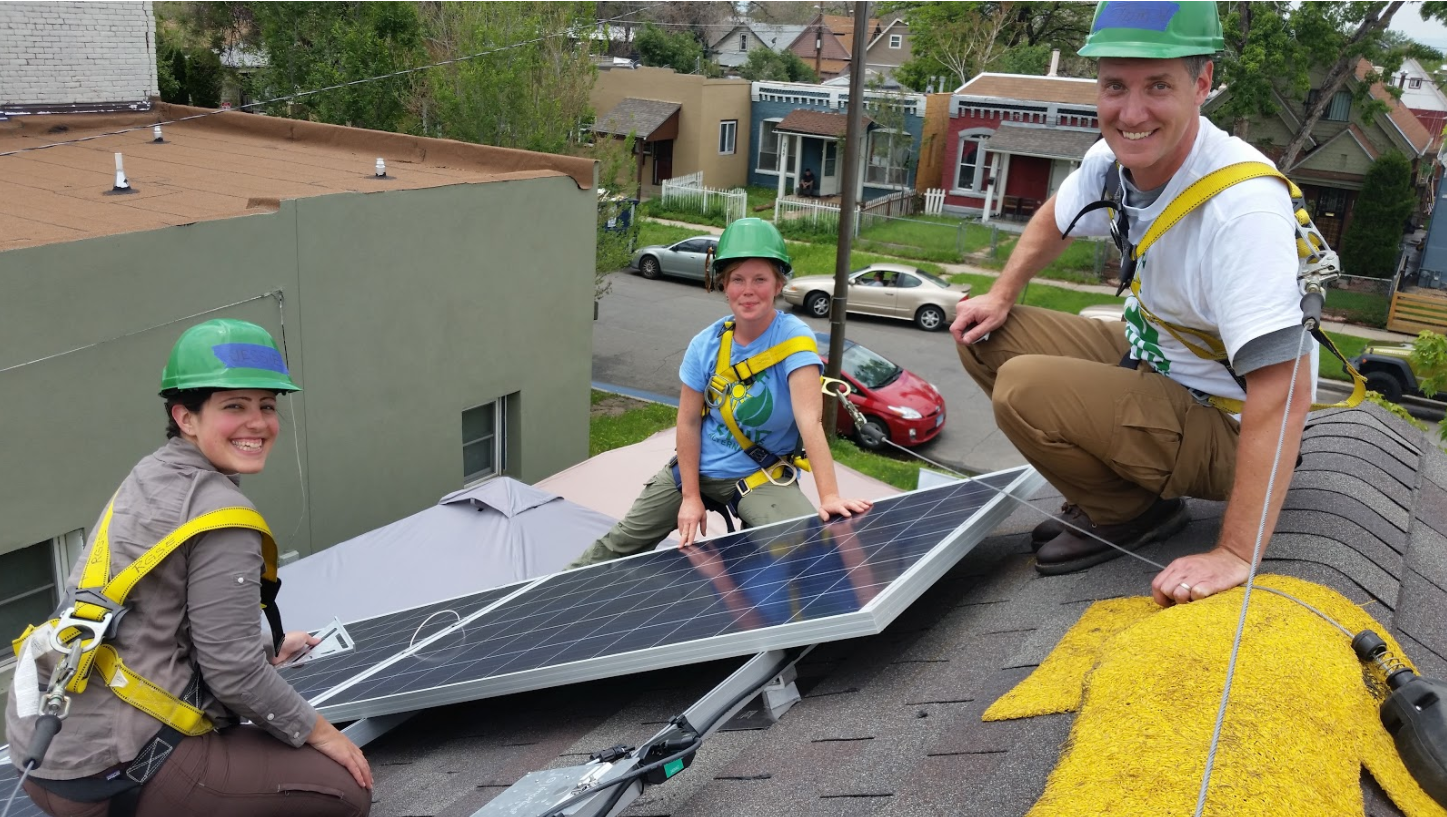 Thomas J. Herrod, Climate and Policy analyst, City of Denver
"As a City with a bold and ambitious goal of reducing 80% of Greenhouse Gas emissions by the year 2050,  Project Sunroof data is a key tool in our arsenal of potential strategies.  Rooftop solar is already a viable option within Denver, but this tool helps us refine our efforts to ensure equity in our outreach, efficiency in our efforts, and measurement in our management resources.  Of equal importance is the ability to identify where rooftop solar may not be an option – helping us identify areas where other renewable energy programs offered by our Utility can fill the gap.  We are thrilled to be able to utilize Project Sunroof in our Climate mitigation efforts and help inform our community about the bountiful resource that renewable energy can provide."
Mark Trout, CIO, Vivint
"In previous analysis we've done, comparing Project Sunroof data estimates to actual systems performing in the field, we've found Google's information to be a highly accurate source for predicting the solar performance of a rooftop system. At Vivint Solar we are constantly focusing on how to better delight our customers and advance the solar industry through leading innovation. Project Sunroof is a prime example how technology can improve the consumer experience and accelerate solar deployment here in the US."
The release of the data explorer tool marks another milestone across the Project Sunroof initiative where the use of Google's high quality information has the potential to accelerate the growth of solar by capturing the public imagination, and helping communities make smarter decisions in their transition to cleaner power sources.