Welcome to the latest edition of "My Path to Google," where we talk to Googlers, interns and alumni about how they got to Google, what their roles are like and even some tips on how to prepare for interviews.
Today's post is all about Patrick Schilling, a Strategic Deal Manager on the Google Cloud team. In addition to helping big companies use Google technology to get ready for the future, Patrick uses what he's learned through his experience breaking barriers to advocate for people with disabilities and create a more inclusive society.
What's your role at Google?
I'm a Strategic Deal Manager on the Google Cloud team. I help our sales and professional services teams manage the largest strategic partnerships that Google Cloud enters with customers in Europe and the Middle East. What´s particularly inspiring about my job is to see our clients, some of whom are the largest, most traditional enterprises in the world, embark on their digital transformations.
How did you begin advocating on behalf of people with disabilities?
I was born and raised in the city of Tuttlingen in Southern Germany. Since birth, I have lived with a physical disability (shortened arms and legs), which posed a variety of challenges to my family in my early years and teens. Overcoming these challenges, continuously growing as a person and sharing my experiences to empower others has become one of the key motivators of my life. 
I became the first person in my family to ever attend university. Along the way, my family and I broke through a variety of challenges and hurdles, such as being the first person with a disability to ever attend my German high school. I experienced both severe societal injustice and an extraordinary commitment aimed at remedying it. After high school, I involved myself in local and state politics in Germany. I founded several organizations that lobbied on behalf of people with disabilities. In that function, I started doing speaking engagements focused on how political and technological progress can create an ever more inclusive society.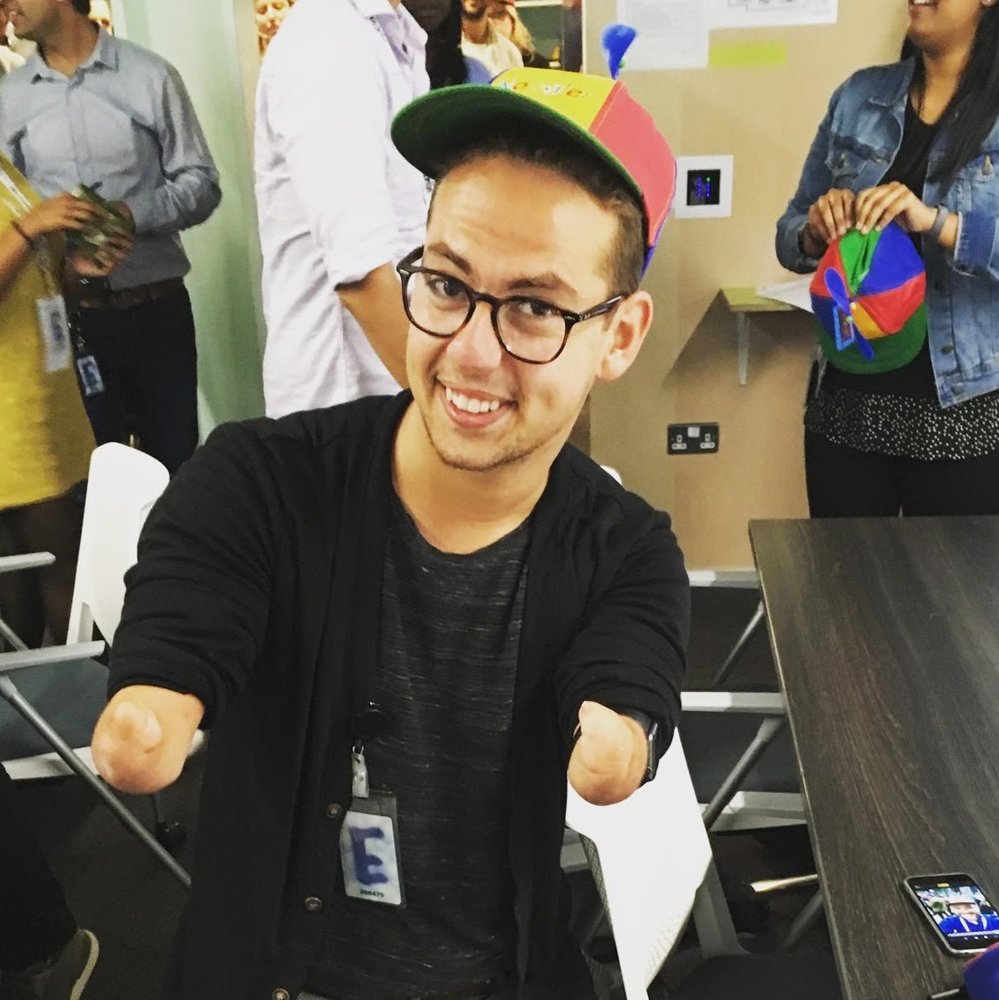 What led you to apply to Google?
I pursued a double degree in international management and business administration, which allowed me to study for two years at ESB Business School in Germany, and two years at NC State University. During that time I interned in Germany and the U.S., primarily  for technology and tech consulting companies. It was during one of those internships that I met people from Google. Their drive to challenge the status quo, their desire to not take no as an answer and their commitment to a diverse, equitable and inclusive society inspired me to apply.
What inspires you to come in (or log on) every day? 
Seeing how the world´s largest organizations transform and get fit for the digital age is breathtaking. So is seeing how excited our clients get about the seemingly endless capabilities that groundbreaking technologies such as artificial intelligence and machine learning offer to grow their businesses and better serve their customers.
How did the application and interview process go for you?
The recruitment process was both challenging and inspiring at the same time. I was still on the U.S. West Coast at the time, interviewing for a position in Europe. While my recruiters did their best to accommodate for the time zone differences, it still meant waking up at 6 a.m., hastily downing 3 shots of espresso and then getting into interview mode. 
Throughout all my interviews, the people I met reassured me that this is the company I would love to work for. Google has a policy in place that allows you to self-disclose any special needs you may have due to a disability. When I self-disclosed, both the recruiter and the hiring manager made absolutely sure to provide me with all accommodations needed to set me up for success. 
Can you tell us about the resources you used to prepare for your interview or role?
The most important thing is to familiarize yourself with the resources available on Google´s career site. This will help you get ready for your role and set you up for success. In addition, I would encourage all applicants to reach out and speak to current Googlers. We are here to help you get ready and it is our pleasure to share our experiences.  
Do you have any tips you'd like to share with aspiring Googlers? 
Be yourself and bring all of it to your interviews! This is a place where it doesn't matter who you are, or where you come from or what you look like. You can make it here at Google, if you are willing to try.