Healthcare professionals are healers, not data clerks. Yet many clinicians spend half their day on a computer navigating electronic health records (EHRs) and other systems. Because health records are often scattered across multiple systems, getting a full picture of a patient's health requires a great deal of clinicians' time, energy, and resources. These gaps in patient information can contribute to less effective and efficient care. The Google Health team started to think about how we could bring Google's experience in organizing complex information to healthcare.
Driven by this idea, we created Care Studio, a software solution that provides a comprehensive view of a patient's records and allows clinicians to quickly search through complex patient information. Care Studio is built for clinicians and works alongside EHR systems; it streamlines workflows and supports more proactive care. We've been working with the healthcare organization Ascension on a pilot of Care Studio focused on data quality and product safety with a small group of clinicians based in Nashville, TN and Jacksonville, FL. The pilot is now expanding to more physicians and nurses in the clinical setting.
How Care Studio supports clinicians 
Care Studio streamlines key clinician workflows so that teams can quickly get the information they need to care for patients. It brings together patient records from the multiple EHRs an organization uses – giving clinicians a centralized view of patient data and the ability to search across these records.
We've honed our search capabilities based on medical terminology and clinical shorthand, so that clinicians can simply type what they're looking for into a search bar and instantly surface relevant patient record information. Still, a patient's history can be long and complex, making important details difficult to find. Care Studio uses Google technology to display relevant information in fewer clicks. For example, Care Studio can automatically organize the medications in a patient's history with information on dosing and when they were prescribed. The tool also makes it easy to find pertinent information, including lab results, procedure orders, medication orders and progress notes. 
Care Studio harmonizes medical data across different systems. For example, even though health systems report measurements like blood pressure or glucose levels using different units, Care Studio automatically converts them so they are easier for a clinician to understand and compare.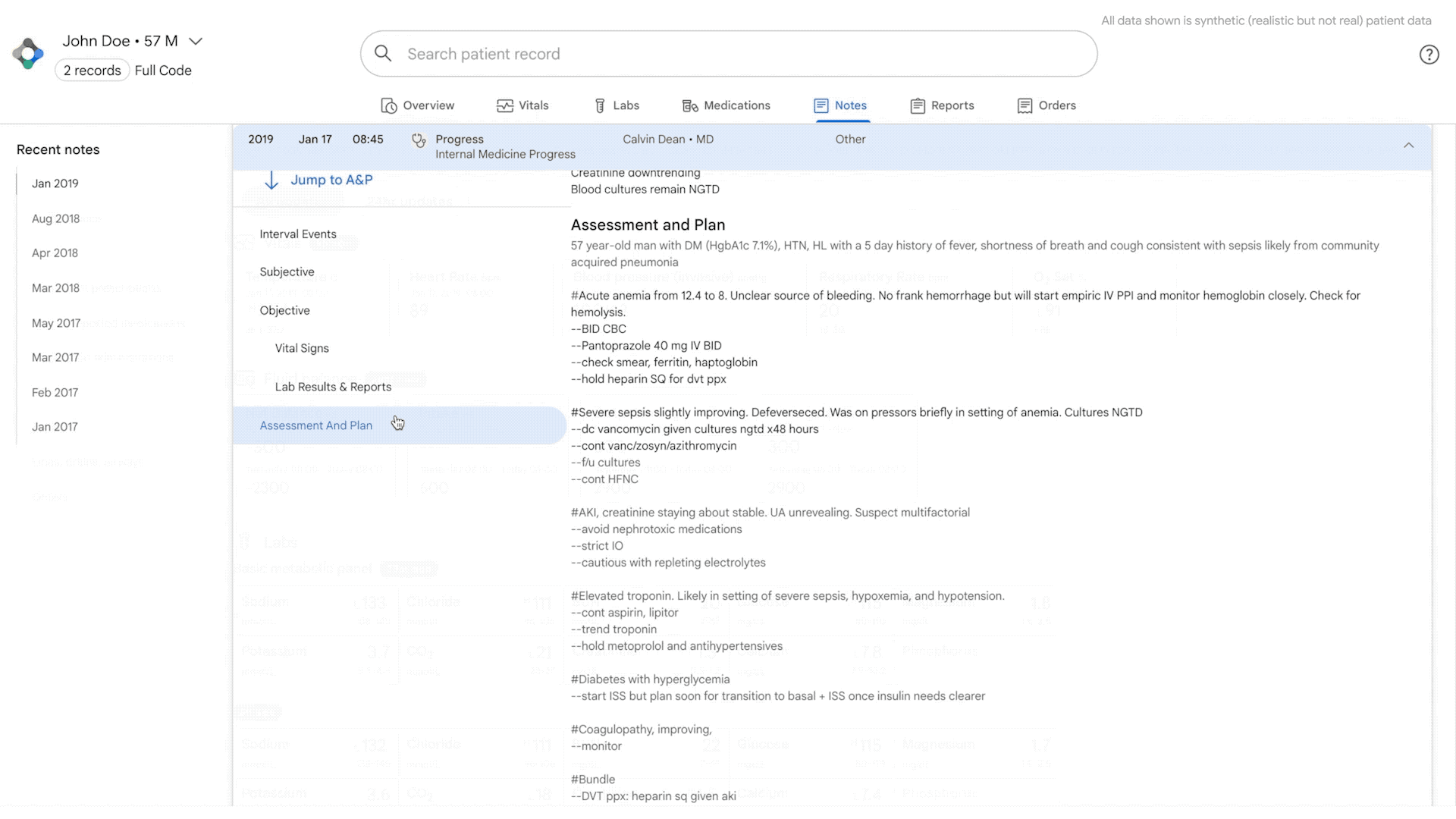 Keeping health information private and secure 
We know healthcare data is sensitive and personal, and it's our responsibility to keep it private and secure. Google does not own, nor do we ever sell, patient data. This data from Care Studio cannot be used for advertising. Our team designed Care Studio to adhere to industry best practices and regulations, including HIPAA. 
We implement administrative, technical and physical safeguards to protect information. Patient data is encrypted and isolated in a controlled environment, separate from other customer data and consumer data. Consistent with industry best practices, we also participate in regular audits and external certifications such as ISO 27001 and SOC2/3, where auditors validate Care Studio's processes for safeguarding customer data. With these certifications, third-party specialists make sure we follow a framework of controls for a comprehensive and continually evolving model for managing security.
Taking our next step toward clinical impact 
Based on feedback from Ascension, we've fine tuned Care Studio so it displays relevant clinical information from their systems accurately and in a way that's useful to their physicians and nurses. Now we're ready to expand our pilot in the clinical setting to further optimize the product for broader usage at Ascension. A select group of clinicians at facilities in Nashville, TN and Jacksonville, FL will use an early release of Care Studio alongside their existing tools during care delivery. We hope to get their feedback to further improve its usability, make the tool more useful to them and better integrate into current workflows. 
Our aim is to bring Google's experience in organizing complex information into intuitive, useful formats for the healthcare industry. As more Ascension clinicians begin using Care Studio, we look forward to supporting them in caring for their patients.