Empowering women and girls has long been one of my personal missions. As the brave women who have been the "firsts" throughout history have proven time and time again, when we uplift women and girls, we uplift everyone. For me, that's the spirit of International Women's Day.
With 250 million fewer women online than men, Google is on a mission to bridge the digital divide and empower women and girls through technology, in partnership with organizations like UN Women. That's why earlier today at a special Google for India Women Will event, we announced a new $25 million Google.org Impact Challenge for Women and Girls, providing funding and Googler expertise to nonprofits and social enterprises around the world creating pathways to prosperity for women and girls. 
It's exciting to go from being the only girl in my applied math class, to being on the panel of judges for this Impact Challenge, surrounded by more than 25 inspiring women. And this year, it is just one of the ways we are honoring the pioneers of the women's movement, while supporting the next generation of "firsts."
Celebrating the first of many 
From the first woman astronaut to the first woman to climb Mount Everest, in the past year, the world searched for "the first woman" more than ever before. These trailblazers continue to inspire new generations, especially young women and girls who are striving to achieve their own firsts today. Google is celebrating women who have achieved historical firsts, as well as the many who have come after them. 
Our annual
International Women's Day Doodle
explores the journey of the "firsts" throughout history on Google Search homepages around the world. From activists to scientists, writers and artists from around the world, this year's Doodle imagery shows the hands that opened the doors for women of today.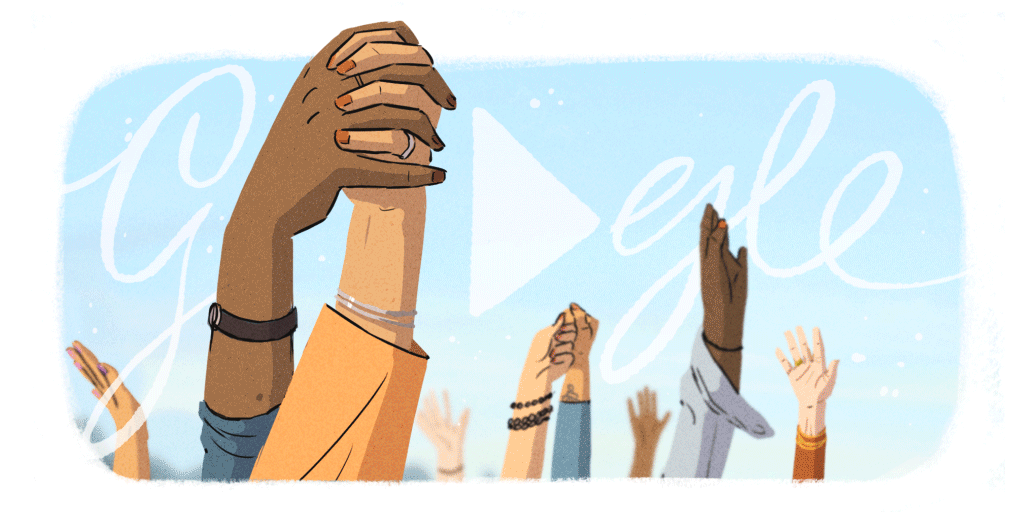 Supporting the next generation of "firsts"
In addition to celebrating women who have achieved historical firsts, we're also looking for ways to support the next generation of women changemakers, business owners and leaders.
In 2020, the number of women-led identified businesses on Google grew 163% globally compared to the year before. Now, we're making it even easier for you to find and support the women-led businesses in your community. Simply search in English for "women-led" — "women-led restaurants," "women-led clothing stores" and more — on Google Search and Maps to quickly see women-led businesses in your area.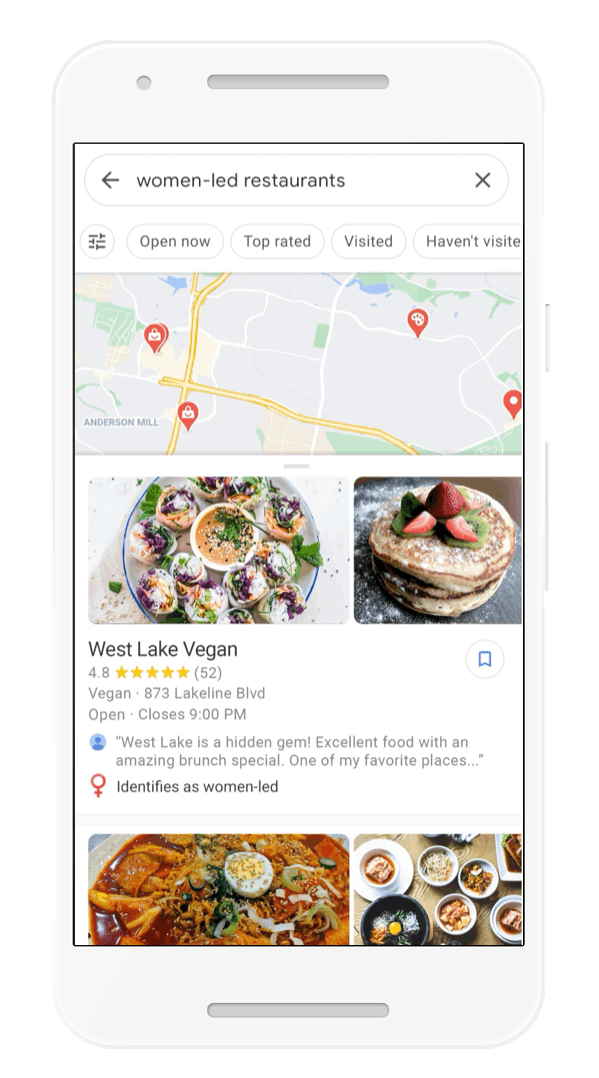 We're also providing $6 million in Ad Grants to UN Women to help raise awareness about the outsized impact COVID-19 has on women and girls, and a team of Googler volunteers is working alongside them to highlight these critical PSAs across more than 200 countries and territories. 
To support women-led businesses, cultivate women leaders in technology and help keep women and young girls safe online, we're hosting a number of global programs: 
A collage of photographs of women, from boxers to dancers, of various ages and ethnicities

Highlights from the Women of the World photography exhibition. 

A photograph of a girl in a teal shirt holding a book and a doll, with trees and a wooden structure behind her.

 Emaan Khan is one of the youngest climate change activists in Pakistan. She believes that the climate crisis needs an urgent response and climate education is the most important step towards change. Along with her parents, she has developed a free education portal called Earth Warrior Pakistan. 

A photograph of a woman with gray hair and round white glasses smiling and looking to the right, with purple flowers behind her.

Dr. Odette Best, based in Brisbane, is an academic and a historian of Aboriginal nurses and midwives. Her groundbreaking work was acknowledged with a Churchill Fellowship in 2002. 
I wouldn't be where I am today if not for the incredible women and men who have worked tirelessly to ensure all women could have a seat at the table. International Women's Day is a time for celebration and action. I hope you'll join us as we honor the trailblazers that have paved the way for generations of women and girls, and sign up to participate in any number of events taking place throughout the month of March.