Every Thanksgiving, before I settle into the couch to watch football or load my plate with multiple servings of stuffing, there's another tradition I have to accomplish first: a turkey trot. 
If you don't already know, a turkey trot is a Thanksgiving Day run. It's usually a casual way to log a few miles before sitting down for the big meal. There are lots of community-led, organized Turkey Trots, but plenty of people do them casually as well. I've done them with running clubs, alongside family and friends and even participated in an official race or two. 
Even though I'm practicing social distancing this year, the turkey trot isn't canceled. Instead, thanks to some help from Google Maps, it will be a semi-solo operation, with the option for friends and family—or really, anyone in the area—to virtually run "along" the route with me. Below, you can follow a few easy steps to create your own turkey trot as well. (These directions are for using Google Maps on desktop.) 
Step 1. First, open Google Maps and select the hamburger menu at left (the three lines in a row). When that opens, choose "Terrain." Then, the map at right will show you the topography of your location, which is helpful if you want to avoid (or add) some hills to your run.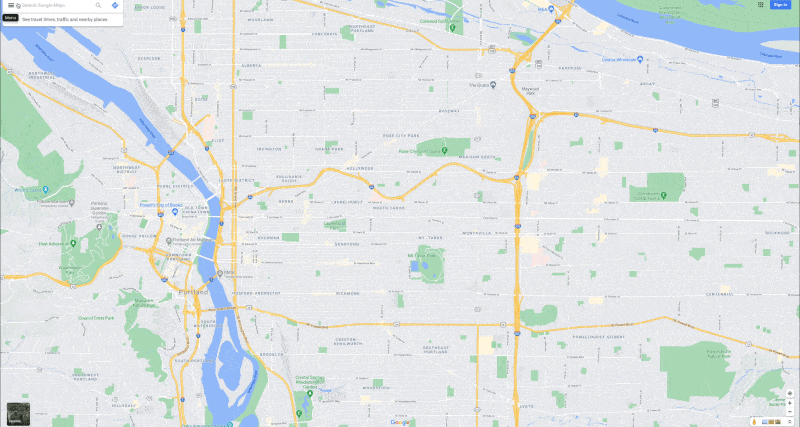 I also found it helpful to select the "Bicycling" option in this panel. This highlights the bike lanes and trails in your area, and I've found it particularly useful to find paths that cut through parks that are great for cyclists and pedestrians. Another great way to get an idea of what your run will look like is to jump into Street View so you can get a more accurate idea of what you'll be running through.

Step 2. I'm going to start and end my race at a park, but you can start from wherever you want. I decided an eight-mile run sounds right, so I chose a half point of four miles on the map. This is a bit of trial and error ("Oops, that was only three miles away, and this point is about five") until you find the best spot. And of course, this doesn't have to be exact if you're not trying to be too official. 
When you're doing this, make sure you choose the "walking" icon, and also know that you can select the direction line on Google Maps to make the path a little longer or shorter. For example, I saw a bike trail that went through a park and dragged the dotted line through it. Just play around with this until you find the halfway mark that works for you.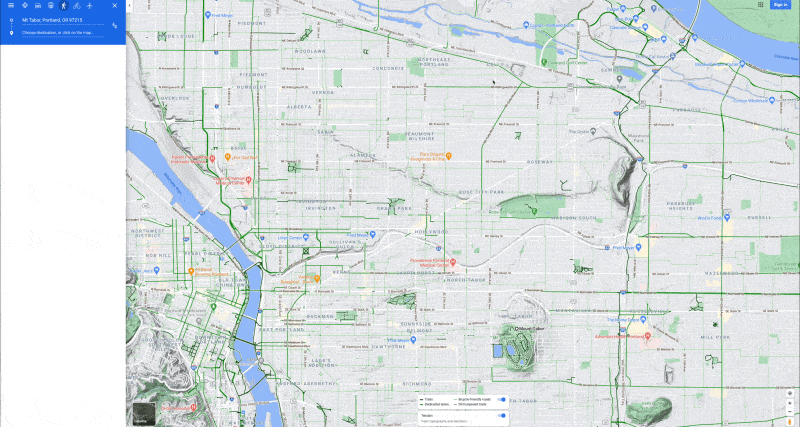 Step 3. On the left-hand side, choose "add destination," and re-enter your original starting point. Follow the instructions from step three again to drag and adjust your path as desired to get to the mileage you want. You can also take advantage of some of Maps' new features if you want to make sure you get your fill of fall foliage. Or if you want to run by the homes of friends and family for a quick hello as you go, use Maps' list feature to mark them, or any other landmarks that you want to include in the route. 
Step 4. After you've completed creating your route, you can choose "Send directions to your phone" so you'll have the map while you're running. And if you select "Details," you'll see a share icon in the upper right-hand corner of this panel. There, you'll get a link that you can share with family and friends. This way, they can try and recreate a similar path in their own neighborhood. 
Step 5. When I'm running a specific path like this, I like to turn on the detailed voice guide feature, which gives you more frequent alerts for navigation. It was built to help people who are visually impaired, but it's also great for runners who don't want to constantly glance at their phone for directions. In your Google Maps settings, select "Navigation," and you'll see an option at the bottom of the list under "Walking options" for "Detailed voice guidance." 
Step 6. Now this is optional, but if you really want the full turkey trot experience, you can all choose a time to start your race and "run" together. There are a handful of apps that let you track and time your run. You can be as competitive (or non-competitive) as you want, with prizes for winners, or most-spirited. Get creative and add a scavenger hunt element to it: Runners get points for photos of Thanksgiving decorations, or local landmarks. Make it yours, and more importantly, make it fun.