It's Friday night and you hit the road early enough to make it to a movie, grab some buttery popcorn, and catch the previews. But when you get to the theater, parking is hard to come by and you spend the next 20 minutes circling the lot and side streets until a spot finally opens up. You get to your seat just in time for the opening credits…and no popcorn!  
Factoring in time for parking can make or break a night out, let alone making it to that big meeting on time. So in 25 metro areas throughout the U.S., we've introduced a new parking difficulty icon in Google Maps for Android that'll give you a heads up on what kind of parking crunch to prepare for when you're on the go.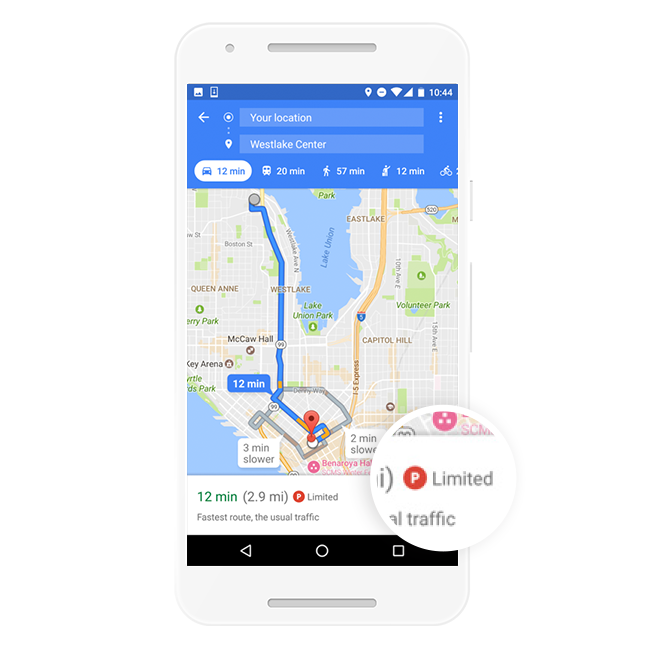 To see how hard it might be to park where you're headed, just get directions to your destination and look for the parking difficulty icon in the directions card at the bottom of the screen. Parking difficulties range from limited to medium to easy and are based on historical parking data (similar to how we calculate Popular Times and Visit Duration).
For now, look out for parking difficulty icons in the following metro areas across the U.S.: San Francisco, Seattle, Miami, Atlanta, Boston, Charlotte, Chicago, Detroit, Los Angeles, Minneapolis/St. Paul, New York City, Orlando, Philadelphia, Pittsburgh, San Diego, St. Louis, Tampa, Washington, DC, Cleveland, Dallas/Fort Worth, Denver, Houston, Phoenix, Portland and Sacramento.