What better way to beat the hot summer heat than with ice cream? We're not the only ones who crave this sweet treat. In fact, of all the dishes searched on Google Maps in the U.S., ice cream is the second most-searched. So with National Ice Cream Day on July 17, we couldn't resist a sweet opportunity to celebrate!
Whether you prefer an elaborate cone, a simple scoop, or chasing the ice cream truck for your favorite popsicle, we have Google Maps ice cream trends that are sure to make you melt.
Here are the most popular ice cream chains in each U.S. state in one fell scoop ?: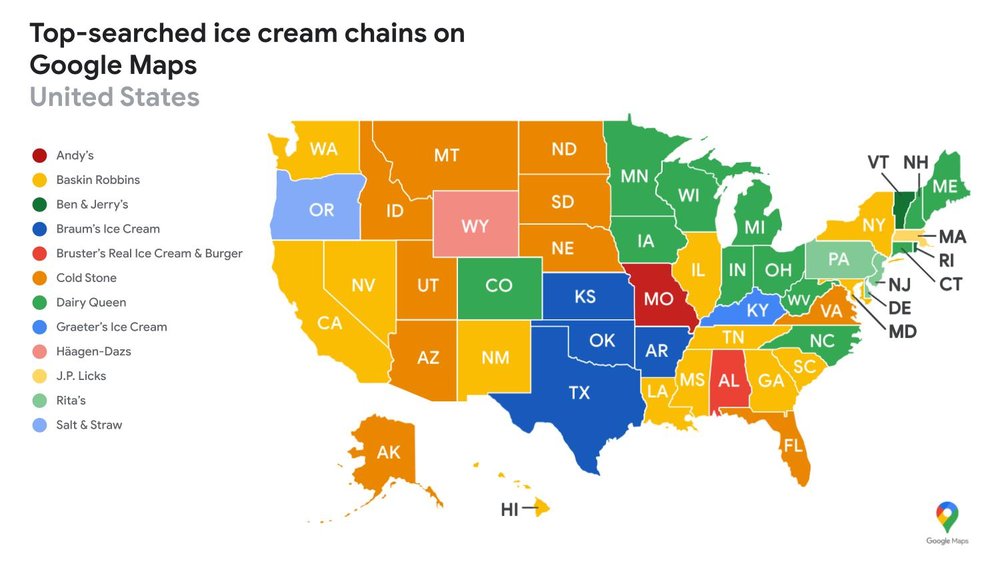 We all scream for ice cream! There are tons of waffle-y beloved local ice cream spots across the U.S. According to Google Maps, these are the ten most popular:
Sundaes and cones (New York, NY)
Soft Swerve Ice Cream (New York, NY)
Milk & Cream Cereal Bar (New York, NY)
Surreal Creamery (New York, NY)
Glazier Rolled Ice Cream & Boba Tea (San Francisco, CA)
Cones Artisanal Ice Cream Since 1998 (New York, NY)
Little Man Ice Cream (Denver, CO)
Toscanini's Ice Cream (Cambridge, MA)
Sweet Alchemy Ice Creamery (Seattle, WA)
Shug's Soda Factory and Ice Cream (Seattle, WA)
Just desserts. Ice cream is the top searched dessert on Google Maps in the U.S., but which states love ice cream the most? These are the top 10 states where anything is popsicle, according to Google Maps data:
Hawaii
Rhode Island
Colorado
Massachusetts
New York
Vermont
Florida
Maine
New Hampshire
Utah
Who says you have to stick to Sundae Funday? Saturday is the most popular day people search for ice cream on Google Maps. So treat yourself this weekend by heading to your favorite spot, or discovering a new one! We even cone-done spoiling your dinner, because you de(soft)serve it!?