Editor's note: This is the second article in a five-part series on Google Hangouts. Read the first article here.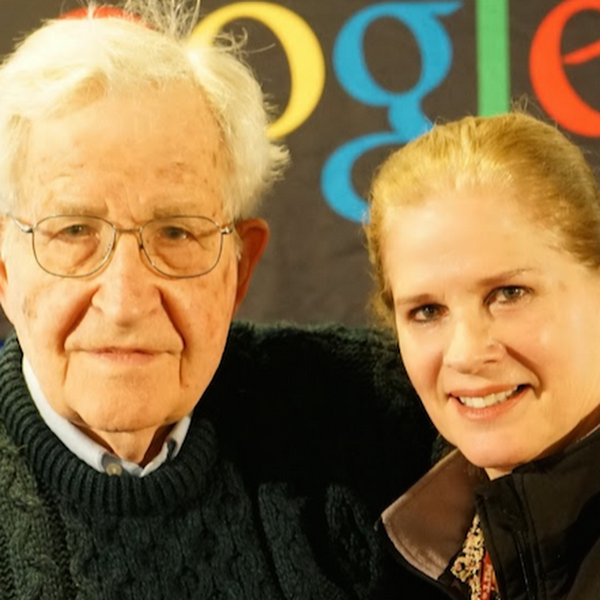 We have a program at Google called Talks at Google where we invite influential scientists, activists, inventors and more to speak with Google employees. From Noam Chomsky to Leymah Gbowee, my colleagues and I are lucky enough to have listened to some enlightening perspectives. (And you can, too!). I was among a group of volunteers who helped kick-start the program.
What makes the Talks at Google a great example of our company culture—of "Googleyness"—is how it began. It started with a few events per year and morphed into a speaker series with more than 50 talks per month, thanks to our volunteers and, especially, Google Hangouts.
Cobbling together technology to share stories
After seeing the success of Zeitgeist, a group of Googlers and I set out to create an internal speaker series for employees. We started in 2005 with events hosted just at our Mountain View headquarters, but quickly realized that wasn't enough. It's a big part of our company culture to make resources available to all employees. So we experimented with outsourced video conferencing (VC) technology to broadcast talks to other offices.


With growing demand, we quickly realized it's one thing to secure interest and speakers, but it's another to ensure the technical infrastructure needed to actually scale the program globally.
In 2008, this became apparent. We arranged for linguist
Noam Chomsky
to speak, one of our most anticipated talks to date. Because our Boston office was new at the time, we cobbled together outsourced VC equipment—a Googler delivered it to us from our New York office. We hosted Professor Chomsky in a cafe and unplugged the refrigerators to cut back on background noise.
Scaling Talks at Google with Hangouts
Talks at Google required a better technical solution. Thankfully, Google decided to build its own VC platform around the same time: Hangouts. Hangouts gave us the tools we needed to scale our program with minimal resources. It helped us meet employee demand, and, more importantly, afforded us the opportunity to include more diverse perspectives in our talk series.
In 2011, we tested an early iteration of Hangouts with Game of Thrones author, George R.R. Martin, and livestreamed Talks at Google for the first time to the outside world on YouTube. More than 25 Google offices tuned in to hear Martin talk about House Targaryen and the White Walkers, and the event went off without a hitch.
Now, we can do all of this within Hangouts Meet, which lets us live stream to global teams, and has advanced audio / video capabilities, so we no longer have to worry about unplugging refrigerators.
Transforming our company culture
Google is full of incredible individuals who do remarkable work, including engineers who reimagine how businesses do business. But technology in the workplace is most powerful if it can help us accomplish things we never thought were possible while remaining true to our company values.
Looking back, Hangouts helped us scale Talks at Google and unite our teams under one common interest: listening and learning from the best minds in the world. Work programs like these help us bridge geographies, expertise and cultures, and in turn, transform how we work together to help us create more meaningful products for our customers. And this is starting to catch on at other businesses, too. Companies like Woolworths and Braintree are using Hangouts Meet to transform how their teams collaborate.
It all started with an idea and a few passionate Googlers.