There's a sign on the wall behind Andrew Rossi's desk that's been impossible to ignore during video calls lately. The placard counted down the days until I/O 2021 — and as event lead for Consumer Apps at Google, Andrew is part of a huge team behind the whole production. While it now reads "0," the purposefully placed sign was visible during the many virtual meetings he had with people all across Google in the run-up to an entirely different kind of I/O.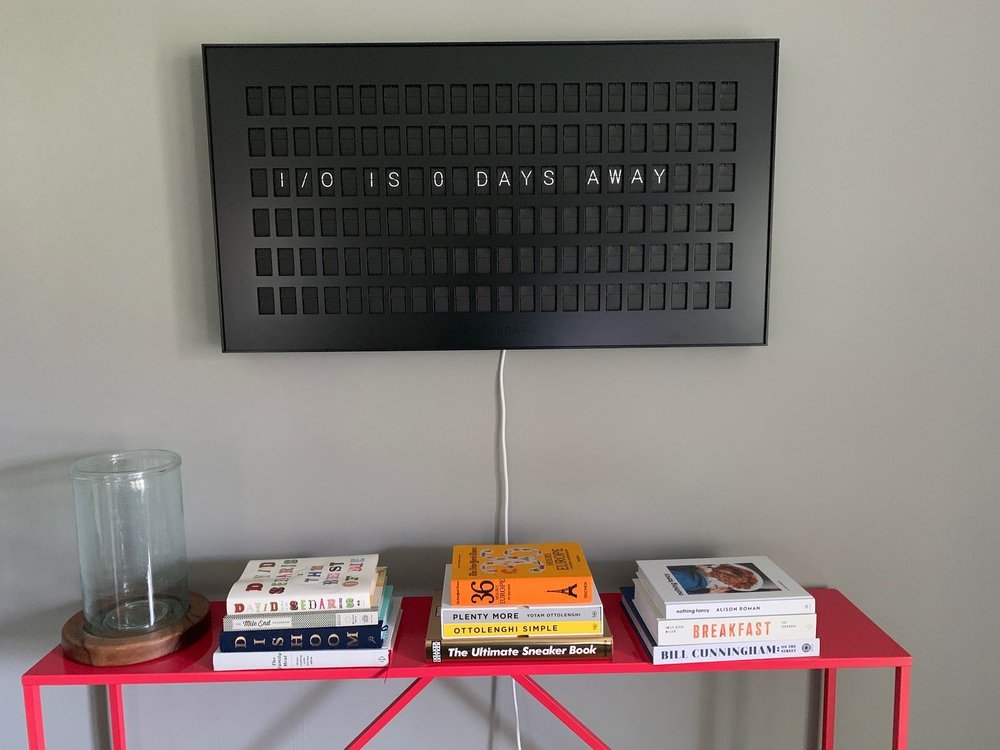 I/O is a major undertaking under normal circumstances, and it took a unique brand of elbow grease this year. But after I/O 2020 was canceled due to the pandemic, Google's developer relations and marketing teams couldn't let another year pass without it. 
"Apps and the web became even more integrated into our daily lives over the past year," says VP of Engineering Jason Titus. "They helped us stay healthy, connected and productive — and this served to spotlight how developers were really part of helping us adapt to the challenges of 2020." 
Planning for this year's event began nearly as soon as I/O 2020 was canceled. The team agreed on an event primarily focused on live broadcast but that also offered flexibility for participants, while also respecting how different parts of the world were experiencing the pandemic. It would be a three-day digital event, with a mix of live keynotes, pre-recorded technical sessions and interactive features — and it would be unlike anything Google had created before.  

Online, everyone's invited
Taking the event virtual had a big upside: More of Google's global developer community could attend, for free. This year, there were 225,000 registrations, mostly from outside the U.S. 
"Going digital meant we had the freedom to think of new ways to deliver technical content," says Elizabeth Cha, who leads developer marketing. "It seemed the best way to be helpful to developers this year was to give greater access to our technical experts and let the developer community support one another. So beyond the usual technical sessions and Codelabs, we're offering Ask Me Anything (AMA) sessions, instructor-led workshops and meetups."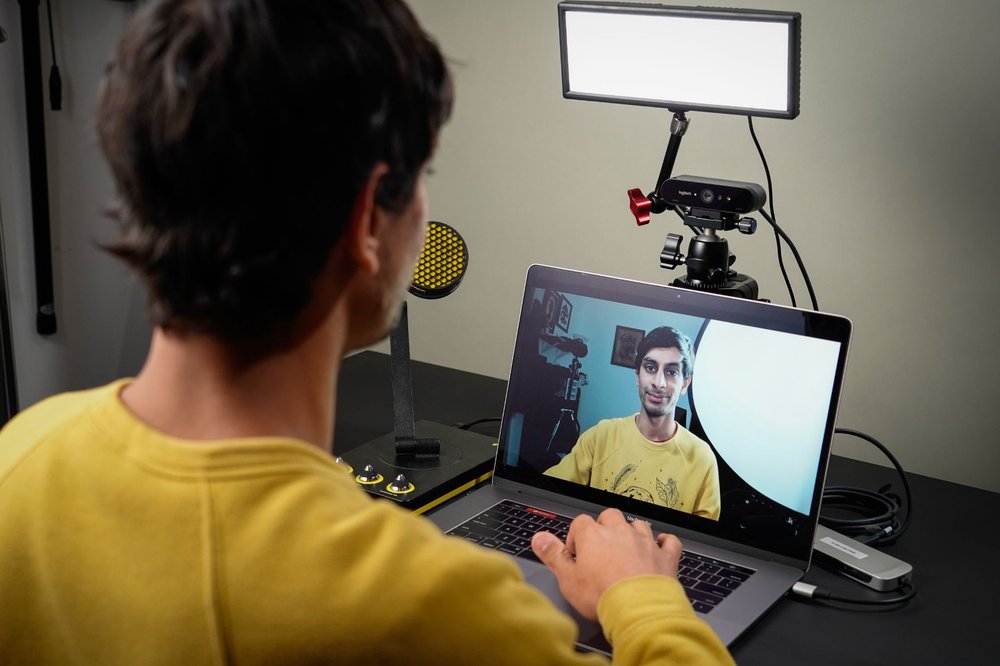 Just like an in-person event involves crowd control and line management, a digital event requires building the infrastructure so everyone can participate. The team took the opportunity to make other improvements for accessibility and inclusivity — including an American Sign Language option for the two main keynotes, a first.
"This year, instead of the online experience accompanying the physical event, the online experience is the event," says Developer Relations Product Manager Ilen Zazueta-Hall. "Scaling the event was a coordinated effort — we had to rethink so much. Like how do we scale workshops? How many languages do we translate technical content into? How do we make sure it's accessible, and that people can connect?" 
Live, from Google I/O
While online development was crucial, there was also the challenge of broadcasting live. The team wanted to keep keynotes live because, among other things, digital burnout was a factor. "We're all sick of sitting down in front of a screen," VP of Marketing Marvin Chow says. The best way to fight this fatigue was with live video. "When it's taped, you don't get that same authenticity and connection."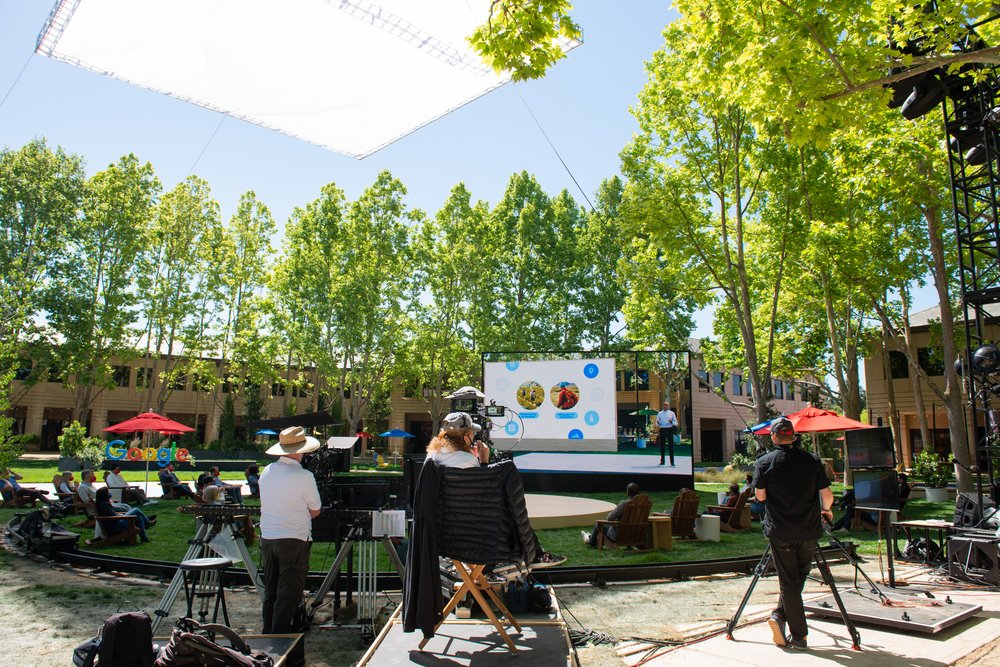 Going live was a complex process. First, Andrew and his team had to find a location. Originally, the idea was to film from Shoreline Amphitheatre, Google I/O's home since 2016, but that was quickly dismissed. The venue, which can fit more than 22,000 people, would have felt eerie without thousands of attendees. 
So the team settled instead on Google's "Quad" campus in Mountain View. That, too, came with unknowns. "You can't just throw a stage on campus, because the sun would just beat down on everyone," Andrew explains. So the team brought in giant cranes to cover the area. "We tracked things like how much the wind blows on an average day."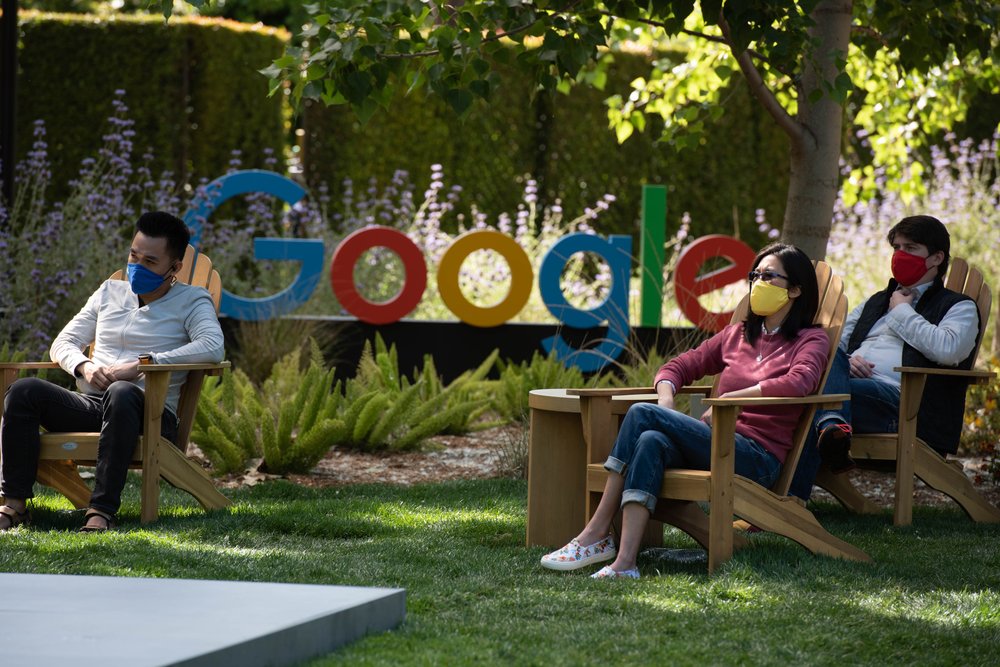 In addition to two stages and space for production crews, the quad could accommodate a small, socially distanced audience. "We realized we could get 15 people around one stage and 19 around another," Andrew says. This would give presenters something to look at, and bring some energy to the broadcast. Presenters nominated fellow Googlers, so they would see familiar faces. Audience members agreed to a list of COVID-19-related requirements as well as sitting through two rehearsals in case production needed to use backup film. No phones or laptops were permitted the entire time. 
But the work was well worth it: Googlers were excited to head to campus for I/O — and each other. In some cases, colleagues even met in person for the first time.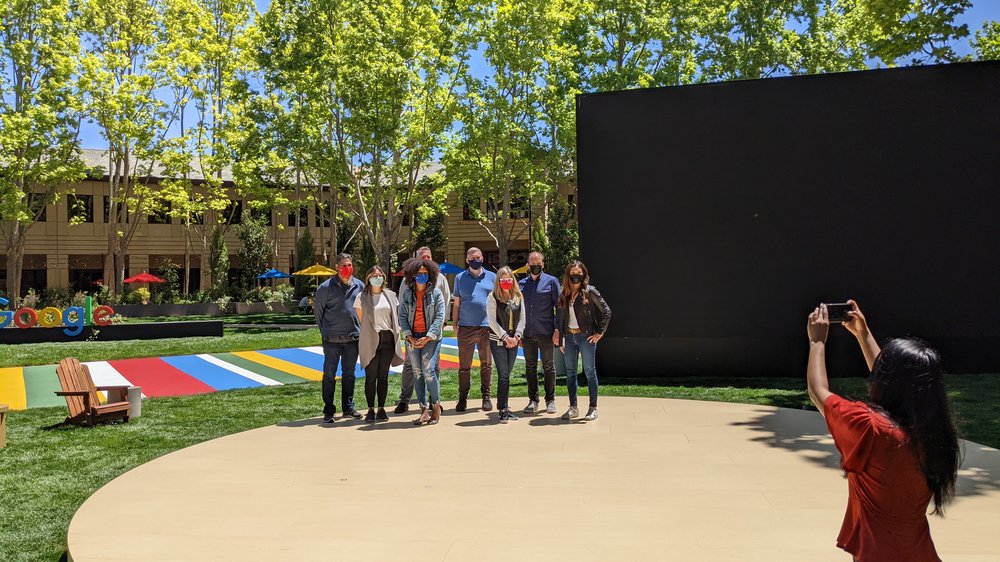 For everyone who couldn't go, there was an online Adventure. 
Adventure awaits
A significant draw of I/O for developers is everything that happens IRL. "You know when you're in line for food and you strike up a conversation with someone?" Elizabeth says. "And you find out you're both working on the same problem or interested in similar topics and then ideas start pouring in — that's what I/O is about."
Enter I/O Adventure, a reimagining of what it's like to actually be there and get your "hands on" the latest technology, complete with virtual product demos and hangout spaces where you can meet and chat with other developers. Adventure was developer advocate Tom Greenaway's idea; he'd come up with it as a way for attendees to join in during Chrome Developer Summit (CDS) last December. It was a success, so the team decided to bring it to I/O.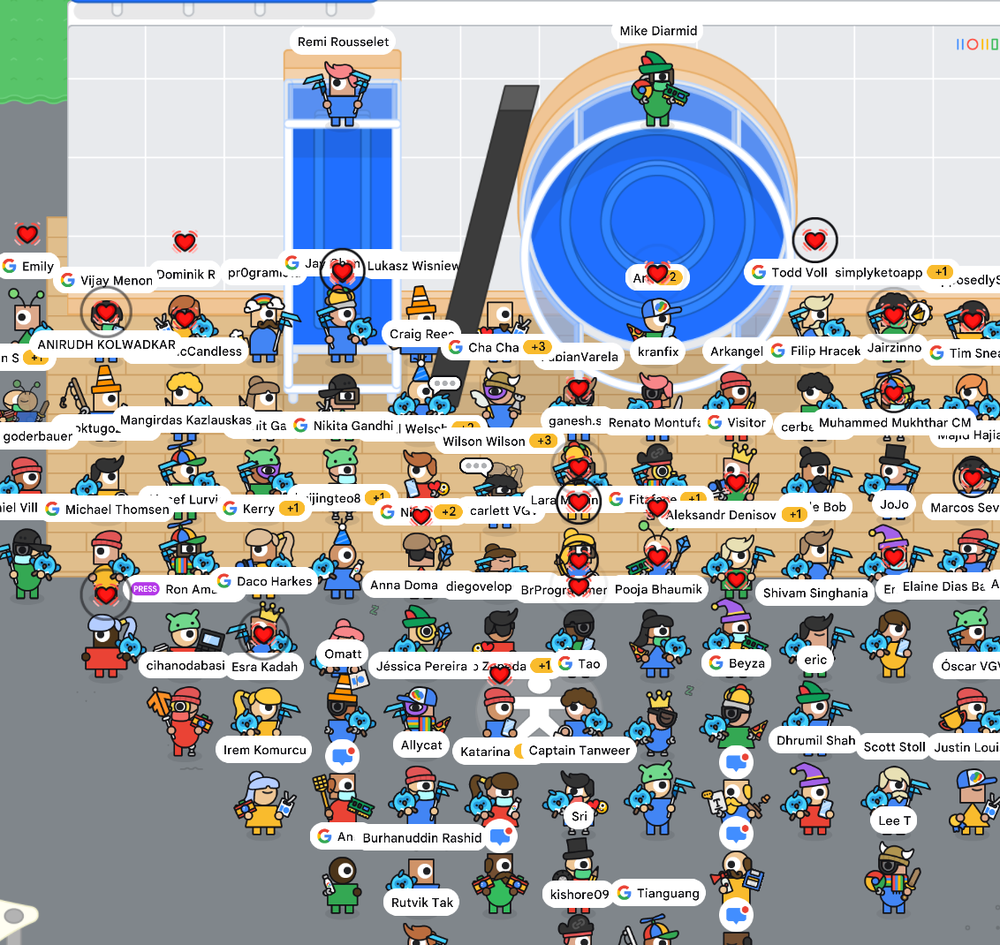 Tom, along with a small team of designers and programmers, collaborated with various Google product departments to craft experiences inside the game. Machine learning and AI, for example, have a musical forest where trees transform into instruments as you bump into them. "As they change, collaboratively, people all over the world will make music together," Tom says. And Google engineers had special help testing the product — from their kids. "They did about two hours of testing in all over a weekend," says Elizabeth, whose own children assisted. "And they wanted to play more!"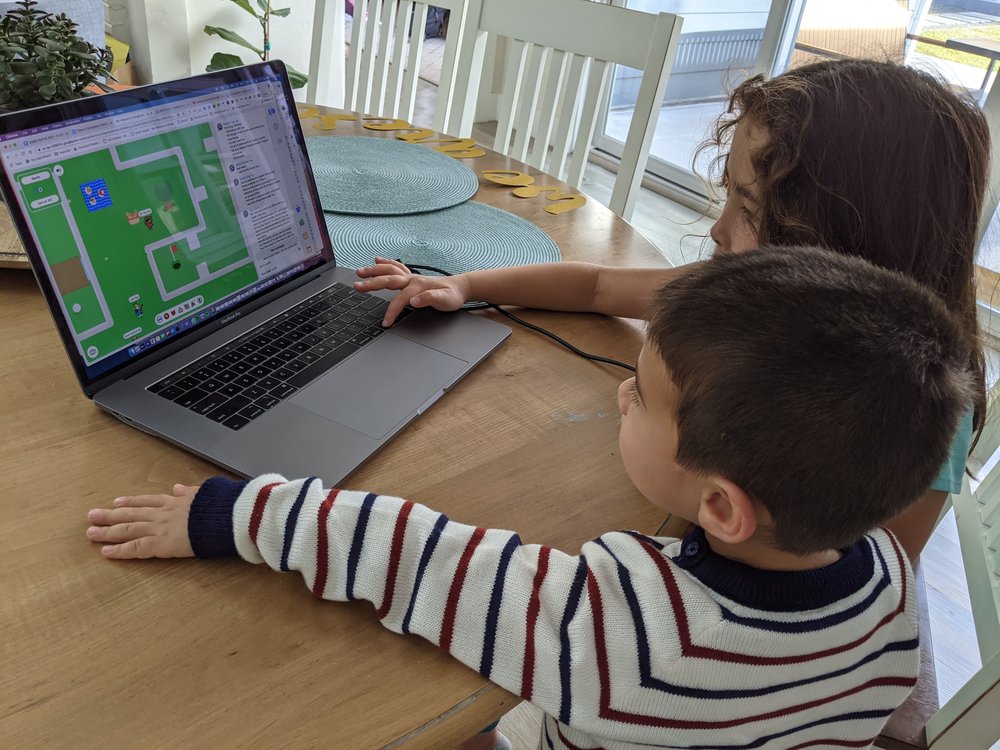 Invention...and Easter eggs
Appropriately for an event that celebrates developer creativity, inventiveness is a theme that runs throughout everything the team did to make I/O happen this year. "I/O 2021 was about  meeting developers where they are and making it easier for them to innovate quickly," Jason says. In such a daunting year,it was increasingly clear how much the world needs builders. "By helping developers, we help everyone who uses the technology they build."
And of course, what would any Google project be without a few Easter eggs? "Do you know the Konami Code?" Tom asked during a recent demo of Adventure. "It's up, up, down — " ...actually, you'll just have to find out for yourself.