Personalization features in Google Optimize help businesses customize sites so their customers can find exactly what they're looking for, when they're looking for it. For example, marketers can display a special promotion on their site for all visitors, or provide product recommendations based on customers' previous purchase behavior.
Multi-page experiences in Optimize help you more easily deliver what your customers are looking for. Now, when you create a personalization or experiment, you'll see an option to add additional pages so that you can extend its reach throughout your entire site—from the initial landing page to the final checkout page. Let's take a look at two examples:
Coordinated customization across your entire site
Picture this: You're planning for a sale next month and will be offering a 20 percent off discount code to all visitors. You want to see if displaying this code across your entire site will increase site conversions. Because each type of page on your site has a unique layout, you need to find a different spot to display your promotion on each page. 
Now with Optimize, you can test this idea by creating a single experiment and adding multiple pages to it using the "+ Add page" button.
From there, you'll have the option to edit those pages so that you can display the promotion wherever it looks best in each case—whether that's at the top of your site on the homepage or next to the pricing on your product page. 
When you are happy with the results of the multi-page experiment, you can turn it into a multi-page personalization with just one click.
The right experience to the right audience
If you're using Optimize 360, you have the added ability to focus your experiment or personalization to your Google Analytics audiences.  
Using the same sale example, let's say you want to offer a 35 percent off discount to your most loyal customers. You can create a multi-page personalization in the same way as described above. You can place the 35 percent discount banner and copy in all the pages that your loyal customers visit. When this personalization is launched, your loyal customers will always see this discount as they move from the home page, through your site, to the checkout page.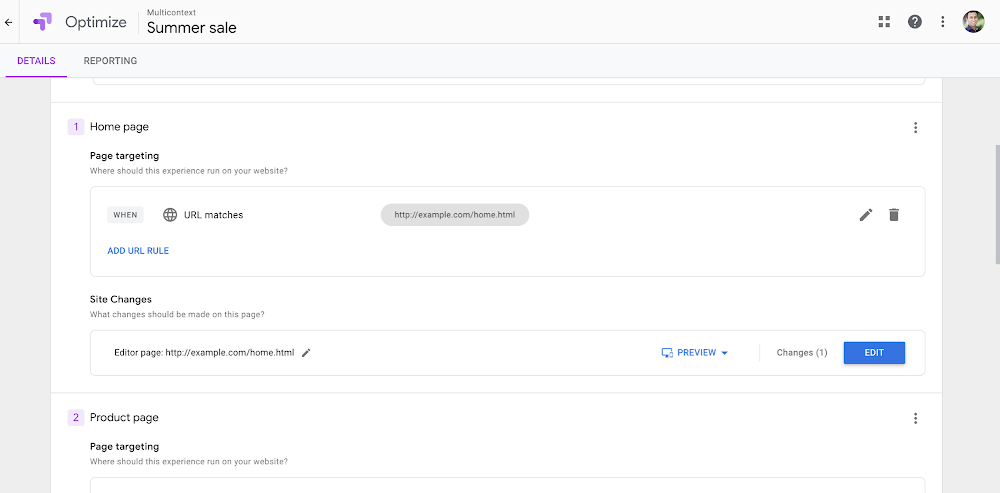 Want to learn how you can use this feature? Visit this article on our Help Center.
Multi-page experiences are already available to all Optimize and Optimize 360 accounts.  You'll be able to ensure your customers see the right message at the right time—even as they explore multiple pages on your site. And by creating a more valuable online experience, they'll keep visiting you again and again.