Every day, millions of people around the world turn to Google to search for travel related information. These searches help connect businesses and customers — but they also help us understand people's enthusiasm when it comes to their travel and holiday plans.

The message we're seeing is clear: people are eager to travel, so long as they can do so safely.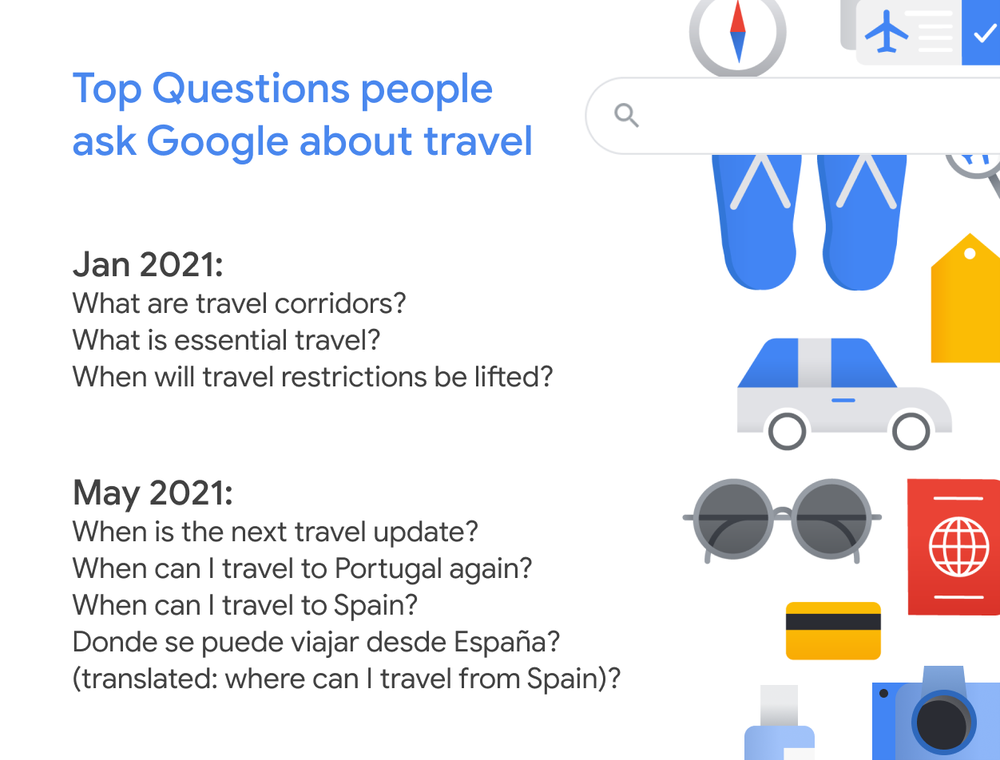 For the travel industry — an industry that is made up of millions of small and medium businesses that supports many millions of jobs — this will of course be welcome news. But it comes with unique challenges.
Getting online to be in line - for bookings, customers and reviews
Over the past year, we've all spent a lot of time online — more time than ever before. So the travel industry, like many others, will need to get online in order to be in line for bookings, customers and reviews.

Anew report by the Connected Commerce Council, funded by Google, shows that digital tools created a "safety net" for small and medium travel businesses in Europe during the pandemic:  86% increased digital tool use during the pandemic and over half of these businesses said they are planning to increase their use of digital tools post-pandemic.
We're proud to have built tools to help. Since last year, Google has been collaborating with individual businesses, tourism ministries and experts all over the world to build the digital skills needed for a more digital post-pandemic travel sector.
Our partnership with the UN World Tourism Organisation has built acceleration programs in Sub-Saharan Africa, the Middle East and Southern Europe — helping participants from across the travel industry to understand trends and plan ahead at a very unpredictable time.
We recently announced our plans to take this regional partnership global — helping tourism officials and destination marketers all over the world make strategic decisions for better tourism planning.
We're also working with the industry at a local level. In France, our partnership with Atout France, the French tourism agency, has helped create a platform for industry professionals to monitor travel trends. In Spain, our Travel Analytics Center — available to Google's commercial partners in the travel sector — helped Spanish airline Vueling to get a clear picture of the changing demand for flights during the pandemic, adapting their digital market strategy to reach customers who were likely to buy airline tickets. Using the tool, they managed to increase their flight sales and build a 31% return on their advertising investment.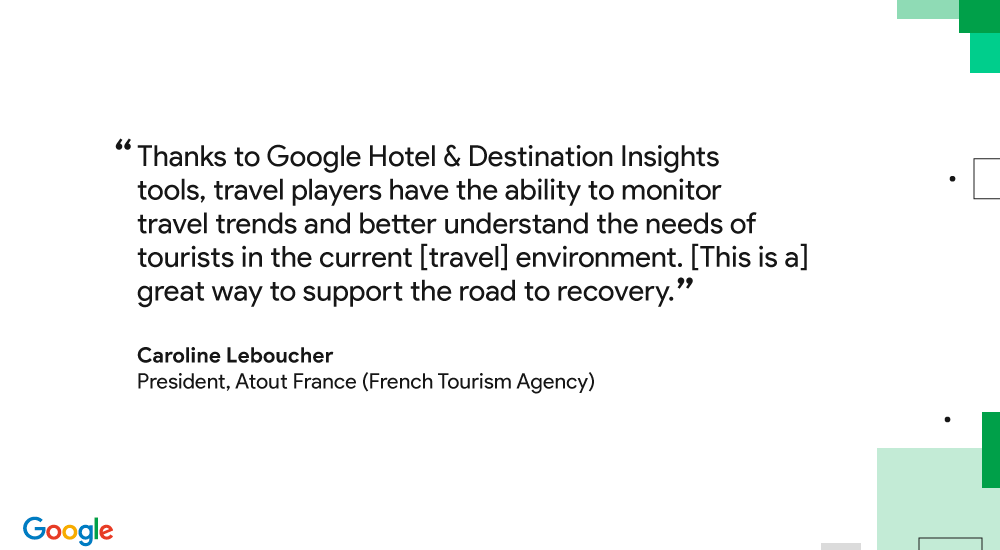 Finally, our work with Ministries of Tourism, Tourism Boards and cultural institutions has helped to promote travel to cultural destinations, including a virtual exploration of Lagos' Afrobeats and Alte music scene and seven places not to miss when visiting the city.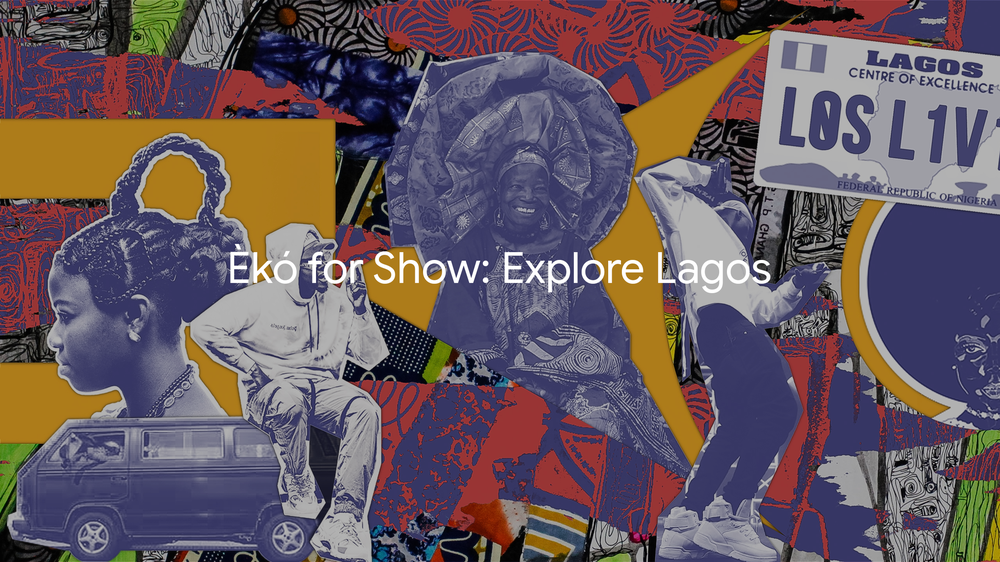 Predicting the future of travel
While tourist destinations and travelers are beginning to regain confidence after months of standstill from the pandemic, there's no one-size-fits-all way to predict what future demand will look like.

Traditionally, tourist destinations would use historical data — but no former seasons can accurately predict when and where people will want to travel now, and what the 'new normal' that businesses will be operating in will look like.
That's why we launched Travel Insights with Google, a website that features real time local data insights, helping the travel industry to understand demand and make better-informed decisions.
The website has two powerful tools. The first — the Destination Insights tool — helps governments and travel organisations better understand the destinations people are searching for, whether abroad or within their own countries. For example, we might see that German or Austrian travelers are most interested in visiting Croatia, and particularly places like Zagreb or larger coastal destinations. This insight helps businesses, destination marketers and Governments to map the return of travel — and make clear, informed choices about where to communicate with potential future visitors.
Our second tool, Hotel Insights with Google helps hotels of all sizes to understand where demand for their property may be coming from, so that they can better target and attract new guests. It also provides valuable tips on creating a strong digital presence — helping travel businesses to get online and attract bookings, customers and reviews.
Both tools are available globally for free in English with local versions in Europe in Spain, Greece, France, Italy and Croatia — with more languages to come very soon.
Search trends show that as vaccines roll out, travel interest appears to be on the rebound. People want to travel as they feel more confident to book a trip. Since mid-May, search interest has grown over 50% for flights across Europe with Spain, Italy and France topping the list of desirable destinations.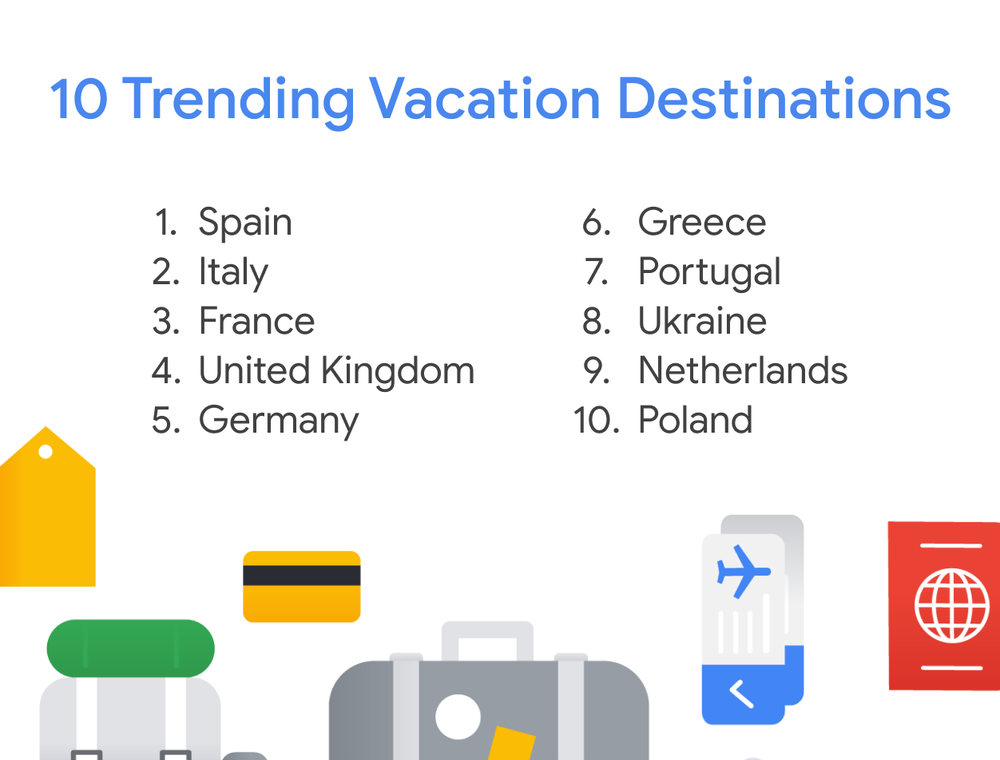 Search trends also show us that outdoor trips are still in style. In the summer of 2020, searches for outdoor recreation reached a 10-year high point, and this trend continues, with theme parks and RV rentals proving particularly popular.
Our commitment to the travel industry
There's no denying that operating a business in a post-pandemic world can be a little uncertain. But at Google, we want to do our bit — delivering the insights and tools that the industry needs to give customers the travel experience they deserve.

We'll be working even more closely with the industry as borders begin to open up, domestic travel increases, and international travel restarts.
No matter how quickly or slowly that recovery takes place, we're committed to supporting travel and tourism - and the many people and businesses that depend on it.