As the daughter of a Mexican immigrant, sharing Latino culture with my wider community is a daily part of life. From practicing Mexican folk dances with classmates to introducing neighbors to our favorite traditional foods, my family is always grateful to share our experiences as Latinos in the U.S. That's why I've been excited to help with Google's celebration of Hispanic Heritage Month — a time to reflect on and celebrate the contributions Latinos make to our company and our country.
Latino Heritage and Cultures collection
To kick off Hispanic Heritage Month, Google Arts & Culture published a dedicated collection of artifacts, archives and stories of Latino Heritage and Cultures from across the Americas. You can explore influences of Latino art and expression from ancient civilizations like the Aztec and the Inca from today's modern street art in Puerto Rico, Argentina, and the United States. In total, the collection includes 55 institutions from 11 countries, 14K artifacts and artworks, 117 expertly curated exhibits, and 180+ virtual tours of heritage and cultural sites. See some highlights in our video:
HOLA celebrations at Google
We also celebrated Hispanic Heritage Month across Google's campuses, where members and allies of HOLA, the Hispanic Googler Network, promoted Latino culture, leadership and civic engagement. On September 16, 50 Googlers from across the globe gathered in Washington, D.C., for a three-day Leadership Summit. There, we met with organizations like Voto Latino, brainstorming ideas on how to get out the vote; advised local organizations like the Latin American Youth Career Center and the Hispanic Heritage Foundation using digital tools in the classroom; and mentored students from the Georgetown Scholarship Program pursuing careers in technology.
HOLA members continued the HHM festivities in their home offices. Googlers in Mountain View hosted the rock band Maná, who spoke about their interest in social good and music. And just earlier this week, we welcomed Secretary of Labor Thomas Perez, who discussed the importance of access to Latino mentors, the value of immigrants in the American workforce, and the necessity of technology for 21st century careers. You can meet some of our HOLA members on our Instagram account.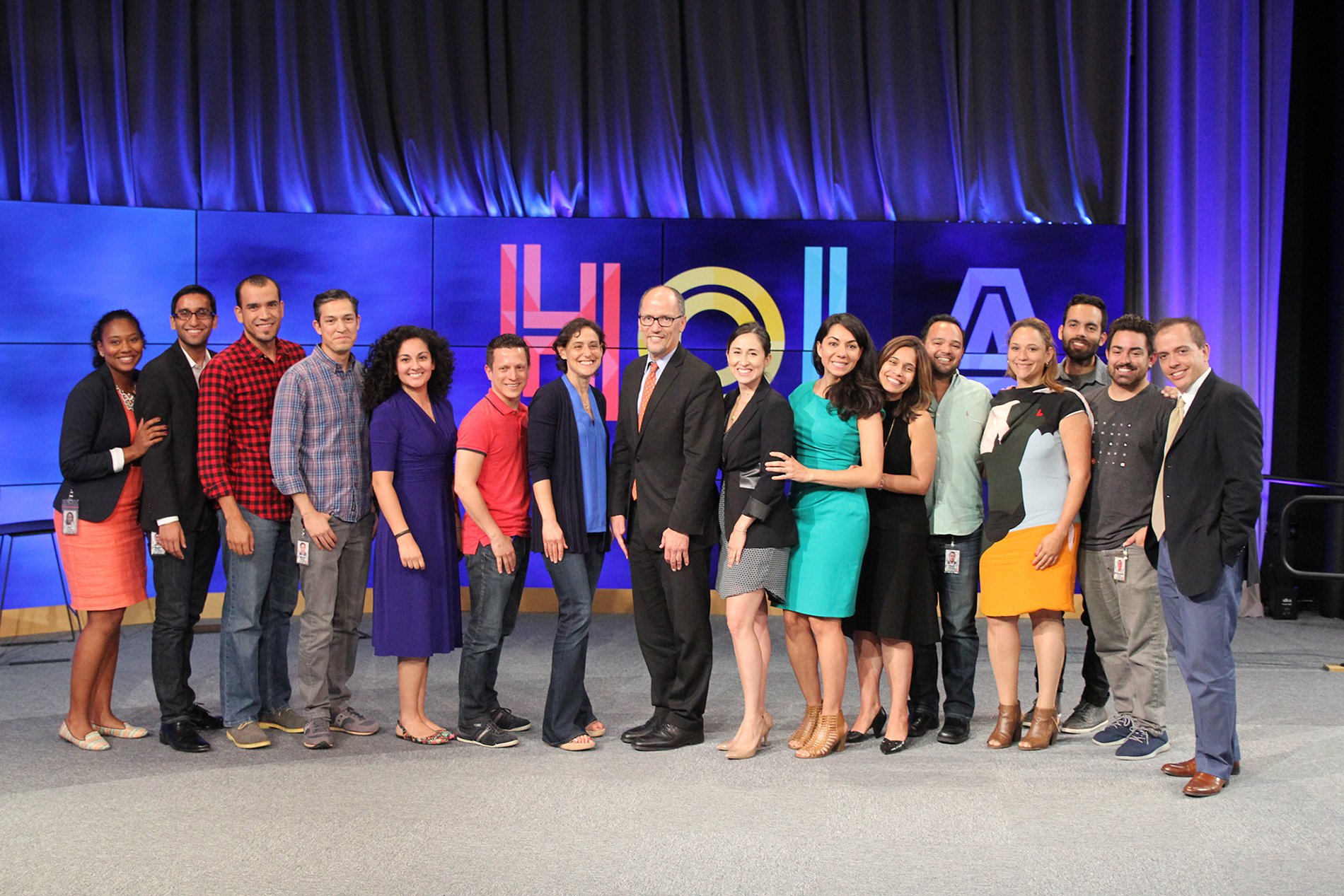 Support for Latino students and families
At Google, we understand that diverse and inclusive environments are essential to building products and solutions that work for everyone. That's why we invest in increasing educational opportunities for students of all backgrounds to pursue futures in technology. This month Google.org is committing $1 million to local Silicon Valley organizations to help close these gaps in educational success for Latino students and families.
Across the U.S., Latino students aren't being adequately prepared for college experiences or college level math. In our own backyard, Mountain View-Los Altos Union High School District, 73 percent of Hispanic high school juniors do not meet math standards — compared to 34 percent overall. So we're providing Silicon Valley Education Foundation (SVEF) $750,000 to support its work narrowing the achievement gap through its student-focused programs, school district policy support, and collaborations with business communities to bring innovation into the classroom. Googlers are already active volunteers with SVEF's summer intervention program, Elevate Math.
Google.org has also committed $250,000 to the Hispanic Foundation of Silicon Valley (HFSV), which aims to increase high school and college graduation rates for Latino students. Over the course of the next two years, HFSV will conduct Spanish-speaking Parent Education Academies that will reach parents of low-income, Latino students who are at-risk of falling off track. These workshops will ensure Latino parents are knowledgeable about the local education system and how best to support their children to achieve academic results and fulfilling careers.
As Hispanic Heritage Month 2016 comes to a close, we look forward to continuing our support of the Latino community — at Google and beyond!