As a designer, it's always humbling when you encounter a perfect piece of design. Good design attracts our attention with its beauty, doesn't need a user manual, is universally understood by anyone in the world, and is simple without sacrificing functionality.
In 1974, the world gave us one such piece of perfect design—the Rubik's Cube. Budapest-based educator and inventor Ernő Rubik created the puzzle originally to help his students better understand spatial geometry. Released to the public in the 1980s, it quickly became an international obsession, bigger than hairspray and breakdancing combined. But the Rubik's Cube is more than just a toy; it's a puzzle waiting to be solved and a question waiting to be answered. Over the past 40 years, the cube has puzzled, frustrated, and fascinated so many of us, and has helped spark an interest in math and problem solving in millions of kids. That's part of why so many of us at Google love the cube, and why we're so excited to celebrate its 40th birthday this year.

As everyone knows (right??), there are 519 quintillion permutations for the Rubik's cube, so May 19 seemed like a fine day to celebrate its 40th anniversary. To kick things off, we're using some of our favorite web technologies (HTML5 and Three.js among others) to bring the cube to the world in the form of one of our most technically ambitious doodles yet. You can twist and turn it by dragging along its sides, but with full respect to all the speedcubers out there, we've included keyboard shortcuts: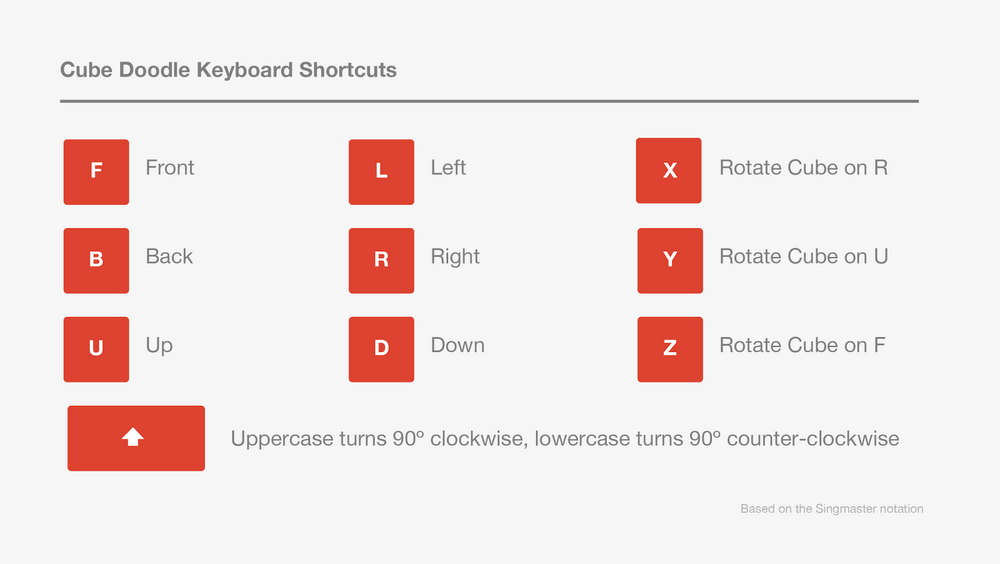 Using the same technology that's behind the doodle, we built Chrome Cube Lab, a series of Chrome Experiments by designers and technologists that reinterpret Rubik's puzzle with the full power of the web. Create your own music with experiments 808Cube and SynthCube; make a custom, shareable cube of your own photos and GIFs with ImageCube; or send a scrambly message with the Type Cube. You can visit some of these experiments at the Liberty Science Center's Beyond Rubik's Cube exhibition, and if you'd like to explore the cube even further, consider borrowing the cube's source code to build an experiment of your own.
We hope you enjoy getting to know the cube from a few new angles.