On February 2nd, we hosted an event at our Brussels office to discuss how businesses like Google are turning to renewable energy and consider how EU energy policies can meet the changing needs of consumers and the marketplace. With leaders from both the private sector and policy community, including keynote speaker, European Commission Vice President for the Energy, Maroš Šefčovič and our panelist, MEP Kathleen Van Brempt, we hosted the event with RE100, a non-profit initiative of influential businesses committed to 100% renewable energy.
Last December, we were proud to announce that Google is on track to reach 100% renewable energy for our  global operations, including both our data centers and offices in 2017. We have committed to renewable energy both to ensure we run our company as sustainably as possible and because it makes business sense as renewables become increasingly cost competitive. To date we've signed contracts for 2.6 gigawatts of renewable projects, making- us the world's largest corporate buyer of renewable power.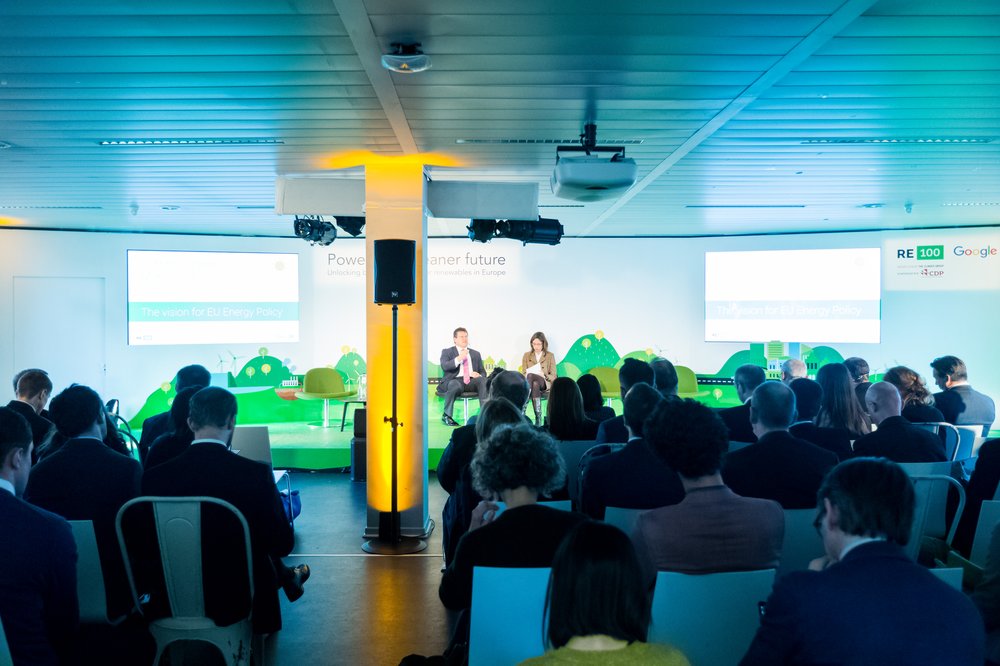 At out event we spoke alongside other companies committed to renewable energy, such as Nestle, IKEA, and Swiss Re, amongst others, who are also demonstrating through their own efforts that renewables make good business sense.  The business case for renewable energy was further highlighted by European Commission Vice President for Energy, Maroš Šefčovič who emphasized that the production costs for renewables have drastically reduced in the last 10 years.
Of course, there are still challenges facing the renewable energy market, many of which are addressed in comprehensive measures on renewables and energy market design recently proposed by the European Commission. Two key topics of discussion at the event were the need for sound policies to help remove barriers to deployment of renewables and more cross-border cooperation in order to implement Europe-wide initiatives.
At Google, we are excited to see so much progress and are committed to working together with policy maker and others to drive a cleaner energy future in Europe.