Over the last 20 years, digital tools have played an increasingly important role in our everyday lives, in societal debate and in the economy. In 2020, many of us have found digital tools to be a real lifeline. We've used them to connect with loved ones and teach our children during lockdown. Governments have used them to share vital information with citizens. And businesses across Europe are using them to reach customers and recover more quickly and sustainably. As we look to the future, it's important that regulation keeps pace with change, and Google supports Europe's effort to create a more responsible, innovative and helpful internet for everyone.
That's why we are submitting our response today to the consultation for the European Digital Services Act (DSA), drawing on our 20+ years experience in building technology that both helps people and creates greater economic opportunity. Well-designed regulation gives consumers confidence that their interests are being protected as they shop, search and socialize online. It also provides businesses with protection from opaque or unfair practices.
Our response encourages European policymakers to build on the success of the e-Commerce Directive and focus on three key areas: 
A more responsible internet: Introducing clearer rules for notifying platforms of illegal content while protecting fundamental rights of expression and access to information 
A more innovative internet: Encouraging economic growth and innovation by enabling Europeans to build the next generation of apps, businesses and services, and exporting European creativity and culture around the world
A more helpful internet: Competition regulation which supports product innovations, helps people manage their data and provides businesses with the tools to grow 
A more responsible internet
Because of our commitment to safety, we invest heavily in technology and people to combat illegal content, and we welcome an updated legal framework. We would encourage legislators to  provide greater clarity on the rules, roles and responsibilities of online platforms. 
The e-Commerce Directive set vital ground rules for conduct and responsibility online, which helped online innovation thrive. Whether an individual is claiming defamation, a studio is claiming that a video infringes on copyright or a government is seeking to remove a terrorist video, it's essential to provide clear notice about the specific piece of content to the online platform.  The platform then has a responsibility to take appropriate action on that content. This is especially important given the significant differences in what is considered illegal content across EU Member States. 
We are continually seeking to improve our technical systems and processes to identify illegal content. While breakthroughs in machine learning and other technology have significantly enhanced our ability to detect bad content, such technology is still unable to reliably understand context, which is often critical in determining whether or not content is legal, for example distinguishing violent content from a human rights organization documenting abuses. Mandated use of such technology would lead to overblocking of Europeans' speech and access to information. This is why platforms should be encouraged to further invest in these innovations while retaining the invaluable nuance and judgment that comes with human input. 
Google's products are designed to encourage people to share their views safely and respectfully, and have been a force for creativity, learning and expression. In order to ensure that fundamental rights are respected, it's important for the DSA to focus on capturing illegal content, so lawful speech isn't caught in the net. However, this should not prevent further actions on lawful-but-harmful content, such as cyber-bullying, through self- and co-regulatory initiatives, such as the EU Code of Practice on Disinformation and the EU Code of Conduct on Hate Speech, both of which Google joined from the start. Google also invests in easy-to-use reporting processes and clear guidelines to help ensure a positive online experience.
We are committed to providing greater transparency for our users and governments so that they better understand the content they are seeing and how to notify us of concerns. The DSA should support these kinds of constructive transparency measures while ensuring that platforms can continue to protect user privacy, ensure commercially sensitive information is not revealed and prevent bad actors from gaming the system. Google has long been a leader in transparency, including disclosing data on content moderation, content removal requests and blocking bad ads.  
A more innovative internet
The e-Commerce Directive, which the DSA will update, has guided Internet services, users and European society through 20 years of economic growth fueled by innovation, including entirely new industries ranging from app developers to YouTube creators.  The next wave of online innovation will play a vital role in helping people, governments and businesses overcome the many challenges - medical, societal, economic - that come with a global pandemic.
To foster innovation, the DSA should reflect the wide range of services offered by the tech industry. No two services are the same and the new act should be rooted in objectives and principles that can be applied, as appropriate, across this broad, diverse ecosystem.  This will ensure that everyone - platforms regulators, people and businesses -  are responsible for the parts they play. 
A more helpful internet
People want to save time and get things done when they are online. Our testing has consistently shown that people want quick access to information, so over the years we've developed new ways to organize and display results. For example, when you are searching online for a restaurant, you can at the same time quickly access directions because a map has been integrated into Google's Search results pages - saving you the time and effort of a second search through a map app or website. Integrations also help small businesses to be found more easily and to provide relevant information to their customers such as delivery, curbside pickup or takeaway options during lockdown periods, and can help people in times of emergency such as the Android Emergency location feature. New rules should encourage new and improved features and products which help European consumers get things done and access information quickly and easily.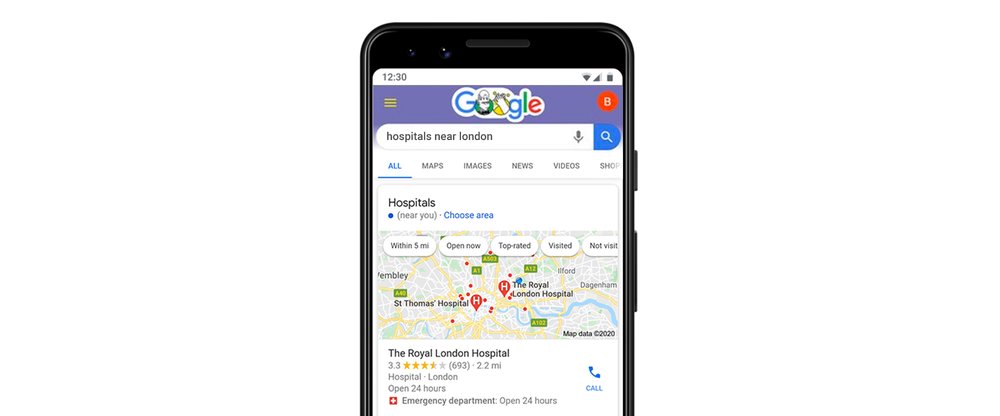 European startups and entrepreneurs also need online tools to help grow their businesses more easily and at a lower cost. For example, online ads help businesses of all sizes find new customers around the world, while cloud computing helps reduce operating costs and increase productivity. As the Commission updates its regulations, it should ensure new rules don't add undue cost and burden for European businesses in ways that make it harder to scale quickly and offer their services across the EU and around the world.
We agree that competition between digital platforms is strengthened by measures that allow people to move between platforms without losing access to their data, which also makes it easier for new players to enter or expand in digital markets. Google offers a wide range of tools that allow people to be in control of their online experience, such as Google "My Account", which helps users choose the privacy settings that are right for them, or Google Takeout, which allows users to export their data. Similarly, providing access to aggregated datasets could benefit R&D in a range of industries while safeguarding user data privacy. As new rules are being evaluated, the question is not whether data mobility or data access should be facilitated, but how to achieve their benefits without sacrificing product quality or innovation incentives. 
Modernizing regulation
Creating a more responsible, innovative and helpful internet is a societal challenge, and we acknowledge the need for companies, governments and civil society to work together towards reaching our shared goals. That's why we support modernizing rules for the digital age. 
Our response today is committed to creating a balanced regulatory framework that can adapt to future technological innovations so we can build on the momentum and benefits that online services have provided European citizens and businesses over the past two decades.