During a turbulent year grappling with COVID-19, businesses leaned heavily on mobility to adapt to hybrid and work-from-home environments. As we look ahead, it's clear that mobility will be pivotal to how businesses thrive in this new workplace reality.
Recent market data from IDC found 84 percent of IT professionals planned to invest more in enterprise mobility, with mobile security and device management topping the list of investment priorities, according to
The State of U.S. Enterprise Mobile Workers Webinar: Information, Frontline, and Work-from-Home Trends in 2020
.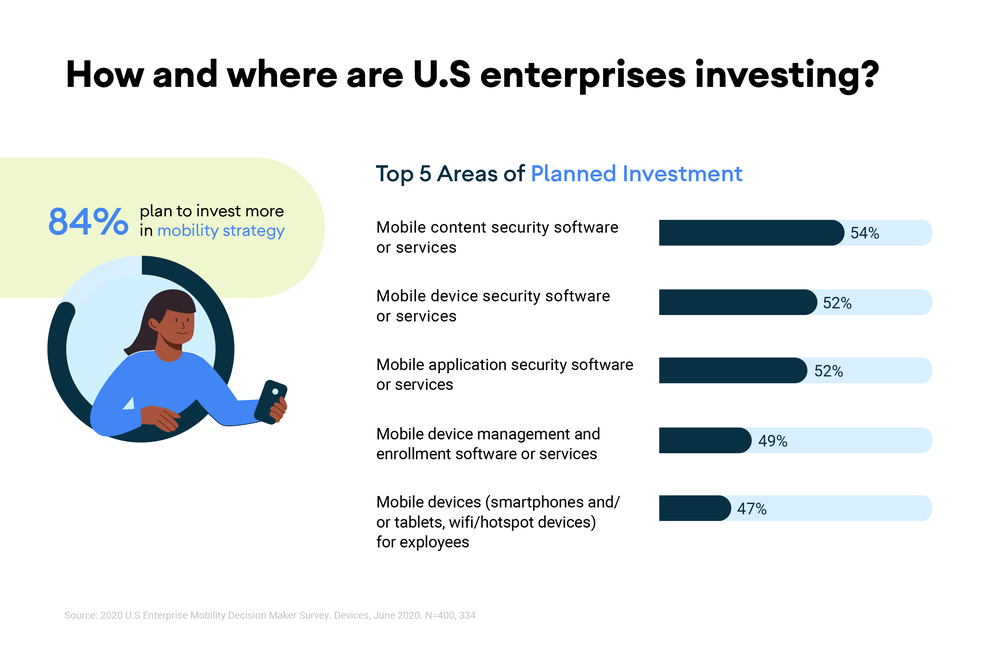 A successful enterprise mobility strategy requires multiple layers — choosing devices for your team, picking a preferred management solution, setting up for remote and distributed enrollment and taking advantage of helpful features built around security. Google provides solutions at each step to help you meet your mobility goals with Android.
Devices for your whole team
Picking the right devices to help meet business goals is a critical first step. To help provide greater flexibility for more workers and use cases, we've added new Android Enterprise Recommended partners, welcoming Samsung, Lenovo, OnePlus and Xiaomi. From premium smartphones to rugged devices for your frontline workers, there's an Android device for every need. When selecting Android Enterprise Recommended devices, you're assured that they are backed by Google security services and support our range of management features.
Flexible management solutions
Android Enterprise gives you the versatility and flexibility to manage your mobile fleet, no matter the size of your business.
If you're a small business, you face the challenge of securing devices and data without the resources of a larger organization. It's why we recently announced early access for Android Enterprise Essentials, a new way for small and medium-sized businesses to get automatic, affordable protection. Essentials is available from U.S. resellers CDW and SHI, and from U.K. resellers Bechtle, Chess, Intercity and Tela. We expect to add additional U.S. and U.K. resellers soon and plan to expand to more countries and regions throughout the year. 
Essentials takes away the guesswork and the day-to-day worries of device management by providing a core set of always-on features that work automatically, from the moment you buy devices to when your employees turn them on. You can learn more about Essentials by watching our launch event on demand or downloading a copy of a new technical review of Essentials by research firm Enterprise Strategy Group.
Larger businesses often have more advanced security and management needs, be it a larger device fleet or supporting multiple operating systems. To meet these use cases, we also offer Android Enterprise through our Enterprise Mobility Management (EMM) partners. Our management framework is built with granularity, so companies can manage devices on their own terms, whether they are fully managed corporate devices or employees' personal devices. 
Helpful features built around privacy
Smooth device setup and helpful features are critical for mobilizing your teams. This begins with device setup — it's why we made zero-touch enrollment, our seamless deployment service, even more useful by expanding support to all Android 9.0+ devices. You can choose zero-touch or, if your team is using Samsung devices, Knox Mobile Enrollment to best suit your needs.
We continued our focus on privacy, security and helpfulness with Android 11. The Android work profile helps keep business data safe and personal stuff private when using a personal device for work and play. And IT admins benefit from additional tools to ensure devices comply with corporate policies. You also get a more helpful experience with the option to allow trusted apps to connect between work and personal profiles. 
Try our Solutions Finder
Choice doesn't have to mean complexity. To make this easier, we recently launched the Solutions Finder, an interactive assessment tool that helps recommend a management solution based on your needs.  This resource is built to help you easily take advantage of all Android offers.
As we look ahead, we believe our investments in security, privacy and management will help companies succeed in transitioning to today's hybrid workplace.