Sundar sent the following email to Google employees earlier today. 
Hi Googlers,
We've spent the last year focused on supporting employees during the pandemic. I hope the extra benefits such as Carer's Leave, the work-from-home allowance, the extra reset days, and the ability to work from wherever you need have been helpful in getting through this tough time.
And we're not through it yet. It's heartbreaking to see COVID surging in places like  India, Brazil, and many others around the world. If you live in one of these places, please focus on taking care of yourselves and your loved ones right now. We are here to support however we can. 
In other areas, conditions are less dire and people are beginning to open up their lives and think about returning to the office. In fact, in places where we've been able to reopen Google offices in a voluntary capacity, we've seen nearly 60% of Googlers choosing to come back to the office. 
For more than 20 years, our employees have been coming to the office to solve interesting problems — in a cafe, around a whiteboard, or during a pickup game of beach volleyball or cricket. Our campuses have been at the heart of our Google community and the majority of our employees still want to be on campus some of the time. Yet many of us would also enjoy the flexibility of working from home a couple days of week, spending time in another city for part of the year, or even moving there permanently. Google's future workplace will have room for all of these possibilities. 
Over the last year, a team within REWS has been reimagining a hybrid workplace to help us collaborate effectively across many work environments. They're testing new multi-purpose offices and private workspaces, and working with teams to develop advanced video technology that creates greater equity between employees in the office and those joining virtually. All of these efforts will help us work with greater flexibility and choice once we're able to return to our offices globally. 
A workspace set up under a large canvas tent, with many tables and chairs, as well as plants and other decorations

One of the spaces being tested by Google's Real Estate and Workplace Services team is "Camp Charleston," an outdoor space for holding larger team gatherings.

A "Team Pod" with a movable whiteboard wall, 4 desks on rollers and other reconfigurable furnishings, with 2 people sitting at desks and 1 person standing at a Jamboard, with another person on the videoconference

"Team Pods" spaces can be reconfigured in multiple ways to support focused work and collaboration.

A "Campfire" space: A circular seating area with 2 people sitting in person, and 3 more on individual videoconference screens.

"Campfire" is another experiment being tested to help ensure equal participation among those in person and remote.
That flexibility will come in a few different forms — and your product areas and functions will share more details on all of these changes by mid-June. Here are the key principles: 

A more flexible work week: 


We'll move to a hybrid work week where most Googlers spend approximately three days in the office and two days wherever they work best. Since in-office time will be focused on collaboration, your product areas and functions will help decide which days teams will come together in the office. There will also be roles that may need to be on site more than three days a week due to the nature of the work. 
More choice around where you work: 


More locations globally: One of Google's biggest advantages is our global footprint. We are investing in many great communities globally — which creates more opportunity for employees to move around throughout their careers. By mid-June your PAs and functions will come back with a process by which you can apply to move to another office. In granting approvals, they'll take into account whether business goals can be met in the new location and whether your team has the right infrastructure in the site to support your work. 
Remote work: We'll also offer opportunities for you to apply for completely remote work (away from your team or office) based on your role and team needs. Before the pandemic, we had thousands of people working in locations separate from their core teams. I fully expect those numbers to increase in the coming months as we develop more remote roles, including fully all-remote sub teams. You'll be able to apply for remote work within your product area or function. As with location transfers, your leads will evaluate whether remote work can support the goals of the team and business. Whether you choose to transfer to a different office or opt for completely remote work, your compensation will be adjusted according to your new location. 
Taken together these changes will result in a workforce where around 60% of Googlers are coming together in the office a few days a week, another 20% are working in new office locations, and 20% are working from home. 
More flexibility for your life: 


Work-from-anywhere weeks: Going forward, Googlers will be able to temporarily work from a location other than their main office for up to 4 weeks per year (with manager approval). The goal here is to give everyone more flexibility around summer and holiday travel. 

Focus time: Product areas and functions will also offer focus hours so we limit internal meetings during times when people need to be heads down on projects.

Reset days: We'll continue offering extra "reset" days to help employees recharge during the pandemic in 2021. Our next global day off will be on Friday, May 28 (or the following work day if you're already not working on the 28th). Please enjoy it!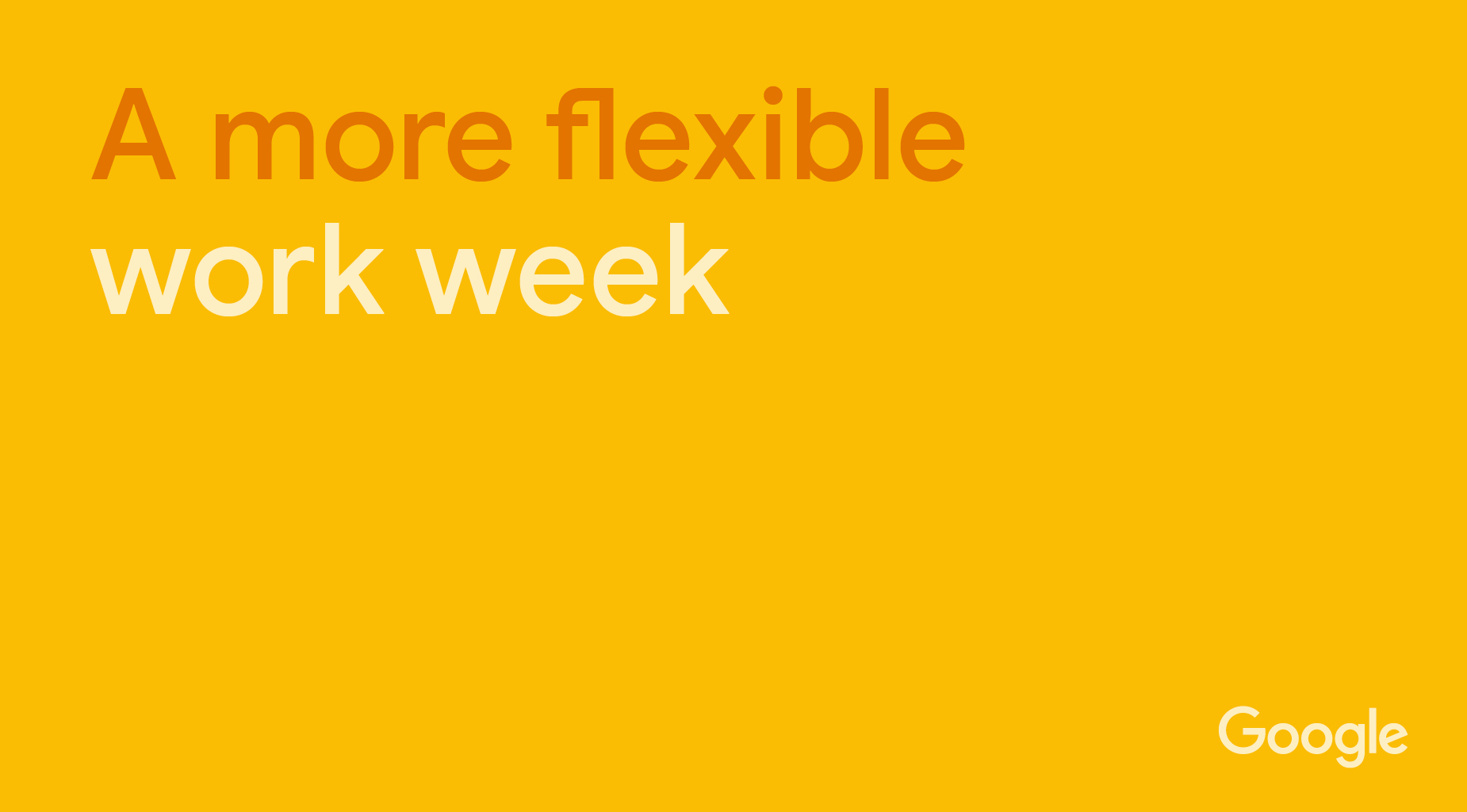 I know this past year hasn't been easy for anyone and many Googlers are still suffering as the pandemic wears on. We will get through it — together — as a Google community. 
I am profoundly optimistic that once we do, we will be able to come back together in our offices to see all the people we have missed. And we'll be able to work together in entirely new ways that improve both our work and our lives. 
The future of work is flexibility. The changes above are a starting point to help us do our very best work and have fun doing it. 
 Look forward to continuing the conversation with all of you. 
-Sundar