Movies and TV can make us laugh, cry and even shape who we are. Our watchlists can be surprisingly revealing. We're teaming up with entertainers, artists and cultural icons on a new Watch With Meseries on Google TV to share their top picks and give you a behind-the-scenes look at the TV and movies that inspired them.
Actor and writer Simu Liu loved movies and TV from a young age -- he liked losing himself in a story. He loved it so much, he wanted to pursue acting, and he broke new ground when he was cast as the first Asian American Super Hero in the Marvel Cinematic Universe, playing the title character in Marvel Studios' "Shang-Chi and The Legend of The Ten Rings." Even after playing a superhero himself, he still enjoys watching epic tales. "I'm someone who loves escaping into completely new and different worlds through watching movies and TV. Whether it's a world of wizards, orcs or Greco-Roman gods, I'm just somebody that loves being whisked away."
Also important to Simu Liu is seeing Asian representation on the big screen. We recently sat down with Simu Liu to learn about his Google TV watchlist and what his top picks mean to him. "My watchlist says I'm somebody who cares deeply about Asian representation and telling our stories, because they haven't been told yet in Hollywood in a deep and meaningful way or they are just starting to be told," he says. "All these films have deeply impacted me in some personal way, and I'm so excited to share them with you."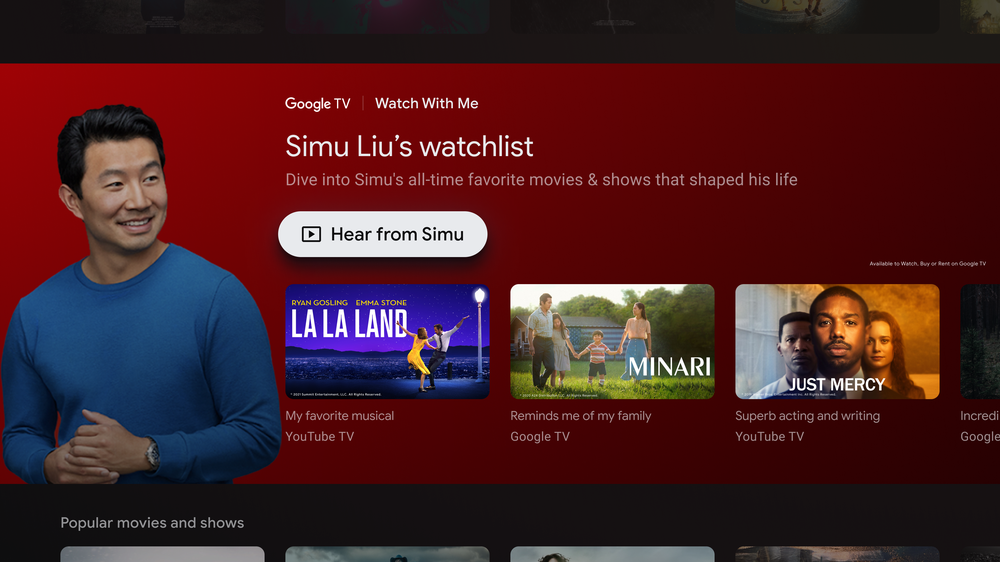 Before diving into his top picks, we asked Simu a few questions to get to know him and his love for movies and TV.
What's your go-to movie snack?
Simu Liu:Essential movie snack is the butter popcorn with the liquid butter drizzle topping. How many pumps of butter is best? That's a very good question that I think about. There's basically two schools of thought: One is to pump all the butter at the top and let it seep down. And the other one is to pump as you fill the bucket to evenly distribute.
What's your favorite genre?
Simu Liu:My favorite genre is superhero movies. I mean, come on. It's the best.
What makes a great date-night movie?
Simu Liu:A great date night movie needs a fantastic "meet cute" moment. We all know that moment in the romantic movie where the main characters chases the other down and professes their feelings in this beautiful, perfect monologue.
Do you love watching movies at home or in the theaters?
Simu Liu:I like watching at home, but there's nothing better than sitting at a theater in a dark room, experiencing a movie on a massive screen with a bunch of strangers and just munching on popcorn.
You come from the world of sitcoms and love watching them. What makes a good sitcom for you?
Simu Liu:The characters are really what makes a great sitcom. You have to have a balanced cast of wacky characters that you love to love and love to hate... it's got to have the perfect balance.
Why are movies and TV important to you?
Simu Liu:I believe in the transformative power of storytelling. Movies and TV have the capacity to change people's lives or at the very least, show them something about their lives that is relatable, that is poignant and that makes them think. My life was so affected by the movies and TV that I saw, and was how I taught myself language and culture when my family immigrated to Canada when I was a young child.
Explore Simu's watchlist and uncover more fun facts about Simu, like his love for musicals, on Google TV, rolling out over the next few days. Tell us your favorites using #WatchWithMe.