Ice skating bunny rabbits, Santa's high tech command center, couture cotton candy dresses, the characters of "South Park" — these are just some of the wonders awaiting visitors to New York City's magical holiday window displays.
Each year, more than 5 million people travel to Manhattan during the holiday season. Many of them brave the icy weather and chaotic holiday traffic to take in the displays lining Madison, Fifth Avenue and beyond.
Now for the first time, anyone from anywhere in the world can peer into New York City's magical windows with Window Wonderland. Using your smartphone or computer, you can take a virtual tour of holiday windows from 18 stores, even if you can't make the trip in person.

We've taken hundreds of high-resolution photos of each window and stitched them together with a new technique that creates a rich, life-like panorama — you'll feel like you're standing on the streets of Manhattan during the holidays, gazing at the windows as if you were walking next to them. If you have a virtual reality headset like Google Cardboard or Daydream, you can even be surrounded by the sounds and sights of the city street, taking in the storefront view alongside other onlookers.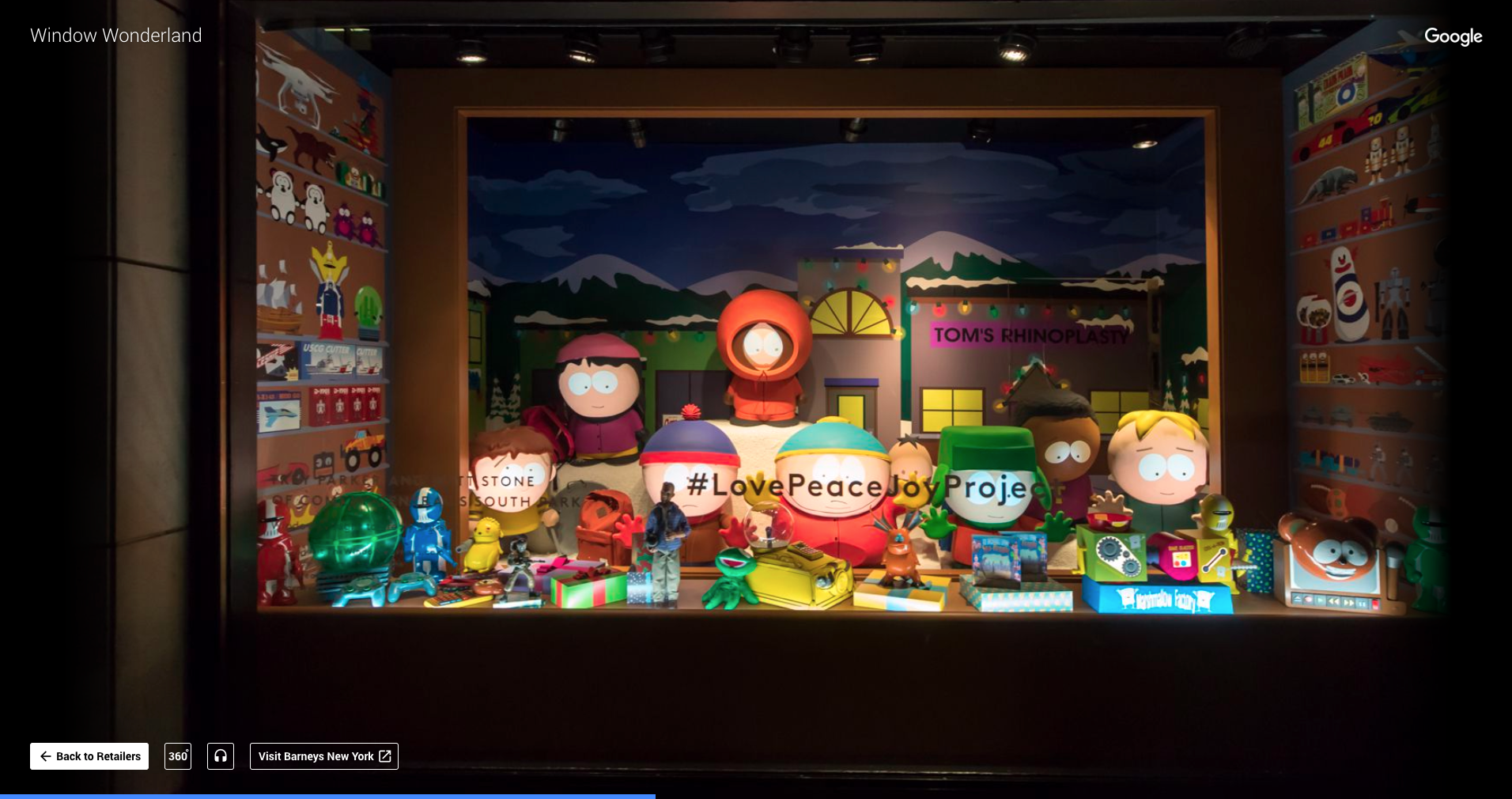 Some windows let you enter a magical world: in Lord & Taylor's Enchanted Forest, bunnies ice skate while raccoons fish on a frozen pond. Others are a chance to visit the museum — such as Barney's, where artist Nick Cave takes on the issue of race and gender in sculpture. At Saks 5th Avenue, it's runway meets holiday, where designers like Carolina Herrera, Marchesa and Jason Wu were commissioned to create bespoke couture gowns inspired by holiday treats like cotton candy, cake icing and peppermint sticks. We've captured displays from 17 stores in all: ABC Carpet and Home, American Girl, Barneys New York (two stores), Bergdorf Goodman, Bloomingdale's, Burberry, Cartier, Fendi, Henri Bendel, Lord & Taylor, Louis Vuitton, Macy's, Michael Kors, Ralph Lauren, Saks Fifth Avenue, Tiffany & Co. and Tory Burch.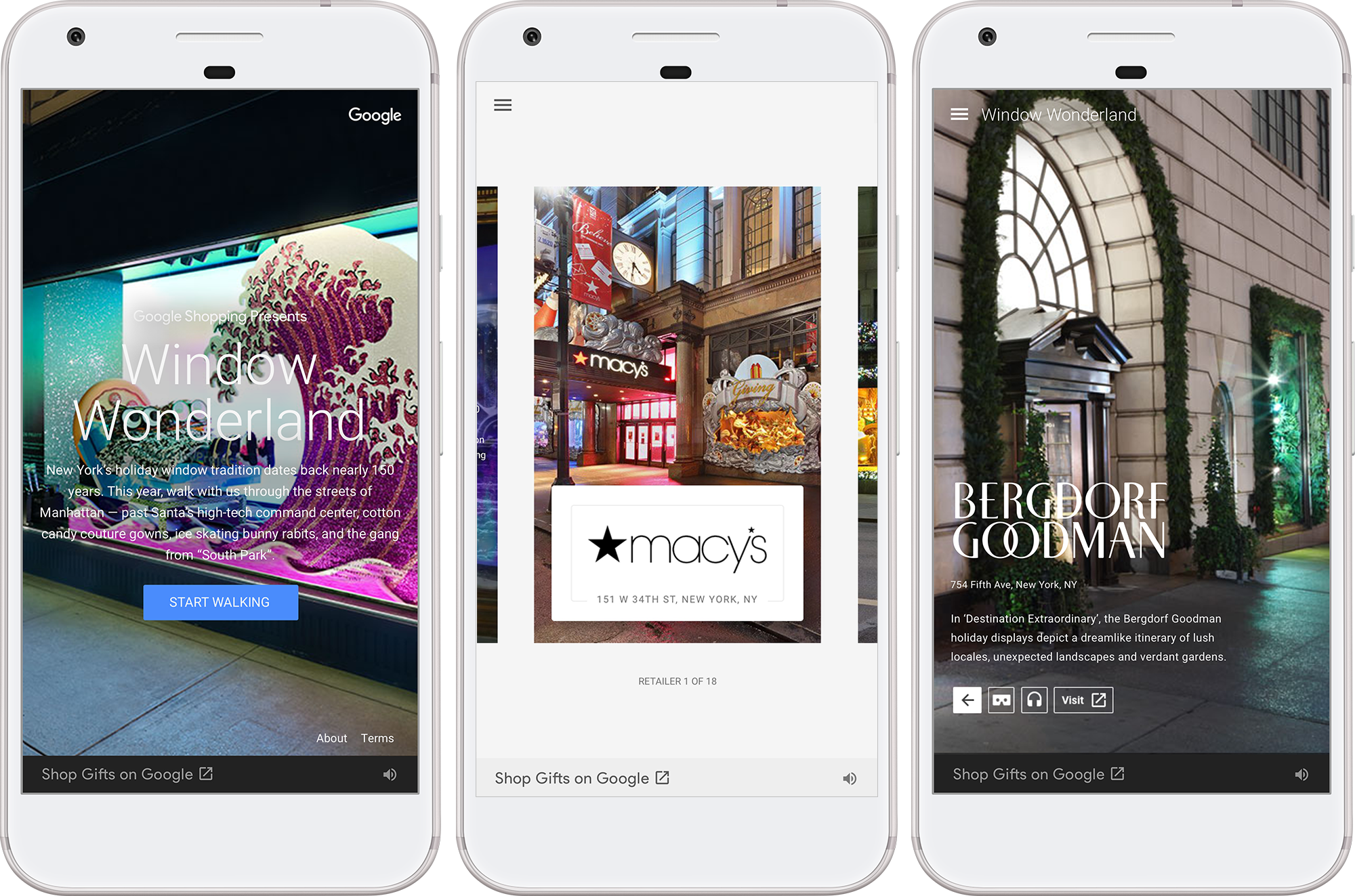 At any point in your virtual walk, you can zoom in to see the details on these intricate displays, like gorillas peering out from a lush green jungle embellished by beads and flowers at Bergdorf Goodman. You can also listen to audio guides from the stores' creative directors, as they describe the process and painstaking detail that goes into the displays. Or head over to the special Google shopping gift window to find the perfect presents for the special people in your life.
With all of the artistry and time that goes into creating these holiday windows, we want to open them up to the whole world. So go ahead, walk down the wide avenues of Manhattan, peer into Santa's high-tech communications command center at Macy's flagship store, imagine sitting atop the 9 ½ foot tall Jackalope at Bergdorf Goodman, take in all the sights and sounds — and enjoy the magic of a New York holiday.