Update on 11 February 2021: 
We're excited to be announcing News Showcase partnerships with publishers all around the world. So far, seven Australian publishers – representing more than 25 titles – have signed on to our licensing program including Crikey, The Conversation, The New Daily and regional newspapers from Australian Community Media. Across the world more than 450 publications are now Showcase partners, including The Financial Times, New Statesman and The Telegraph in the UK, Le Monde in France, Der Spiegel in Germany, and global news brands like Reuters. 
We believe that News Showcase is the right way to make payments to publishers under the Government's proposed News Media Bargaining Code. It offers a way to support public interest journalism and help secure the future of the news industry without breaking Google Search. We're in discussions with publishers large and small and as we're looking to make Showcase available with more partners in Australia, we wanted to answer your top questions about this new program, how it's supporting publishers, and how it'd work under the News Media Bargaining Code:
What is Google News Showcase?
News Showcase is a product and licensing program that benefits publishers and readers. Readers get more insight on the stories that matter to them with curated story panels across several Google services. Participating news publishers will increase their revenue through monthly payments from Google, including for access to paywalled content to provide users free access to select stories. On top of this, news publishers can grow their business through high-value traffic to their sites and deeper relationships with their audience.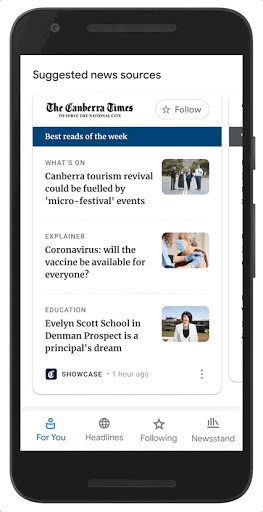 What is the benefit of Showcase to publishers?
News Showcase helps publishers deepen their relationships with their readers by utilising their branding and presentation to present content in a way that's true to their look and feel. It also adds to the sustainability of news businesses where participating News Showcase publishers receive a fixed monthly fee for curating their articles on News Showcase, and in some cases for providing access to articles behind their paywall so that readers can see the value of becoming subscribers and publishers can build a relationship with readers.  Showcase drives clicks through to news brands' websites, giving publishers the opportunity to monetise that traffic through ads or subscriptions––on top of the fee. 
What is the benefit of Showcase to users?
Users get a richer news experience from trusted news organisations and can discover publications covering their interests and the places they care about. News Showcase panels allow people to dive deeper into a story and see a list of important articles updated multiple times per day by their favourite publishers.  
What is Google paying for?
Payments are made for the publishers' curatorial expertise for beyond-the-paywall access and to curate content for story panels. Publishers receive monthly fees, which are intended to provide payments over three years. News Showcase is not a pay-per-click model, anything publishers get in terms of additional traffic from story panels or new subscribers is on top of that fee.
Where does it appear?
The Google News App
Google News Showcase story panels are now live in the Google News app. To view, navigate to news.google.com on your mobile, or you can download the app. (Android, iOS)
Discover
The panels are starting to roll out on Discover on iOS today, and will be visible to Australian users in the coming days. Discover appears in the Google Search App on mobile devices. The Google App is preinstalled on Android devices and can be downloaded for iOS here.
Some Android devices (for example the Google Pixel Phone), also feature Discover on the "-1 screen", or the screen you see when you "swipe to the left".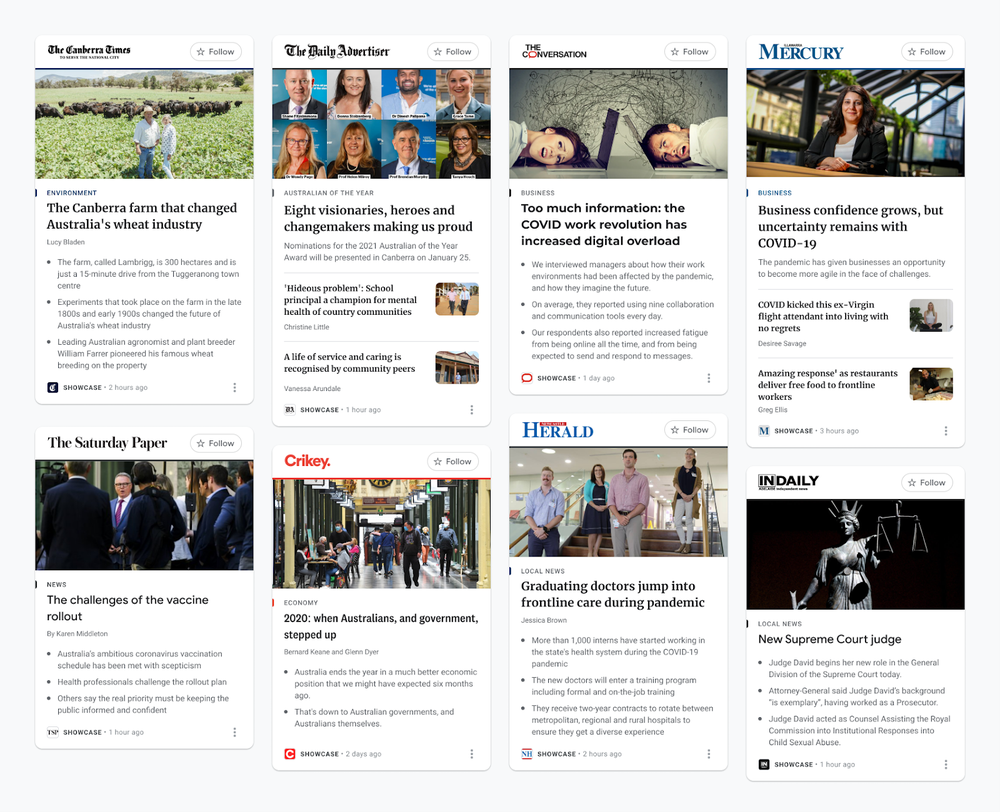 How can I see story panels today?
If you open the Google News app and navigate to the newsstand tab, you'll see a carousel of story panels. And if you follow one of the publishers who are part of this initial launch, you might see one of the panels in your For You feed in the app. 
Where is News Showcase operating?
News Showcase is live in Australia, Germany, Brazil, the UK and Argentina.  Participating publishers there have created tens of thousands of panels which have been seen by millions of users across Google News and Discover on Android and iOS. More than 450 publications, large and small, have signed up in a dozen countries including Reuters, the Financial Times, the Independent, the Evening Standard, Der Spiegel, Le Monde. We will continue to sign up and launch more. We are operational and readying for launch in many more countries, including France, Canada  and Japan.
What have publishers said about News Showcase?
Australian publishers:
Australian Community Media: "As a digital and content-focused media company serving Australia's major regional population centres, ACM is always looking for new ways for our trusted news brands to deliver their unrivalled local news coverage to the widest possible audience. Whether it's on our new apps or our websites, via podcasts, social media, newsletters or the printed newspaper, we want the journalism of mastheads like The Canberra Times and Newcastle Herald to reach our communities wherever they are. Showcase is an opportunity for our 14 daily titles to curate their trusted local journalism for Google News users and we are working constructively with Google to explore the exciting potential of this product to engage mobile audiences," says Tony Kendall, CEO of Australian Community Media ( a leading rural and regional media network).

The Conversation Media Group: "In recent years we've noticed Google has been increasing its effort to promote journalism that has gone through a rigorous process of fact checking. The Conversation only works with academics who are experts in their field, and all our articles are carefully curated by professional journalists. This means we're in a perfect position to work with Google to try and provide a stream of reliable information that can meet the needs of audiences," Lisa Watts, CEO of The Conversation Media Group, (a global journalism network).
Schwartz Media: "This is a chance to take a leading role in putting quality journalism in front of people. It helps take the rigour of what we do at The Saturday Paper, The Monthly and 7am and connect it to broader audiences. It is one way of addressing the age of misinformation in which we live, " says Rebecca Costello, CEO of Schwartz Media (an independent media organisation that publishes in-depth, original public interest reporting, focusing on storytelling and insight).

Solstice Media: "With local news under stress, finding new channels and new audiences for our premium content, in safe and curated environments, is a high priority. This opportunity will give us access to new markets and provide additional commercial benefits," says Paul Hamra, Managing Director, Solstice Media (publisher of Australian news titles including InQueensland and InDaily in South Australia).
International publishers:
Reach: "We welcome this initiative and its potential to give public interest journalism a more visible platform in Google. For us, public interest journalism thrives when it is not just about recording events but is of genuine interest to the public and is able to attract an audience that means it is sustainable. Google's work here will help give readers a new way to discover news which is important to them, which they may not otherwise have discovered." David Higgerson, Chief Audience Officer, Reach (the largest commercial publisher in the U.K, with many regional and national brands).

The Telegraph:"We have a longstanding partnership with Google and we are pleased to be launch partners for News Showcase. We welcome the registration and subscription sampling opportunities that News Showcase will provide to Google users and we are confident that many of them will go on to become Telegraph subscribers," says Chris Taylor, COO, The Telegraph.

Reuters: "Reuters is committed to developing new ways of providing access to trusted, high-quality and reliable global news coverage at a time when it's never been more important. We are thrilled to join Google as the first global news partner on News Showcase," Eric Danetz, Global Head of Revenue, Reuters (press releasehere).
What publishers have signed on to Showcase in Australia?
There are 25 publications from leading Australian publishers that have signed up. We focused on regional and digital natives in our first wave of outreach because we believe News Showcase helps them find new audiences and build deeper relationships in a highly concentrated market. We are in talks with many more - large and small. 
How could News Showcase work under the Code?
We have proposed to make Google News Showcase subject to the News Media Bargaining Code, that means if a publisher is discussing a News Showcase deal with Google, and they're not happy with the negotiation, they could go to an arbitration to resolve any disagreement (please find more info on how News Showcase would work under the Code in our submission to the Australian Senate). 
We know this is a workable solution because we've been able to do deals with publishers around the world. We're committed to investing in the future of our Showcase product, to enable us to support Australian journalism in line with the goals of the Code.
What's the difference between France and Australia?
We have offered (and agreed) similar deals for News Showcase in Australia as in France and many other countries around the world. Our concerns about the Code In Australia are about being asked to pay for all links and snippets which the European Copyright Directive does not. Links and snippets are the building blocks of the free and open web. Sir Tim Berners Lee, in his submission, agrees.
In Australia, we're proposing to pay publishers for value with News Showcase. The difference to other places would be that News Showcase would operate under the Code, that means Australian publishers can go to arbitration on News Showcase to solve any disagreements.