Movies and TV can make us laugh, cry and even shape who we are. Our watchlists can be surprisingly revealing. We're teaming up with entertainers, artists and cultural icons on a newWatch With Meseries on Google TV to share their top picks and give you a behind-the-scenes look at the TV and movies that inspired them.
Awards season is here, making it the perfect time to chat with director Chloé Zhao, who took home the golden trophy in 2021. Her film "Nomadland" won best picture and best director, and is a perfect example of Chloe's unique ability to deliver incredibly human, universal experiences. "As a storyteller, it's important to have empathy," she says. "You don't necessarily have to have gone through what your character went through, but it is important to be vulnerable and open enough to let those characters guide you through it."
We sat down with her to learn more about her filmmaking and the directors who inspire her. "I would say I'm not your typical cinephile. You know, I haven't seen everything, but there are a handful of directors who I worship and I'll watch their films over and over again."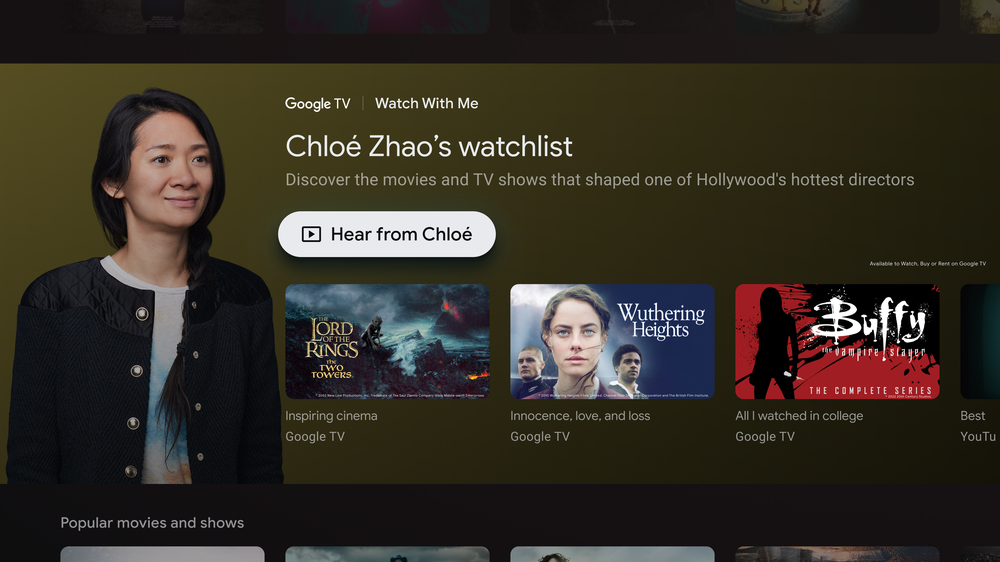 Before we brushed up on her list of influential films and TV, we asked Chloé a few questions to learn more about her — and get a peek at her watchlist.
What does your watchlist say about you?
Chloé Zhao:My watchlist says that I'm someone who is very inconsistent, has a wide range of interests and can be a bit strange. I'm attracted to interesting stories and characters who can be perceived as a bit messed up.
What did you grow up watching?
Chloé Zhao: Mangas, Anime and Wuxia dramas — especially the ones starring Tony Leung! — were a huge part of my childhood. I constantly draw influence from these mythical and magical stories in how I approach filmmaking.
Who do you typically watch TV and movies with?
Chloé Zhao:I always watch TV with my dogs — I don't have a choice! They have to sit next to me, one on each side.
Is it acceptable to talk during a movie?
Chloé Zhao: It's not easy to make a movie, so as a filmmaker, I prefer people to not talk or check their phones during them. There's incredible content on phones these days, so we have to force people to turn them off!
What's one show you love to watch?
Chloé Zhao:I love "The Office." Greatest show ever. I especially like watching the love-hate relationship between Dwight and Jim!
Dive into Chloé's watchlist and learn more about the directors that inspire her on Google TV, rolling out over the next few days. Tell us your favorites using #WatchWithMe!