The promise of the cloud has always been to offer flexibility, access and security at a scale that's unimaginable in legacy enterprise productivity solutions. Your data and applications offer the most value when they live in a connected cloud, and when combined with Google's machine intelligence, they offer insights that can move your business beyond productivity.
In order for Google to deliver on this cloud promise, we must not only meet enterprise companies where they are today in terms of security, compliance, and connectivity standards — but also raise the bar for what's possible with our advanced machine intelligence capabilities. That's why we introduced G Suite. In the past year, we've launched more than 300 features and updates to help customers reach their cloud potential. And today, at Google Cloud Next, we announced the next generation of our collaboration and communication tools, designed to help our customers take it to the next level:

A Google Drive tailor-made for the enterprise

An evolved Hangouts purpose-built for teams: Hangouts Meet and Hangouts Chat

An Add-ons platform to integrate Gmail with the applications customers use every day

@meet, a machine learning-powered bot that uses natural language to schedule meetings

Introducing Team Drives and fresh features for enterprises in Drive
Since the launch of Google Drive, we've focused on making it simple for people to easily store, share and access their files. With more than 800 million active users on the Drive platform, we're thrilled to see Drive delivering on this promise. These days, we're focused on ensuring Drive addresses the unique needs of our enterprise customers, like compliance, data security and file ownership when teams change.
Today, we announced key enhancements in Drive to do just that:

Team Drives work the way people in enterprises do: in groups, not just as individuals. Team Drives enable teams to simply and securely manage permissions, ownership, and file access for an organization. Team Drives are generally available today for G Suite Business, Education, and Enterprise customers.

Drive File Stream allows employees to access tremendous amounts of cloud storage content directly from their desktops, without requiring a sync or monopolizing hard drive space. G Suite customers can apply for the Early Adopter Program (EAP) today.

Google Vault for Drive gains additional controls so admins can manage retention and legal hold policies. Google Vault for Drive is generally available today for G Suite Business, Education and Enterprise customers.

AppBridge, a partner that we've worked with closely for years, will be joining the G Suite team. We're welcoming AppBridge to help our largest customers manage some of their most complex data migrations to Drive.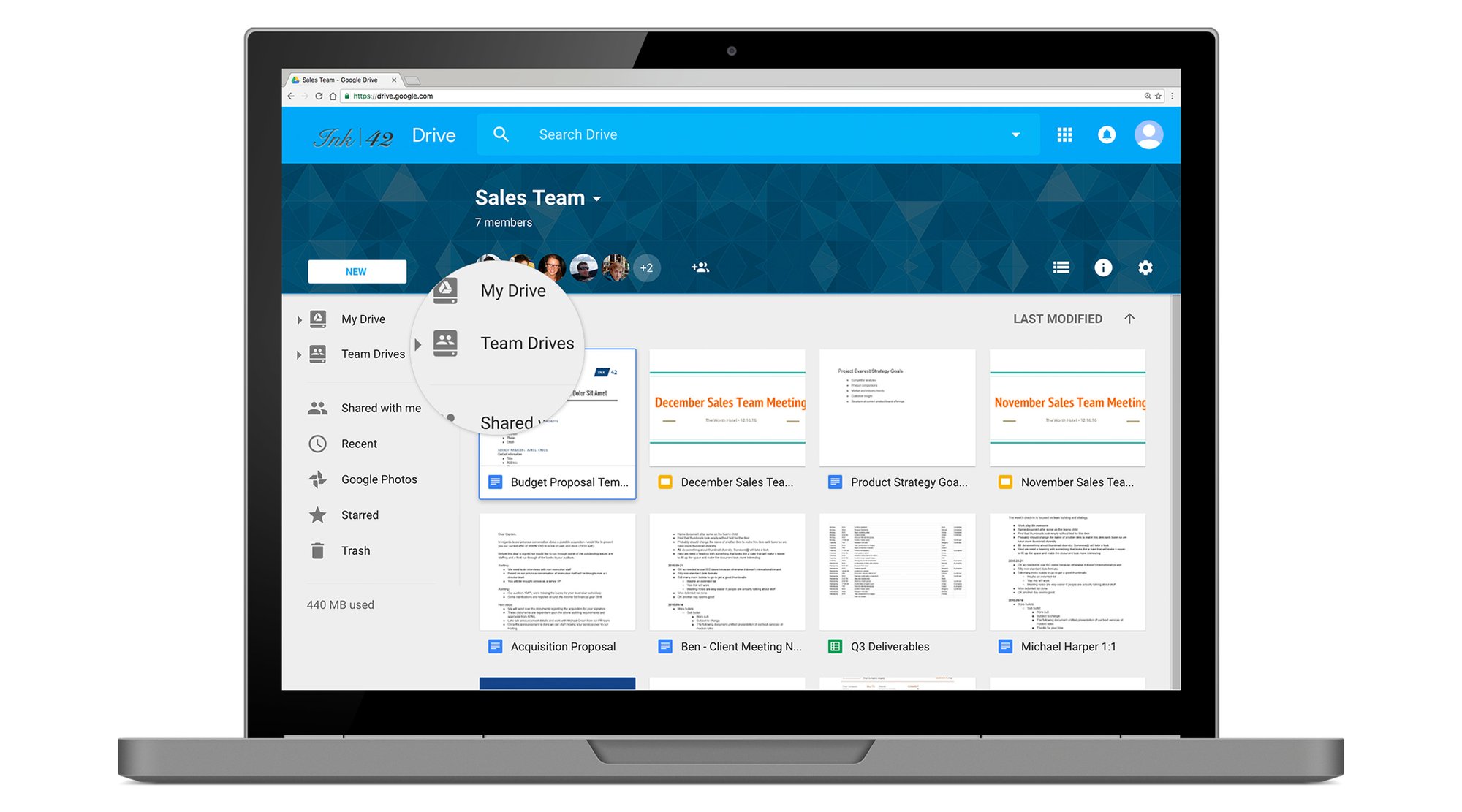 Reimagining Hangouts and better brainstorming with Jamboard
We're passionate about finding the best way for teams to work together and communicate, especially at large companies with workers around the world. Our customers have told us it should be effortless for them to connect over video and that chat should be more collaborative, which is why today we're evolving Hangouts to focus on two new experiences: Hangouts Meet and Hangouts Chat.
Hangouts Meet is a new video meeting experience designed to make meetings frictionless. Up to 30 people can join a meeting within seconds — no downloads or browser plugins required, and it integrates with G Suite so you can present files natively. Anyone can join from any Android of iOS device, and a dial-in phone number for each meeting helps connect employees who are on the road without wifi/data. Meet is generally available today and will gradually roll out to all G Suite customers over the next few weeks.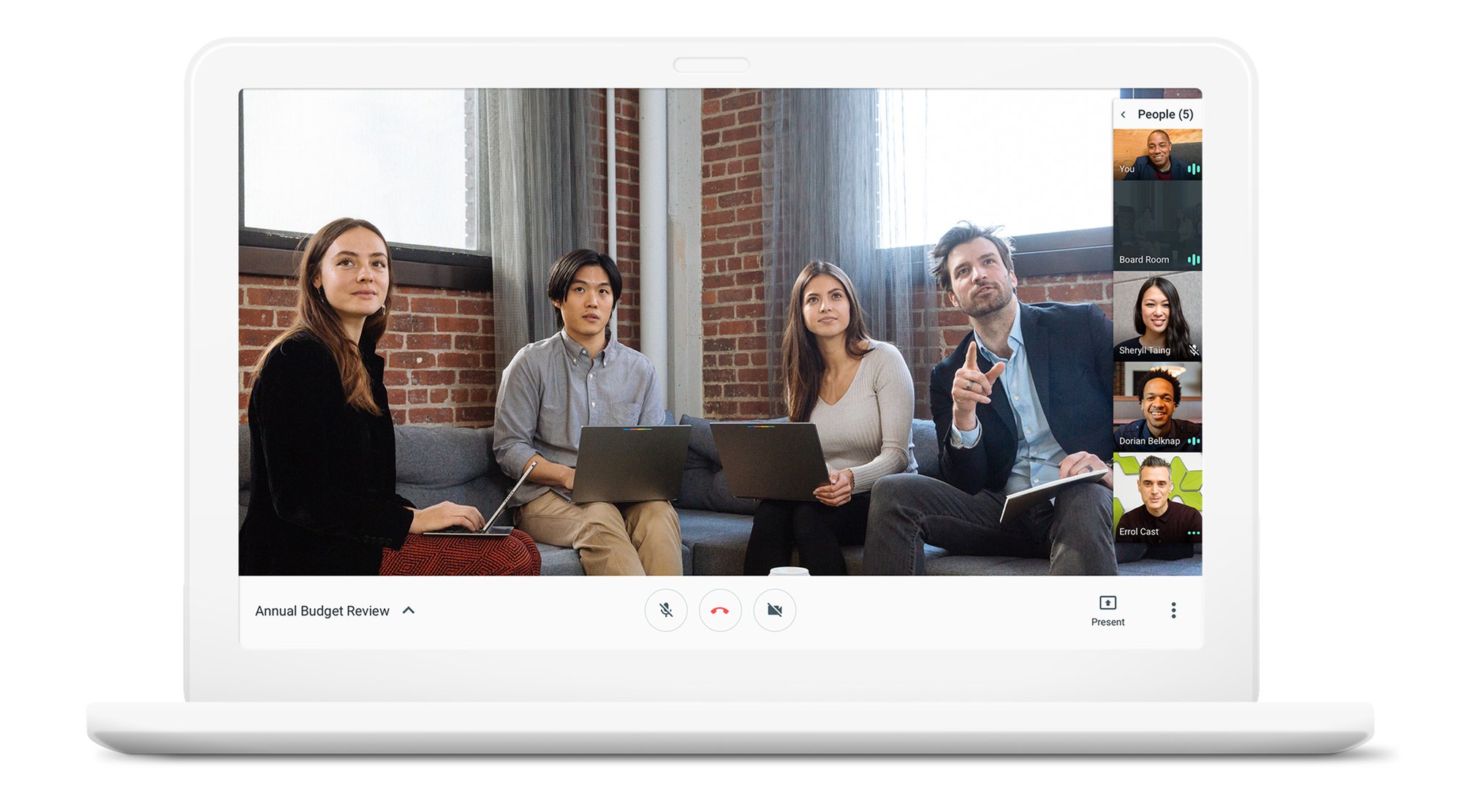 Hangouts Chat offers teams a new way to connect with each other in virtual rooms, so they can keep work moving forward, even when they can't meet face to face. With deep integrations with G Suite, teams can embed content right in the conversation, so they can interact and discuss items from Docs, Sheets, Slides, Calendar and other files. We also designed Chat to integrate with a wide set of enterprise tools, and we're working with companies like Asana, Box and Zendesk to seamlessly integrate existing workflows into Chat. G Suite customers can apply to try Chat through the EAP.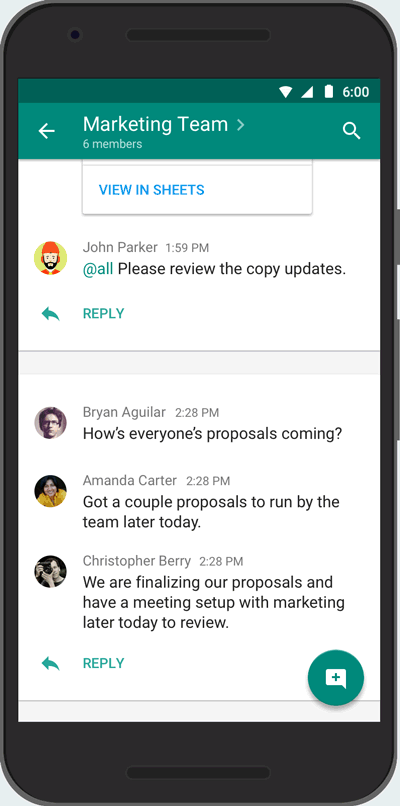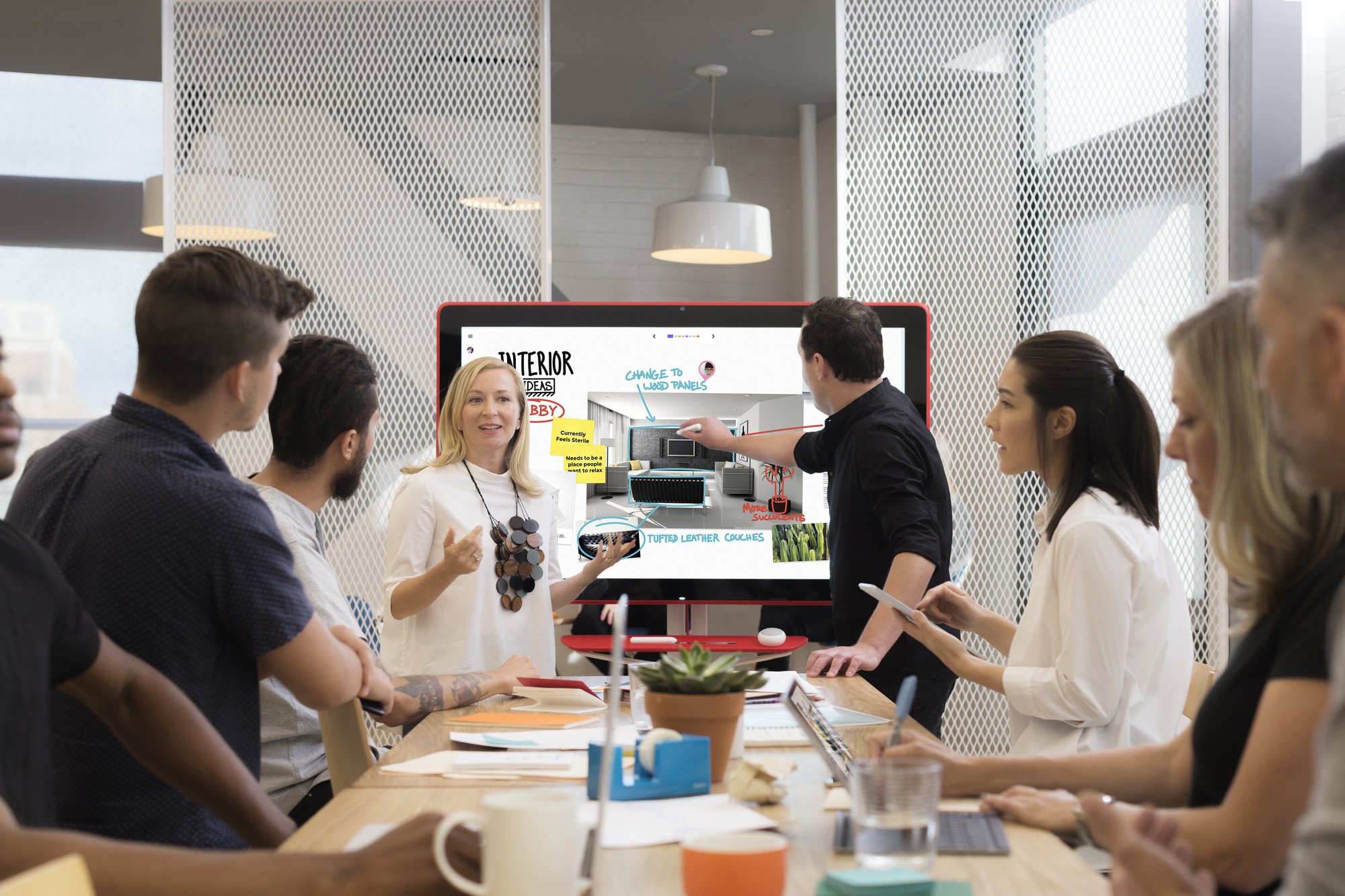 Integrating G Suite with services that businesses use every day
We built G Suite to be a workforce platform, not just a set of apps. Just as our apps work well together, they also need to work well with other services that employees rely on in their workflows. This is why we provide ways to integrate across our suite in Drive, Docs, Sheets, Slides and Cloud Search. Today, we continue this effort by introducing Gmail Add-ons, a new way to integrate powerful enterprise workflows with Gmail; uniquely, our Add-ons are triggered by the context of the email.
Add-ons make it easy for developers to bring third-party applications into Gmail. Developers simply write an integration once, and it will work in the Gmail apps on Android, iOS and the web right away. Gmail users will be able to install Add-ons via the G Suite Marketplace later this year. Intuit, Salesforce and ProsperWorks are already working on Gmail Add-ons, and we encourage other interested developers to sign up today for our Developer Preview.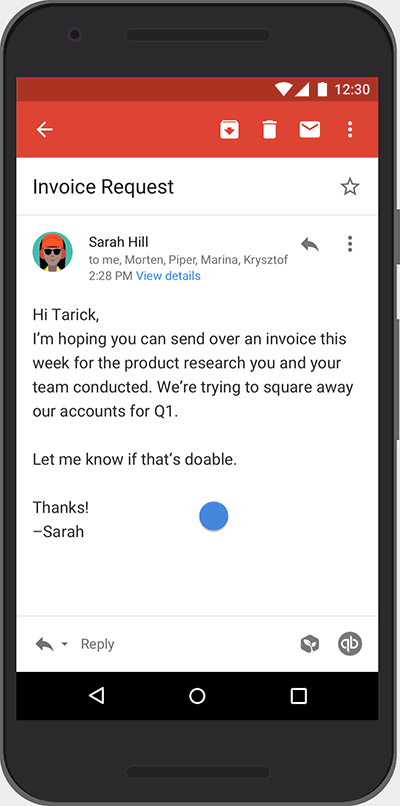 Last fall, we announced efforts with Salesforce to build tighter integrations with G Suite apps, and starting today, businesses can use Edit Opportunities in Google Sheets to save time. Sales reps can simply sync a Salesforce Opportunity List View to Sheets to bulk edit data, and the changes are synced automatically to Salesforce, no upload required. This integration supports business logic and validation rules and even lets sales reps use Explore in Sheets to help answer natural language questions.
Moving beyond productivity with Google's machine intelligence
Beyond meeting enterprise needs, we have been looking to the future by regularly adding machine intelligence innovations throughout our G Suite products. For example, Explore in Sheets lets you skip complex formulas and ask questions in a natural language, Calendar Find a Time intelligently avoids scheduling conflicts and suggests alternatives, and Quick Access in Drive (which starting today also works with Team Drives on iOS and Android devices, and is coming soon to the web) uses context to automatically surface the most relevant files you need.
And we're using this machine intelligence to fix daily frustrations like scheduling meetings, too. Today, as a part of Hangouts Chat, we introduced @meet, an intelligent bot that automates the scheduling of meetings. With all of the variables and options, this can be a tedious task for people to perform, but it's simple for the bot. @meet will be available for customers that sign up for the EAP of  Hangouts Chat.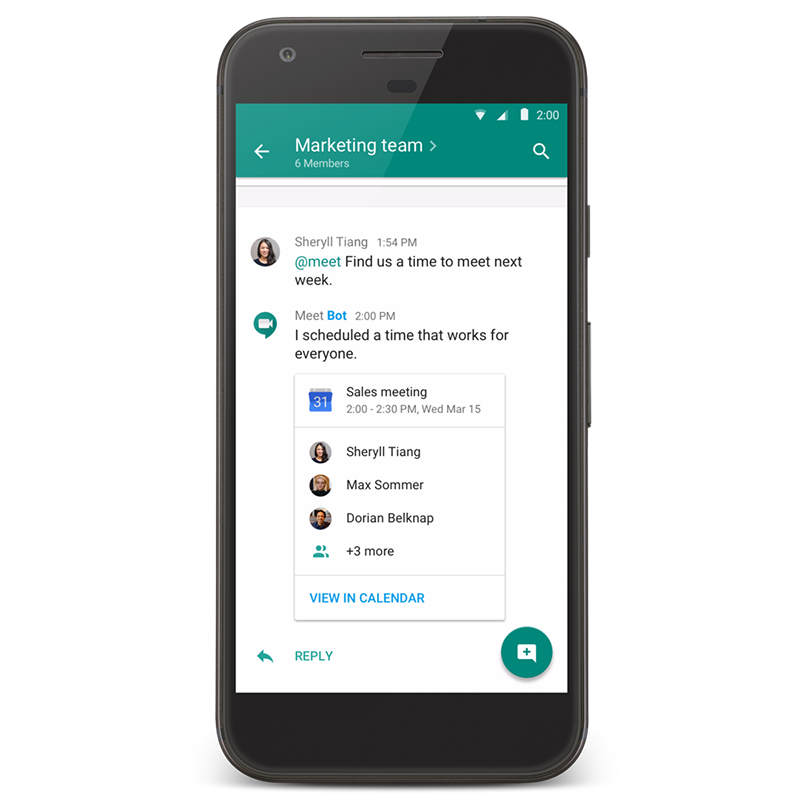 Learn more
Today marks our continued commitment to moving enterprises beyond productivity. To learn more, you can read about the announcements for Drive, Hangouts, and Gmail Add-ons. If you're a G Suite customer, we encourage you to sign up for the Drive File Stream and Hangouts Chat EAPs.