Editor's note: This story is guest authored by Aaron White, Business Services Manager at Oakland Care, a leading provider of residential care homes in the United Kingdom.
The current pandemic has been devastating in many ways, and as someone who works for a group of care homes, Oakland Care, it's been particularly heartbreaking to see its effects on our residents. UK Government guidelines required care homes to ensure residents maintain a social distance from their loved ones. Visits from sons, daughters and grandchildren have always brought so much joy to our Homes, but the virus's high impact on older people has meant that these once-welcome visits brought too much risk to their health and that of the team members. 
Our primary focus has had to be protecting people from the virus, but with that comes a risk of isolation and loneliness. So, we wanted to try and bring our residents some reprieve by offering them a new way to connect with their loved ones. As the person responsible for innovation at Oakland Care, I've been keenly focused on how we can use new technologies to improve our residents' lives. In partnership with Google and Volara, we explored how technology could help  connect families, as well as help our residents explore new ways to stay entertained.
Two weeks ago—just in time for the holidays—we introduced our residents to Google for Senior Living, a solution where we could use Nest Hub Max smart displays in our care homes. We initially thought we would experience challenges setting the devices up, but we were impressed by how hassle-free it was, and the residents found them easy to use and quickly grew accustomed to them.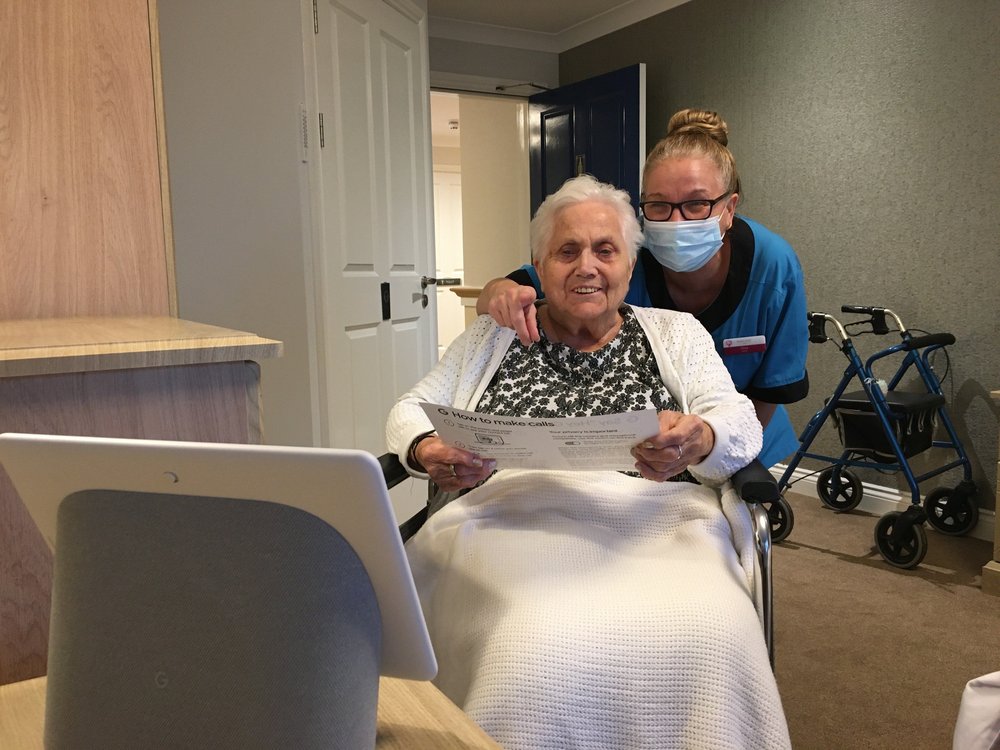 This has enabled our residents—many of whom do not use a smartphone, let alone a smart display—to learn how to easily video call someone special with voice commands, which is especially helpful for those who struggle with buttons or remembering how to use technology. It's sparked once again that warm feeling and those bright smiles that come from being face-to-face with their children, sharing a memory with an old friend or seeing their grandchildren laugh and play. Residents have also enjoyed using voice commands to listen to favorite songs on YouTube Music, the latest football scores or news and weather forecasts. 
Take Winnie, a resident at Lambwood Heights, one of our care facilities. She was used to seeing her two daughters, Carole and Margaret, almost every day before the pandemic. With a new Nest Hub Max in her room, she can dial them up for a phone or video call whenever she wants to. It gives her control over when and how she speaks to her loved ones and has really helped her feel more content over this period.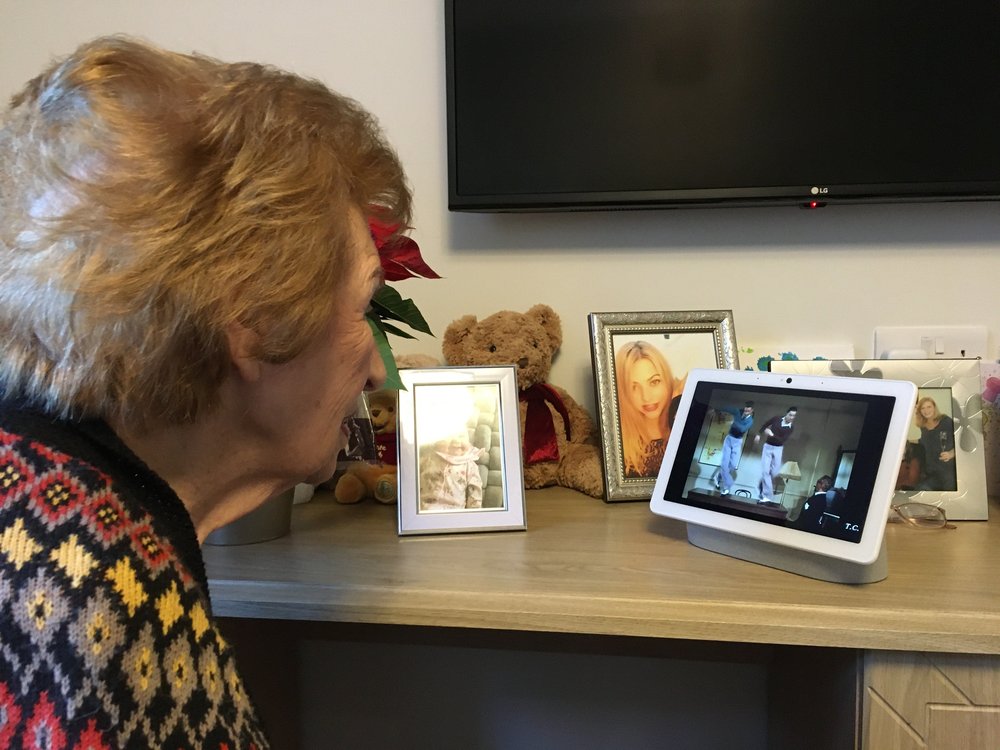 Winnie used to be a dancer, performing at London's famous Windmill Theatre when she was just a teenager. Music is really important to her, and her Nest Hub Max allows her to call up favorite tunes whenever she feels the rhythm in her feet. She keeps her tap shoes nearby, and sometimes she pops them on when the music is playing, especially when she wants some time to herself. Having the Nest device means she can close the door and watch her favorite TV show, "Strictly Come Dancing."
Nest Hub Max has become a much-adored companion for our residents, brightening days during what has been a tragic year for many. It's been extremely fulfilling to see the impact this technology has already had, and I can't wait to introduce the device to new residents, and hopefully bring more of this type of technology to the Oakland Care community.