In 2008, Boston-area resident Tina Haupert wanted to get in shape for her wedding day. Never a fan of crash diets, she started reading healthy living blogs and figured, What the heck, why not start one of my own? She believed healthy foods could be combined with small servings of delicious, guilty pleasures, andCarrots 'N' Cake was born.
What began as a personal blog became, in Tina's words, "a go-to resource for all things healthy living, from my love of delicious food and wine, to fun workouts, quick beauty and fashion tips, and the 'true life' of tackling a chronic illness, ulcerative colitis, head first."
A former social media marketing consultant, Tina is now a full-time certified nutrition coach and functional diagnostic nutrition practitioner, offering group and one-on-one coaching—as well as fitness and nutrition programs—to the Carrots 'N' Cake community. She's built her brand online, attracting local and national media attention and landing book deals, including "The Everything Macro Diet Cookbook," published in August 2020. And in late 2020, she launched the Carrots 'N' Cake podcast. 
Tina recently chatted with us about how her blog and her business took off.
Tell us about the evolution of your blog from its beginnings to how it became a full-time job.
Tina: I started the blog as a hobby. It was a side gig, but over time, more people started to read it. When I began to have more of an audience, I got in touch with an advertising company and started showing ads in the sidebar. Before ad companies knew what was going to happen with blogs, they used to pay us per page view, which was a pretty decent income for simply blogging and having ads on your site.
I was working full-time and doing the blog on the side for a good two to three years, then ended up quitting my full-time job and having a part-time job. I was doing about 20 hours a week at my part-time job, and then the rest of the time was spent on the blog. Over time, things just kept growing. I ended up getting book deals and traveling a ton so I couldn't keep the regular job and went all-in, full-time on the blog.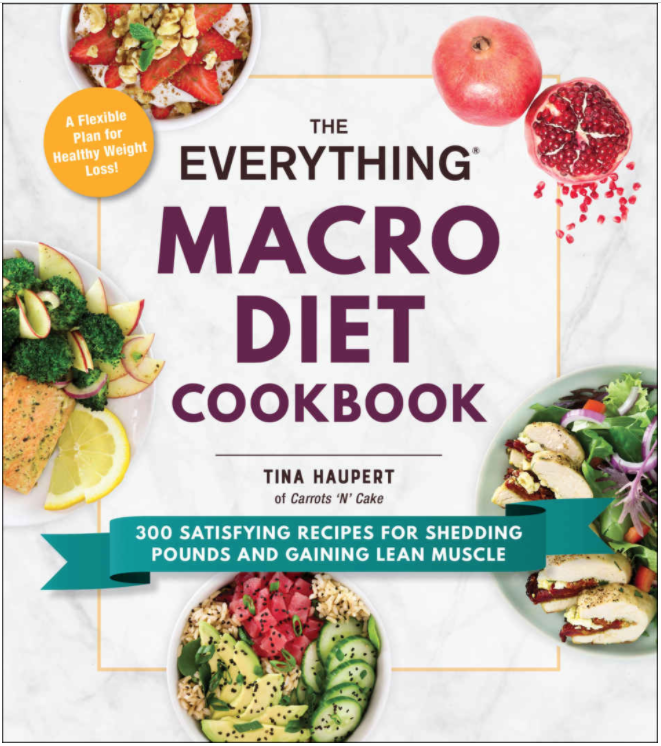 How have your revenue streams changed over time?

Tina:Things have totally changed. When I started my blog, you could definitely rely on ads and that was probably 90 percent of my income. But over time, the ads have become less of a priority. There was also a phase where sponsored content was huge and I was doing two or three sponsored posts a week, but now that has slowed down, too. I still do sponsored content but I have shifted more of my time over to providing services to my readers. Over the years, I started to see the challenges that my readers were experiencing, with a lot of the same questions about what to eat, how much to eat, how to fit in workouts and more. So I've transitioned to providing nutrition coaching and at-home fitness programs and functional testing now. 
How does being service-based impact you and your business?
Tina: I'm able to connect with people better now because I'm working with clients one-on-one or  through group coaching. I feel like I'm helping people in a different way instead of them just reading what I'm doing in my life. Being service-based has also been good for my work-life balance, too, because it's not producing content all day, every day. 
What types of content work well for you and your readers these days?
Tina: Back in the early days, my blog posts would have 20 photos and a really long post about whatever I did during my day. Now, I feel like people don't always have the attention span to read something super long, so I'm posting short Instagram-like content like infographics or images that tell readers the story immediately.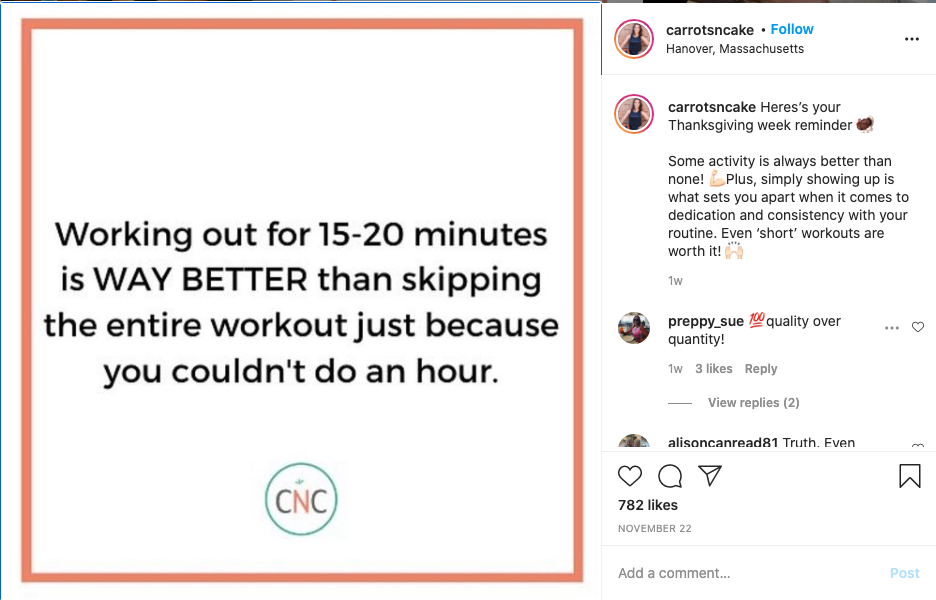 Do you embed your graphics into a blog post or do you use them in a Stories-type format?

Tina: It's a little bit of both, actually. I now write short-form content but in Instagram Stories, for example, I post images where you can click through to see different steps. I've also been doing shorter videos. So, instead of doing a 15-minute YouTube video, I'll just do a two to three-minute video. For longer videos, it takes more for people to commit to listening to it.
Walk us through the process for writing an article or a blog from start to finish. 
Tina:If it's a basic blog post where I'm just writing what I want to write, it usually comes as an idea in the shower, driving or wherever. I write it down on a piece of paper, highlight key parts of the idea and start writing. With images, it's really important to name the images according to your topic; that's something that I didn't do in the beginning, which wasn't great for search engine optimization. You can even research Google keywords and find common words for your blog post topic to help you with SEO. That's really important today if you want people to find your content. I use Yoast, a plugin that helps with SEO. You write the way you want to write, and then add in some keywords.
If it's a recipe post, I use a WordPress plugin Tasty Recipes from WP Tasty called Tasty Recipes.They have a recipe card that helps you make recipes more standardized and also helps with SEO. And Tasty Links automatically links your keywords to URLs. I'm not affiliated with them, they just make a really good product. And then of course there's proofreading. 
And then I have a virtual assistant who creates and posts all of my pins on Pinterest. Make sure you're using keywords and high-quality images for Pinterest.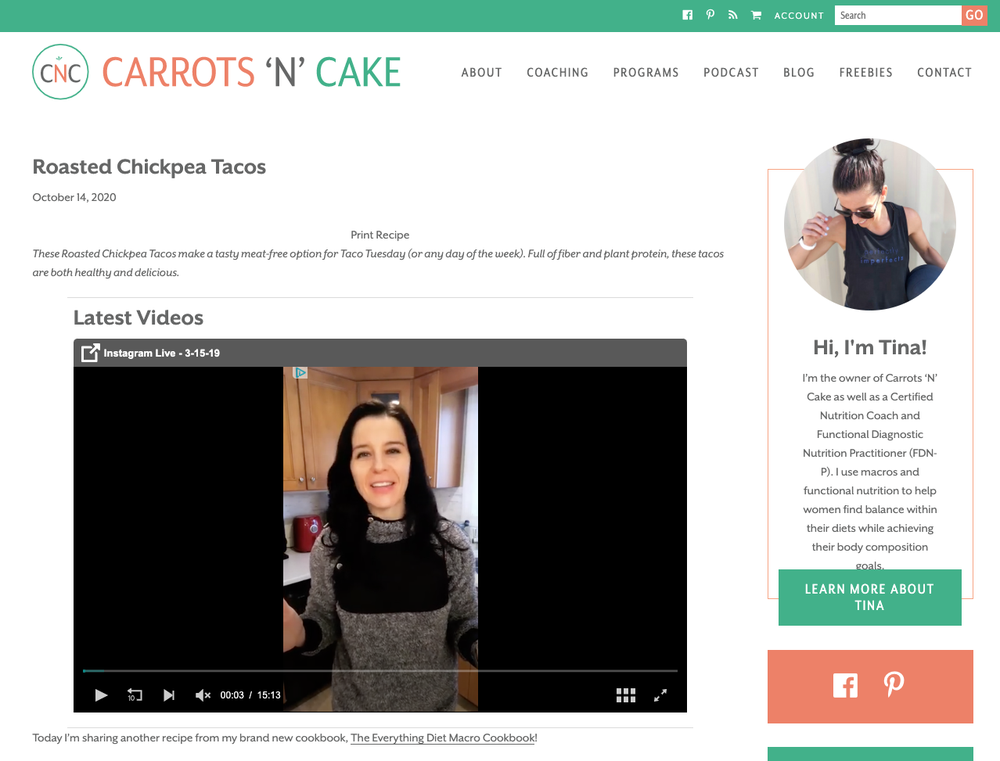 That's pretty much the process. Like I said, some posts are a lot more involved. It might take me a week to write one, and then sometimes I'm inspired and bust it one in an hour or two. It just depends on the content and what's going on in my life at the moment.