Editor's Note: Today marks the second annual National 311 Day. We talked with the City of San José's CTO to learn about how they worked with Google.org Fellows to connect residents to the information they needed. 
National 311 Day is a day to remind communities nationwide to use 311, a resource to connect with their city's non-emergency services. It's an important tool that cities use to unburden 911 call-takers of non-emergency calls, allowing them to quickly respond to residents' most urgent needs. It's also a time to honor the hardworking call-takers, especially after the past year as they've worked tirelessly to connect millions of local residents to critical services during the COVID-19 pandemic. We like to say that 911 is for the burning building, and 311 is for the burning questions, like the latest information about COVID-19, who provides garbage and recycling services or how to report a water leak.
At the beginning of 2019 San José identified a clear problem: it was taking too long for first responders to answer 911 calls. The State of California requires that 95% of 911 calls be answered within 15 seconds, and San José fell short of this goal in 2017 and 2018. That's when we reached out to Google for help and were selected for a Google.org Fellowship. Together, we worked with a team of pro bono full-time Google.org Fellows to reduce 911 and 311 response times, improve the customer service experience, make 311 more accessible to residents, and address the growing load on call centers with solutions like a machine learning-based virtual agent.
First, the Google.org Fellows talked to residents and analyzed call volumes to understand what was contributing to the issues. They shadowed over 60 hours of calls to identify the most impactful ways to improve the response time, how to educate residents about 311 services, and ways to make it accessible to the residents of San José. San José is also one the most diverse U.S. cities, with residents speaking more than 100 languages. This demanded a new approach to automating the intake of requests from a majority population whose first language is not English, so equitable access was also top of mind for the Google.org Fellows.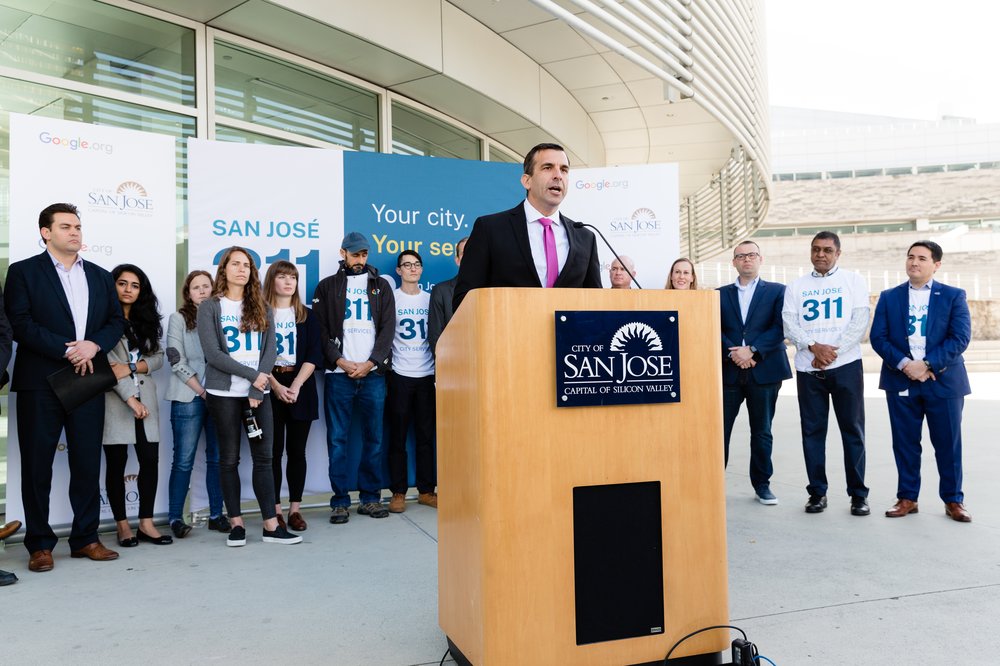 At the end of the six month Fellowship, the City's 311 system was more inclusive and efficient. This was especially helpful as COVID-19 began to affect our community, making fast and reliable emergency and non-emergency responses for our residents even more essential. Since then, we've continued to see improvements to our 311 services:
Improved customer and call-taker experience: 311 is handling 30,000 additional calls per year that were previously routed through the police non-emergency call center. Directing these calls to 311 has resulted in a better allocation of resources and a more efficient customer and call-taker experience.
More ways to connect: The channels available to residents have expanded to include a virtual agent and a chatbot in addition to improvements to the web portal, mobile app and more.
Increased language support: Translation services have allowed residents who speak Vietnamese, Spanish, and English to interface with virtual agents and the mobile app, which has helped to address digital equity and accessibility issues.
"The improvements the City has made came at the right moment, so that residents could get the critical information they needed in an unprecedented year," says Kent Walker, SVP of Global Affairs for Google. "I also want to thank the 311 call-takers—the "first" first responders who answer these requests every day."
Thanks to the technical help from Google.org, we've been able to respond more quickly to residents and connect them to government services during this critical time. We're beginning to work with other municipalities across the U.S. to share what we've learned in hopes of furthering more equitable citizen services far beyond our city limits.