Keiko Lynn has only ever had what she calls a "real job" once in her life. She did a short stint at a pretzel parlor as a teenager and kept a blog as a personal diary the whole time. After that, it was full-force creator mode as she launched a clothing line to help pay for college. 
Today, Keiko (pronounced "cake oh") is a successful lifestyle blogger, fashion influencer and Web Creator based in Brooklyn, where she lives with her boyfriend, dog and three cats. Her website, keikolynn.com, serves as her online hub for beauty and style tutorials, lifestyle guides and links to shop Keiko's favorite fashions. 
Keiko's blog is the heart of her business and where her community thrives. It's where she shares her view of the world and love for all things whimsical, vintage, pink and fuzzy, with a dash of fantasy. Keiko is also active on social media platforms, serving daily doses of inspiration via her Instagram stories, Pinterest boards, etc. But it's her blog she can't do without. "I could lose my Instagram tomorrow," she says. But you can't take her blog. 
Keiko chatted with us recently about growing up on the web, and what it takes to be a full-time fashion and lifestyle blogger and social media influencer. 
You've been blogging full time since college. How did you get started? And what has changed since then?
Keiko: I fell into this career at such an early time. But before that, I started on Open Diary, and then I transitioned to LiveJournal because that was the hot new thing. LiveJournal was more about the community and making connections. And it really started off as a personal outlet—like a diary—and evolved as time went on. I helped put myself through college promoting my clothing line. And then as I moved to New York, it became more about my personal life, my personal style, beauty, and it evolved as I grew up. The only "real job" that I ever had was when I worked at a pretzel parlor as a teenager.
You're on Pinterest, Twitter, Facebook and Instagram. How do you have time for all that plus your blog?
Keiko: I've always said that you should have your own space. The thing about your blog is that you own it. My Instagram could be shut down tomorrow, but people will always still be able to find me on my blog. So I think of it partially as a safety net, and partially as a nostalgic thing that I hold on to and could never give up. 
What is your favorite kind of post?
Keiko:
Something with a takeaway, because I like to see people getting something out of it. Sometimes, especially in my age group, we don't engage quite to the same level as someone who's a little bit younger. For example, I did this
pink witch hat tutorial
for you and your cat, and I was thinking, "No one's going to make this," but it was so fun to make. And I cannot even tell you how many people made these hats. They made them for their bunnies and babies. And it brought me so much joy to see people creating something that I put out there. I love feeling like I brought some value to somebody.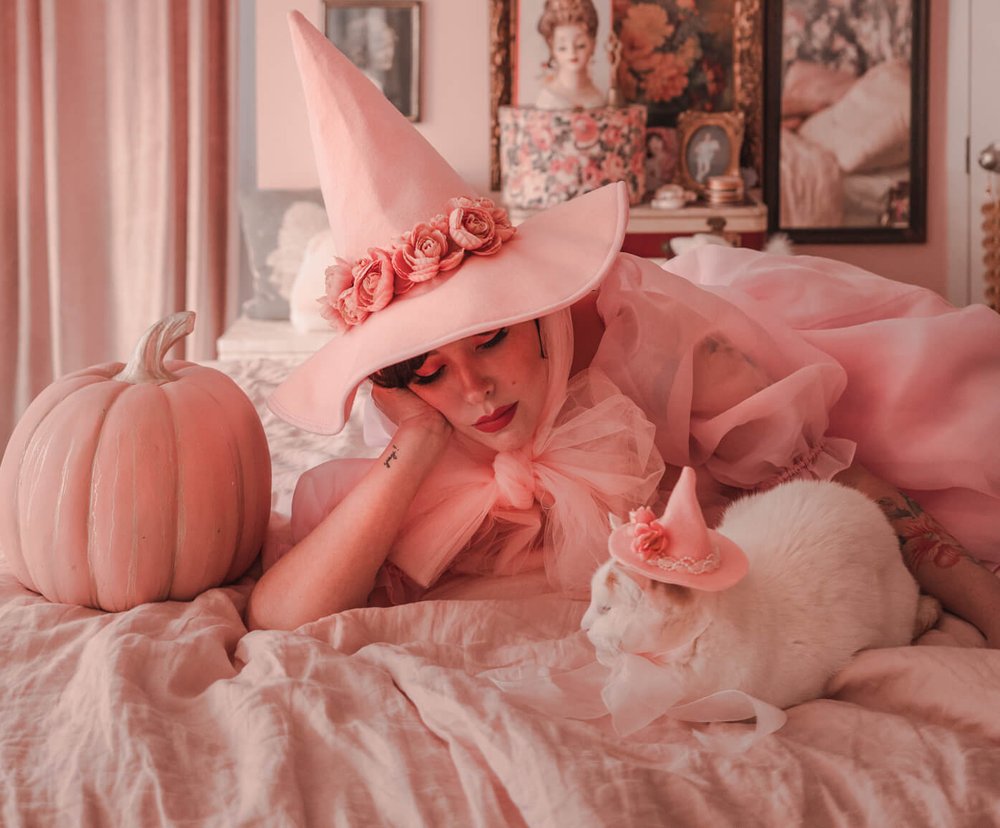 You've done a lot of work with brands. What is your approach? 
Keiko: I've been with Digital Brand Architects, the very first influencer agency before we were called influencers, since 2009. They helped me deal with the business side of things because I am possibly the worst person to champion myself. In the early days, when money started to become a thing with blogging, it made me so uncomfortable. I would just be like, "Oh, don't worry about it. I'll just do it for free." It made me so uncomfortable. So, they are the middleman between me and the brands and take out all the awkwardness so that I can just have a relationship with the brand, be the creative behind it, and not have to talk about numbers.
How do you select the brands that you work with? 
Keiko: I have lists of dream brands that I want to work with, and we will actively go after those sometimes. I make tailor-made decks to show them what I can bring to them. But most of the time a lot of brands will approach me and I'll see if it makes sense, or I may have a really good idea of how to make something more interesting than just holding up a product.
That mirrors what you would do at a digital ad agency, which is build a brief and then present that. 
Keiko: Honestly, I didn't do it for so long, but I started to think about certain things that I really wanted and realized that I need to be more of a champion for myself. And I saw a tremendous amount of success with that because sometimes brands don't know you exist because there's so many people [out there]. But once they see what you do, they might want to work with you. And the worst that can happen is they say no. That's not so bad.
You really just have to be persistent and consistent, which is one of the hardest things, especially if you're working a normal job. But I always say that you should treat this as your second full-time job instead of just quitting your job and starting this from scratch, because it's going to take a long time before you get there.