Today we're introducing Pixel 3 and Pixel 3 XL, the
new smartphones from Google. Pixel brings you the best of Google in a phone, powered by AI to deliver more helpful, thoughtful, and enjoyable
experiences. That means a phone with a camera that uses AI to make sure you never miss the perfect shot, and a more helpful visual and audio experience while charging, powered by the Google Assistant.
Brilliant photos every time and super-charged selfies
We're taking more photos on our phones than ever before, but we still often miss the perfect moment. Pixel 3 helps you get that perfect shot on the first try.
Here's how the best camera gets even better with Pixel 3:
Capture smiles, not blinks:

A feature we call Top Shot uses AI to help you capture the perfect photo every time. When you take a motion photo, it

captures alternate shots in HDR+, then recommends the best one—even if it's not exactly when you hit the

shutter, looking for those where everyone is smiling, with eyes open, and facing the camera. Top Shot automatically captures alternate shots in HDR+. If your timing wasn't perfect, the camera will suggest a better one and give you the option to save it.

Get better zoom:

When you zoom in on a phone camera, the image looks grainy. Super Res Zoom is a computational photography technique

,

traditionally used for astronomy and scientific imaging, that produces sharp details when you zoom.

No light; no problem:

Pixel 3 lets you take natural-looking photos in dark surroundings, all without a flash. With Night Sight, coming soon to Pixel 3, you can take bright, detailed, colorful shots around the campfire, in a moonlit forest, or a selfie as you're headed out of that dimly-lit club.

No selfie stick required:

Get everyone in the picture with Group Selfie,

which gives you 184% more of what you love in your selfies.

Look … no hands!

Photobooth mode uses AI to recognize that when you're smiling or making a funny expression, you're ready for a selfie. It snaps the photo on its own so that you don't need to reach for the shutter button—a good option for candids.

Even more stunning portraits, front and back:

When you take photos in Portrait Mode, you can change the blurriness of the background, or change the part of the picture in focus, after the fact.

Google Photos can also make the subject of your photo pop

by leaving them in color, while changing the background to black and white.

Create and play:

With Playground, you can make photos, selfies, and videos come to life with cameos from your favorite superheroes, animated stickers, and fun captions. In celebration of Marvel Studios' 10 Year Anniversary, you'll enjoy seeing the characters from the Marvel Cinematic Universe (exclusively on Pixel) react to each other and to you. New packs for Weather, Pets, Sports and Signs let you have everyday fun, and coming later this year, you'll be able to sharpen your dance skills with moves from Childish Gambino.

Super smooth video:

When you want to capture something that won't stop moving—think an adorable toddler or your new puppy—Motion Auto Focus will make sure your Pixel 3 camera stays in sharp focus automatically as you record, even through all the tail wagging. And if you happen to be taking a selfie video while walking or moving around, Pixel 3 brings you front-facing video stabilization.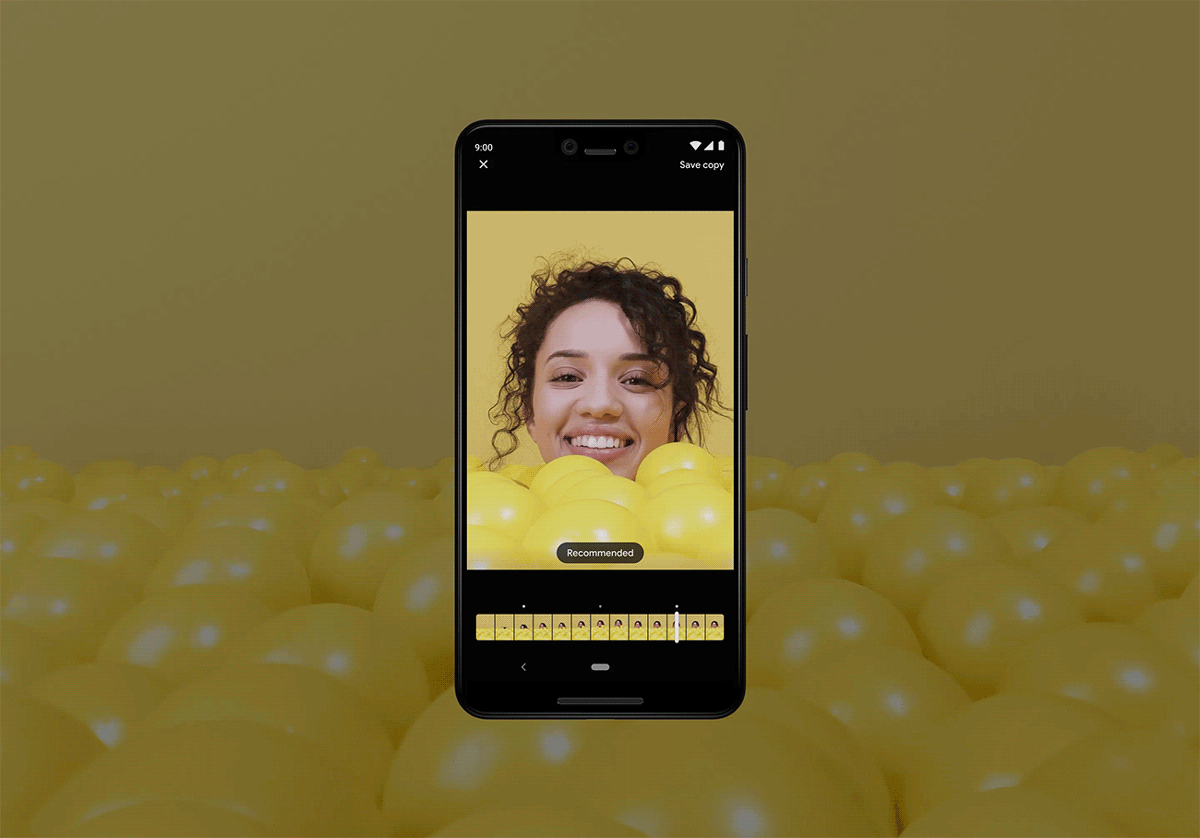 Unlimited storage for all of your photos and videos
With Pixel 3, you can save all your favorite moments with free, unlimited photo and video storage in original resolution*.
It's hassle-free, you don't have to think about back-ups. Come back to Google Photos later and search for the beach photos you took on your Pixel 3, and they'll pop right up.
The AI in Pixel 3 enables new features that make your day-to-day actions simpler and easier.
If you want to know more about something you're looking at, use Google Lens**, built right into the Pixel 3 camera. To scan and translate text, find similar styles of clothing, identify landmarks, popular plants and animals -- all in real time -- you can now long press in the Pixel 3 camera to easily open Lens. When you point your camera at
information you want to remember or don't feel like typing in—like a URL or QR code on a flyer or an email address on a business card
—
Google Lens suggests what to do next, like creating a new contact.
You can count on even more help across other apps too, including Gmail's Smart Compose, now available for mobile on Pixel 3. Smart Compose suggests phrases in your emails so that you can draft them faster, on the go. Gboard, the keyboard built into your Pixel 3, will recommend GIFs, stickers, and more, to make your conversations fun and engaging. Available first in English.
The Google Assistant is also baked into Pixel 3 to help you find answers and control your phone and compatible smart home devices—all with a simple squeeze or just by using your voice.
Our phones, while probably the most important tech in our lives, shouldn't control our lives. So
Digital Wellbeing
, a suite of tools to help you find your own balance with technology, is built into Pixel 3. It includes a dashboard to help you understand how you spend time on your phone, the ability to set time limits on specific apps, and a new Wind Down mode to help you get to sleep at night by gently transitioning your display to a grayscale screen. When you don't want to be bothered by rings or notifications, just flip to Shhh— an easy gesture that turns on Do Not Disturb and minimizes distractions.
Fast and wireless charging
Pixel 3 comes with an 18 Watt fast charger in the box,
which can giv
e you 7 hours of use i
n 15 minutes of
charging
***.
With our AI-powered Adaptive Battery technique, Pixel 3 prioritizes battery power for your most important apps to make your phone last all day.
Alongside Pixel 3, we're also introducing Pixel Stand,
our new, Qi compliant wireless charger (sold separately)
. While charging in the Pixel Stand, your phone turns into a smart visual and audio experience powered by the Google Assistant.
Features include:
An enhanced music experience

on your Pixel 3 when charging. See your favorite artists' album covers on display while listening to their music and charging your phone.

While your phone charges, turn it into a

digital photo frame

with Google Photos and relive your favorite moments with family and friends.

Quick Access to your Google Assistant

so you can get a rundown of your day, the traffic for your commute and listen to you favorite podcast just by saying "Hey Google, good morning."

Smart home integrations

to help you simply manage your home (coming soon.)

A gentler wake-up with Pixel Stand's

Sunrise Alarm,

which mimics a sunrise on your screen over 15 minutes to help brighten your room so you can get on with your day.
Pixel 3 is IP68 water and dust resistant and has a security chip custom-designed by Google called Titan
M, making it the most secure phone we've built yet. Titan M enhances mobile security by protecting your unlock credentials, disk encryption, app data, and the integrity of the operating system code itself.
Powered by Android 9 Pie, Pixel 3 comes with the latest Android operating system.
You can choose from two sizes -- the 5.5-inch Pixel 3 and the 6.3-inch Pixel 3 XL -- and three colors: Just Black, Clearly White, and Not Pink. Both have the exact same feature set and include high quality Pixel USB-C earbuds and a
USB-C Digital to 3.5 mm headphone adapter
in the box. Pixel 3 comes with dual front-firing
speakers tuned by a GRAMMY-winning music producer
to turn your phone into a powerful speaker.
Both smartphones will be available for pre-order in India starting Thursday, 11th October -- from ₹71,000 for Pixel 3 and ₹83,000 for Pixel 3 XL -- on Flipkart and at offline partners including Reliance Digital, Croma and other leading stores across India. Pixel 3 and Pixel 3 XL will be available for sale in India both online and in retail stores from 1st November 2018.
Posted by Mario Queiroz, GM & VP, Pixel
*Free, unlimited online original-quality storage for photos / videos uploaded from Pixel 3 to Google Photos through 31st January 2022,
and those photos / videos will remain free at original quality.
g.co/help/photostorage. Data rates may apply. You may opt-out at any time.
**For available Google Lens languages go to g.co/help/lens. Requires internet connection
***Approximate battery life based on a mix of talk, data, standby and use of other features, use with always on display off and mobile hotspot off. An active display or data usage will decrease battery life. Wired charging: rates are based on use of the included charger. Wireless charging: Up to 10 W with Pixel 3 and Pixel 3 XL charging with Pixel Stand (sold separately). Actual results may vary.