On Android, we're always excited to help users be more productive at work.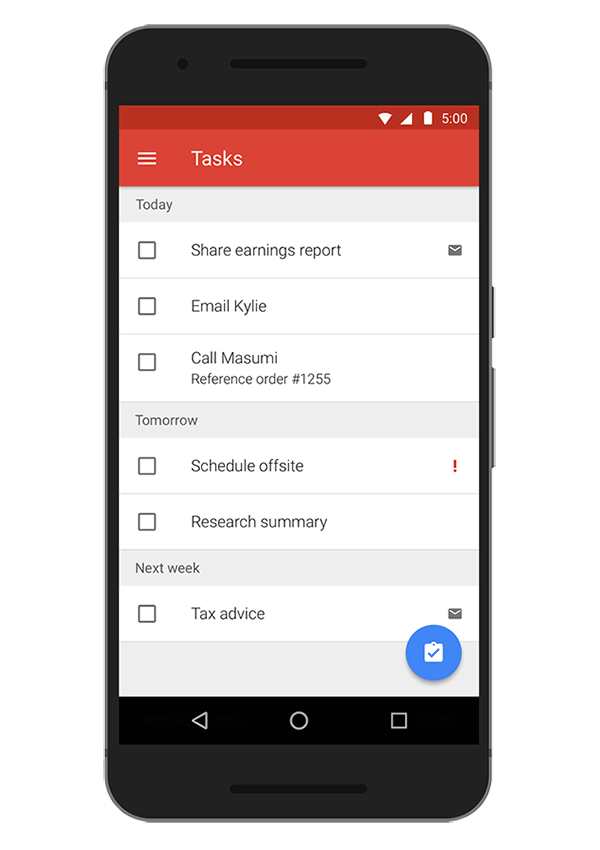 Last year we added support for Exchange accounts in Gmail app for Android so you can use one familiar mail app for both work and personal business. We also added "find a time" in Google Calendar to suggest meeting times that work with everyone's schedule.

Today, we're providing another productivity boost for our Exchange users: support for Exchange tasks in Gmail app for Android.
This new feature synchronizes your tasks with Exchange so you can always stay on top of your task list, even when you're on the go. You can create a task, edit its date or priority, and flag an email as a to-do for later response. 
Since the Gmail app interface is both intuitive and familiar, Android users who want to manage their tasks from Exchange won't need to re-learn anything. 
With a unified tasks list, we've made it easy for you to focus on your important tasks and check things off the list once you're done. The simple swipe to mark as complete can be just as rewarding.
Gmail app for Android is enterprise-ready, so your IT department can securely deploy it. Gmail app also works with managed configurations so you can skip any complicated setup steps. 
If you have a long list of tasks, give Exchange tasks a try and let the Gmail app for Android help you get more done.