How do journalists use technology around the world? A new interactive explorer produced by the International Center for Journalists (ICFJ) and Google News Lab makes it easy to dig into a wealth of new survey data from hundreds of newsrooms worldwide.
Aimed at gauging how well journalists are keeping pace with the tech revolution, the  survey report garnered responses from more than 1,800 newsroom managers and journalists across 130 countries.
The data explorer allows you sift through this unprecedented dataset and surface new findings that shed light on trends in your region and around the world. You can filter by variables such as job position and newsroom type, as well as download the aggregated, anonymized survey data for further analysis.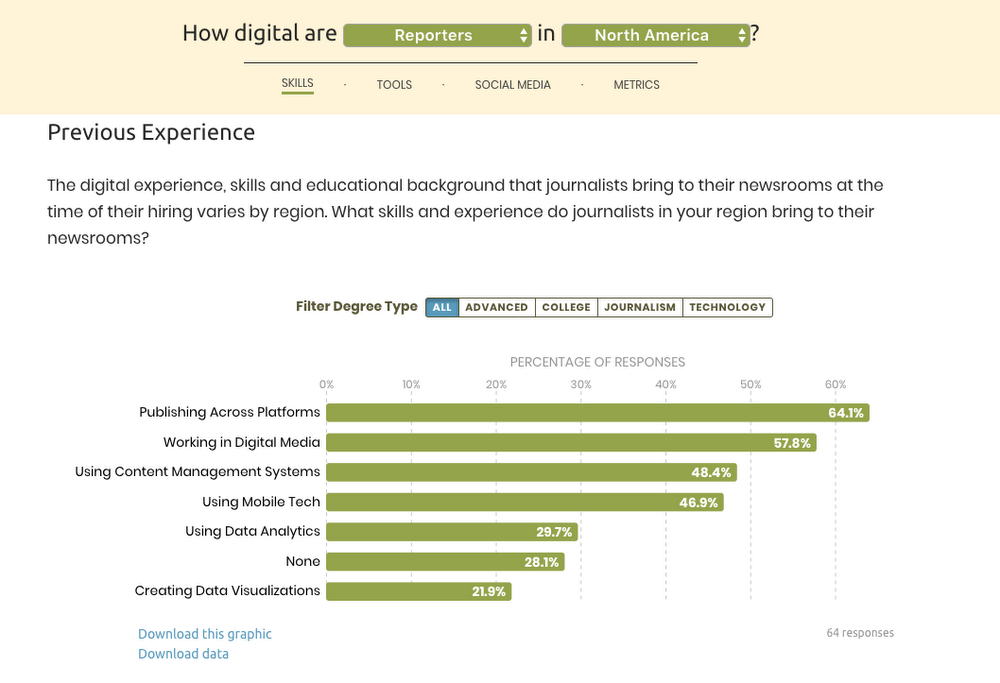 With the explorer, you can get the answers to general questions around technology usage across the globe and even really specific questions, such as:
Which tools are reporters in Sub-Saharan Africa using to reach and interact with their audiences?

What types of training are most valued by news editors in Latin America and the Caribbean?

How are newsroom employees in Eurasia/the former USSR securing their data - and how does that compare to those in North America?
ICFJ partnered with Google News Lab, design studio Polygraph and University of Miami's Knight Chair Alberto Cairo to build the data visualization tool using findings from its State of Technology in Global Newsrooms study, the first-ever global survey of the adoption of technology by the news media.
Check out the data explorer, and see highlights from the survey on Medium.